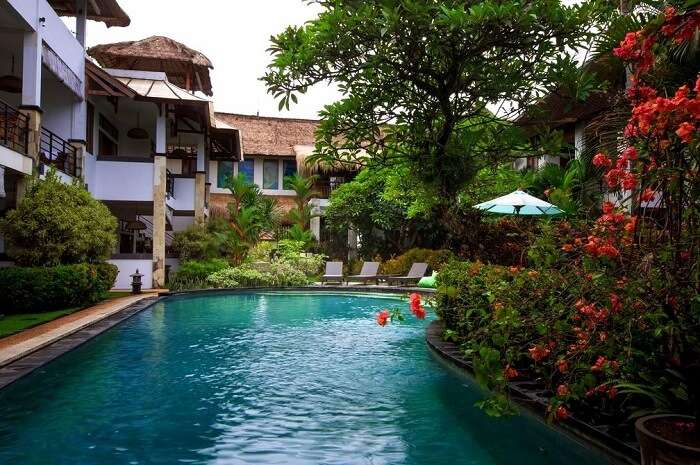 Overview
Ecosfera Hotel Canggu is a well-recognized 4-star property which is popular for offering a state of great comfort. Surrounded by the mystical beauty of the ocean and lush green gardens, the hotel is a perfect resort for those who wish to combine the comfort and relaxation with a healthy and active lifestyle. With an eco-spa, yoga, surf school and an eco-restaurant, the hotel is gaining immense popularity as one of the well-known spots to stay in Bali. Also, it is considered an ideal choice for both businesses as well as leisure travelers looking forward to a lavish hotel experience. The high-class amenities and personalized services of the hotel work together to cater to the requirements of each and every traveler visiting the hotel from far off places. It is a stylish boutique hotel which is located very near to the airport and the beautiful Echo beach which is famous for its idyllic surf spots.
Amenities
The hotel Ecosfera Hotel Canggu welcomes its guests with a variety of enriching experiences. It maintains a luxurious spa named EcoSpa where guests can pamper their mind, body, and soul through therapeutic Balinese massages. They can also relax by the pool of the hotel and can book the schedule for yoga sessions to relieve themselves of all stress and anxieties. The hotel also provides its guests with a variety of services like tour desk, concierge service, and baggage storage. In addition, it offers airport shuttle service for the convenience of the guests.
Dining
Ecosfera Hotel Canggu promises to offer a flavourful ride to its guests with a range of delectable dishes available at its in-house restaurant, GreenSpot Cafe. Ranging from Indonesian, International and European cuisines, there are a variety of options that guests can choose from as per their own taste preferences. They can also enjoy a la carte breakfast and can sip refreshing drinks to quench their thirst. For all those fitness freaks, there is a wide variety of salads available to ensure that they do not compromise with their health.
While planning to stay in Bali, there is one thing that travelers cannot afford to miss. It is the impeccable hospitality and luxurious services offered by the hotel Ecosfera Hotel Canggu to make sure that all the expectations of the travelers are met and have been taken care of without any negotiation.
Hotel Accommodation
Suite with Ocean View
Suite with Partial Ocean View
Suite with Private Garden
Superior Room with Partial Ocean View
Classic Family Room with Pool View
Standard Double Room with Pool View
Standard Twin Room with Pool View
Budget Double Room
Budget Triple Room
With spacious and well-maintained rooms, Ecosfera Hotel Canggu is a property that enhances the stay in the rooms by offering astounding views of pool, garden, and ocean. The rooms of such an impressive property have been divided under categories that include Suite with Ocean View, Suite with Partial Ocean View, Suite with Private Garden, Superior Room with Partial Ocean View, Classic Family Room with Pool View, Standard Double Room with Pool View, Standard Twin Room with Pool View, Budget Double Room and Budget Triple Room. Each room has a flat-screen TV. Every room is equipped with free Wi-Fi, 24 hours room service, in-room safety box, mini refrigerator, and free Wi-Fi. It also provides attached bathrooms with shower facilities.
Hotel Highlights
Enjoy a stay that represents a unique blend of luxury and comfort
Get inspired by the pristine surroundings of the hotel
Indulge in therapeutic Balinese massages at EcoSpa
Pamper mind, body, and soul with yoga sessions
Feel the thrill of exploring underwater with activities like snorkeling, diving, and surfing
Gorge on delectable dishes to tickle your taste buds.
Indian Restaurants Near The Hotel
Roti Daal
Tiffin Bali
Chai'Ba Street Kitchen and Bar
FAQs
Q1. How much time does it take to reach the international airport from the hotel?
A. Ecosfera Hotel Canggu is located around 56 minutes drive from Ngurah Rai International Airport.
Q2. Is there any airport pick-up facility at this hotel?
A. Yes, Ecosfera Hotel Canggu provides airport shuttle services for the guests' convenience. However, the pickup and drop off service are available at an additional charge.
Q3. What are the entertainment options in and around the hotel?
A. While their stay in the hour, guests can indulge in happy hour and can rent a bicycle to take a short tour of the nearby places. In and around the hotel Ecosfera Hotel Canggu, they can enjoy the nightlife in Seminyak and can explore the underwater world with adventurous activities like snorkeling, surfing, and diving on the southern coast of Bali.
Q4. Does the hotel provide baggage storage facility?
A. Yes, the hotel provides baggage storage facility.
Q5. Does the hotel provide any special offer?
A. Guests can avail several offers while booking accommodation at Ecosfera Hotel Canggu . These include Early Bird, Week Package, Direct Booking, Him and Her, Solo Yoga and Spa Day.
For those who wonder what makes Ecosfera Hotel Canggu desirable in comparison to other hotels located in Bali, it is its unique location and remarkable intention to serve the guests with the best of services and comfort. Set in the heart of Canggu, the hotel is a very beautiful destination that offers its guests a chance to register the majestic charm of the natural beauty and pristine surroundings. Shaded by stunning garden views, the rooms of the hotels are equipped with all essential requisites expected by a traveler. Guests can also enjoy access to the internet throughout the property at free of cost. For a recreational purpose, they can indulge in happy hour and can also rent a bicycle to get short exhilarating glimpses of Balinese lifestyle and customs. It is a suitable choice for each and every traveler, however, seems to be perfect for those who wish to recreate some warm moments with their friends, family or children.