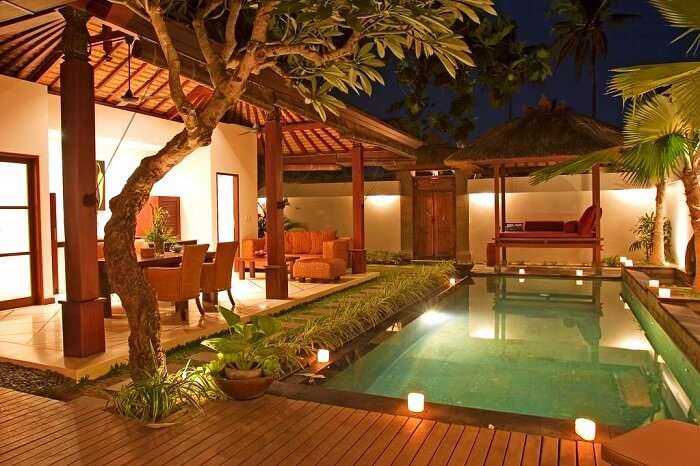 Overview
Ellora Villa Sanur is a well-known 4-star property which is situated by the sea. Often recognized as the romantic resort, it has always served as a magnet for those who wish to indulge in some quality time with their near and dear ones. Representing a fine combination of luxury and modern-day conveniences, the resort makes sure that the venue serves ideal for meeting each and every requirement of the travelers. The spacious accommodation facilities and thoughtful amenities of the resort have no comparison with the other local establishments of the area. The resort offers a tropical escape into the beauty of nature which has been elevated by the timeless Balinese feel during the stay. It is located nearby to the airport and is also surrounded by several prominent places of the area like Sanur Beach, Le Mayeur Museum and Mertasari Beach.
Amenities
Boasting a unique charm in itself, Ellora Villa Sanur offers a gamut of experiences for the guests to enrich their living at the hotel. Starting from a luxurious spa where guests can soothe their senses to a well-equipped fitness center, there is everything for those who wish to enjoy their stay in a stress-free zone. Also, a variety of concoctions prepared to pamper the mind, body, and spirit of the guests helps the guests to feel relaxed and rejuvenated. In addition, there is a swimming pool where visitors can enjoy diving deep and unburden themselves of all anxieties of daily life struggles. To make it furthermore convenient and comfortable for the guests, a range of services like free internet access, free parking and complimentary shuttle service is also offered. For some recreational purpose, guests can rent a bike for free to witness the beautiful scenic views in and around the hotel. They can also enjoy reading a book in the library.
Dining
As far as dining options are considered in and around the hotel, there are several restaurants located near Ellora Villa Sanur. Some of the popular restaurants include The Glass House, Soya Japanese Restaurant and The Owl. These restaurants are famous for offering lip-smacking delicacies from a variety of cuisines. Renowned for its coffee and homemade cakes, The Glass House provides an array of house-baked pastries and muffins and is also open for breakfast, lunch, and dinner. The lunch served at the restaurant include a full menu from all around the globe with fresh salads, baguettes, and delicious Indonesian dishes. For an easy and breezy mood, guests can enjoy an exotic range of cocktails at a bar named Linga Longa.
The resort Ellora Villa Sanur seems to offer everything that is required to convert a usual stay into a lavish hotel experience. With a fine balance between everything, the resort is an ideal choice for those looking for a great accommodation option in Bali.
Villa Accommodation
One Bedroom Villa
Two Bedroom Villa
With the views of the crystal-clear pool, tropical garden, and beautiful beach, the accommodation units of the hotel Ellora Villa Sanur are capable of at offering true relaxation. These options have been tastefully designed to provide luxury and comfort to its guests. Equipped with ultra-modern facilities, the accommodation choices of the hotel are categorized into two categories, One Bedroom Villa and Two Bedroom Villa. Each villa has a flat-screen TV with state of the art DVD and sound system. Every villa is equipped with services like 24 hours room service, 24 hours butler service, a well-equipped kitchenette, in-room safety box and free Wi-Fi. It also provides an indulging bathroom facility. Laundry service is available too at an additional charge.
Villa Highlights
• Put your burdens down and indulge in a lavish hotel experience
• Capture the picturesque views offered by the nearby surroundings of the hotel
• Soothe your senses with a wide range of massage treatments performed with essential oils
• Tickle your taste buds with mouth-watering delicacies at the hotel's restaurant
• Immerse yourself in a nature-inspired environment and let go off your stress
• Spend some quality time with your friends or family
• Explore some of the popular tourist destinations within a comfortable reach of the hotel
Indian Restaurants Near The Villa
Curry In Bali
Little India
Malaika Secret Moksha
FAQs
Q1. How much time is taken to reach the hotel from the airport?
A. Ellora Villa Sanur is located around 30 minutes drive from Ngurah Rai International Airport
Q2. Does the hotel provide airport pickup service?
A. Yes, Ellora Villa Sanur provides airport pickup and drop-off service. However, the service is available at a surcharge.
Q3. What are the recreational activities one can indulge in and around the hotel?
A. In and around the hotel Ellora Villa Sanur, guests can indulge themselves in a variety of things for their own enjoyment and fun. They can explore the botanical gardens, waterfalls and lakes located in Bedugul Highland at a nearby distance from the hotel. They can also witness the local dance and music performances that can offer them a quick glimpse into the cultures and traditions of the Balinese community.
Q4. Does the hotel provide storage areas in all bedrooms?
A. Yes, the hotel provides storage areas in all bedrooms.
Q5. Does the hotel offer a laundry service?
A. Yes, the hotel Ellora Villa Sanur offers laundry service but at an additional charge.
Set against the spectacular views offered by the beaches nearby, the resort Ellora Villa Sanur holds an immense popularity in terms of services offered and amenities provided. It promises to offer an environment of comfort and relaxation in a secure, private and completely discrete setting. The beautiful interiors and superior services of the resort are designed in such a way that they cannot let go off any expectation of the traveler. For those who wonder what's unique is with this establishment, it's the level of comfort and luxury at the service of the guests. Be its ideal location or its unbiased intention to prioritize guests' convenience, one thing that cannot be missed about this accommodation is its cozy atmosphere.