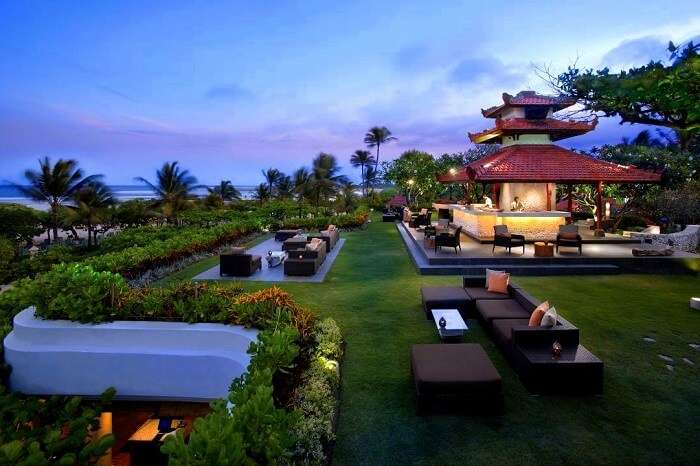 Overview
Grand Hyatt Bali Nusa Dua is one of the most impressive 5-star properties in Nusa Dua in Bali, Indonesia that never fails to charm its guests. With magnificent sights of tropical gardens, lagoons and white sand beach in the surroundings, the hotel offers a comfortable shelter to families and honeymooners and leisure travelers, who are looking for a wonderful holiday in Bali. Grand Hyatt features five swimming pools including two water-slides, fully equipped fitness center with steam room, plunge pool, squash courts, sauna, and yoga studio for its guests to relax their senses and get them some peaceful moment. The beach hotel also boasts of its attractive design and modern-day amenities. Further, its warm hospitality and incomparable amenities help offer memories for the lifetime. Its proximity to the nearby tourist attractions and public transport terminals makes it the right choice to explore Nusa Dua.
Amenities
Grand Hyatt Bali Nusa Dua proudly boasts of 24-hour Bay Club Fitness Center which includes a gymnasium, Sauna and Bay Club Pool for adults only, four swimming pools including two water-slides. It also features restaurants, cafes and bars within the hotel premises for the convenience of the guests. Besides, the hotel maintains Valet and self-parking service, 24-hour multilingual staff and concierge. All the hotel rooms are equipped with state-of-the-art amenities and complimentary Wi-Fi. It also offers airport transfer and limousines, laundry service and dry cleaning, 24-hour room service and 24-hour in-house clinic. Further, guests are provided opportunities for Kriya spa, beauty salon, fully equipped fitness center with steam room, plunge pool, squash courts, sauna, and yoga studio and adventurous activities.
Dining
Grand Hyatt Bali Nusa Dua features exceptional restaurants and bars offering delightful culinary experiences throughout the day and the ideal settings for the night. The hotel maintains seven restaurants namely Garden Café, Nusa Dua Garden Cafe Restaurant, Salsa Verde, Pasar Senggol, Watercourt, Nampu, and Grand Club Lounge. The Garden Café offers an array of classic dishes from Asia to Europe. Salsa Verde allows its guests to enjoy Italian cuisine. Further, one can gorge on appetizing food with a glass of wine at Grand Club Lounge, which offers complimentary daily continental breakfast and evening drinks with canapés. Moreover, it serves an array of cocktails for the food lovers. Other bars in this hotel are Salsa Verde Bar, Salsa Bar, Poolside Bar, and Veranda lounge and Bar.
While surrendering oneself to the tranquillity of the place, let go of all the stress and anxieties and indulge in a range of well-being activities arranged by Grand Hyatt Bali Nusa Dua. Facilities such as a fitness centre with sauna and spa are likely to engage one in a total mind-body workout. Also, the hotel is known for striking the right balance between lavishness with contemporary richness.
Hotel Accommodation
Standard View
Grand Club Suite
Villa
Grand Suite King
Grand Executive Suite King
Grand Executive Suite Twin
Club Executive Suite King
Club Executive Suite Twin
Ambassador Suite
Presidential Suite
The resort with friendly staff has a total of 636 elegant and carefully decorated rooms. One may choose a villa room to enjoy spectacular sea views or garden views. Go for the iconic Grand Club which is an ideal pick for those, who love green surroundings and a view of the tropical garden. Moreover, Villa at Grand Hyatt Bali Nusa Dua comes with a spacious sitting area, dining area, kitchenette, and outdoor patio. All the rooms are equipped with cable TV, in-room safe, mini-bars and tea/coffee makers, as well as free Wi-Fi. The washrooms of all the rooms are well-equipped with a separate shower and bathtub. The rooms also have a private balcony overlooking tropical gardens, lagoons or stunning views of the Indian Ocean.
Hotel Highlights
Have an unforgettable gastronomic affair at the hotel's restaurants
Relax with pearl radiance massage at Kriya Spa
Work out at the fitness center with steam room, sauna and yoga studio
Try signature cocktails and mocktails at the Veranda Lounge & Bar
Gorge on authentic Italian food at Salsa Verde.
Indian Restaurants Near The Hotel
Spice Mantraa Indian Cuisine
Chai'ba Street Kitchen and Bar
Man Frydays Seminyak
FAQs
Q1. What is the distance between the hotel and the airport?
A. Grand Hyatt is located at a distance of 13 km from Ngurah Rai International Airport.
Q2. Does the hotel offers an airport pick up and drop services?
A. Yes, the hotel provides airport shuttle services to its guests.
Q3. What are the things one can do in and around the hotel during their stay?
A. The hotel offers a variety of cheerful activities ranging from water sports to Kite flying sessions. One can enjoy spa and beauty care sessions at Kriya Spa within the hotel premises.
Q4. Is the breakfast included in room tariff?
A. Yes, the room tariff is inclusive of the breakfast for all guests.
Q5. Is there a tennis court located on the hotel's premises?
A. Yes, the hotel offers the tennis facilities on a chargeable basis. There are three floodlit tennis courts which are suitable for players of all levels.
Set against the glittering Indian Ocean, Grand Hyatt Bali Nusa Dua is a perfect place for nature lovers! Here, experience the beauty of raw nature and find solace while being surrounded by vibrant greenery and soothing ambiance. The hotel is also known for offering warm hospitality with friendly staff. One can enjoy stunning views of the tropical garden, lagoon view or the ocean from a private balcony that accompany most of the rooms. Whether it's a spa treatment, beauty session, gym or water sports, the guests have endless ways to unwind. Get a taste of authentic local cuisine made from the freshest ingredients in the in-house restaurants. Further, the hotel offers a number of fun activities for kids that engage them in the terrestrial and marine ecology of the place. Meanwhile, adults can enjoy the hotel's bars to experience the nightlife of the place. Grand Hyatt Bali Nusa Dua ensures that its guests get an exclusive slice of paradise.