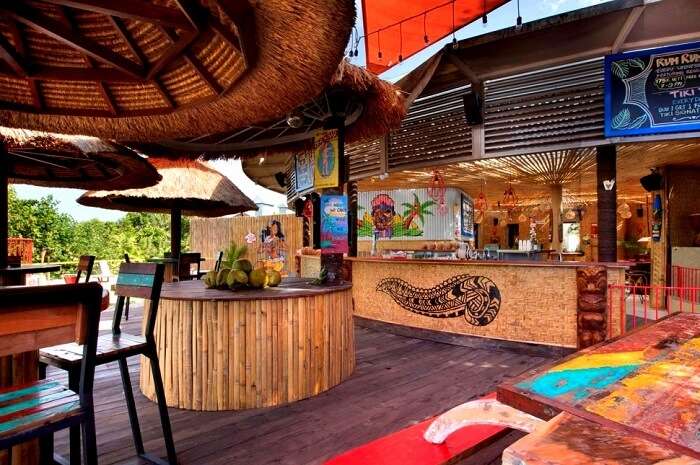 Overview
Grandmas Plus Hotel Seminyak is one of the most impressive 3-star properties in Seminyak, Indonesia that never fail to charm its guests. With lush green surroundings comprising of money plants and creepers all over the wall, the hotel offers a comfortable shelter for couples as well as business and leisure travelers looking for a memorable holiday. Grandmas Plus Hotel Seminyak features a spa center for its guests to relax their senses and bring relief to their body. The beach hotel also boasts of its attractive design and modern-day amenities. Further, its warm hospitality and incomparable amenities help offer memories for the lifetime. Its proximity to the nearby tourist attractions and public transport terminals makes it the right choice to explore Seminyak, Indonesia.
Amenities
Grandmas Plus Hotel Seminyak proudly boasts of spa and beauty salon. It also features restaurants and bars within the hotel premises for the convenience of the guests. Besides, the hotel maintains a parking area, 24×7 front desks and foreign exchange counters. All the hotel rooms are equipped with state-of-the-art amenities and complimentary Wi-Fi. It also offers airport shuttle on chargeable basis, laundry on a chargeable basis and room service. Further, guests are provided opportunities for the spa treatment, salon services, cocktail classes, yoga classes, canning sari weaving classes, cycling, painting classes, motorbike rental, and surfing lessons.
Dining
Grandmas Plus Hotel Seminyak features an exceptional restaurant and a bar which offer delightful culinary experiences throughout the day and the ideal settings for the night. The hotel maintains one restaurant namely Miura Restaurant. It offers a range of delicious Indonesian and International cuisine and is open throughout the day, and is popular for its mouth-watering breakfast. Further, one can gorge on appetizing food with a glass of wine at Kinky Tiki Bar, which serves up popular food and drinks plus fun entertainment nightly until late. Moreover, it serves an array of cocktails for the food lovers.
While surrendering oneself to the tranquillity of the place, let go of all the stress and anxieties and indulge in a range of well-being activities arranged by Grandmas Plus Hotel Seminyak. Special yoga and surfing classes are likely to engage one in a total mind-body workout. Also, the hotel is known for hitting the right point between extravagances with contemporary richness.
Hotel Accommodation
Cozy Double Room
Cozy Twin Room
The resort with friendly staff has beautifully designed rooms. It offers rooms under two categories which are Cozy Double Room and Cozy Twin Room. The Cosy Double Room is ideal for couples. The cozy twin room is an ideal pick for those who are looking for a room with two single beds. Moreover, both rooms have workstations and washroom with showers. All the rooms are equipped with flat-screen, television featuring international channel, mini refrigerator, wardrobes, mini-bars, and tea/coffee makers, as well as free Wi-Fi.
Hotel Highlights
Have an unforgettable gastronomic affair at the hotel's The Miura Restaurant
Experience various activities like cycling and painting
Relax with treatments like reflexology at De Nyuh Spa and Beauty Salon
Try signature cocktails and mocktails at Kinky Tiki Bar
Gorge on authentic Indonesian and International food at Miura Restaurant
One can also opt to rent a motor-bike to explore Seminyak
Indian Restaurants Near The Hotel
Spice Mantraa Indian Cuisine, Chai'ba Street Kitchen and Bar, Man Frydays Seminyak
FAQs
Q1. What is the distance between the international airport and the hotel?
A. Grandmas Plus Hotel Seminyak is located around a 30-minute drive from Ngurah Rai International Airport.
Q2. Can the guests avail pickup service from the airport?
A. Yes, the hotel provides airport shuttle services to its guests on a chargeable basis.
Q3. What activities or experiences does the hotel offer?
A. The hotel offers a variety of cheerful activities ranging from cocktail class to painting class. One can enjoy spa and beauty care sessions within the hotel premises at De Nyuh Spa and Beauty Salon. Guests can explore the natural beauty of Seminyak by opting for a cycling excursion.
Q4. What are the complementary activities offered by the hotel?
A. Grandmas Plus Hotel Seminyak offers activities such as Canang Sari classes, painting classes, and cycling excursions.
Q5. Does the hotel offer any special discount to guests?
A. Yes, the hotel has special offers and discounts, such as 10 percent discount on restaurants such as Miura Pintoxs and Restaurant, Pearl Restaurant and Hard Rock Café.
Set against the shining Indian Ocean, Grandmas Plus Hotel Seminyak is a perfect place for nature lovers! Here, experience the mesmerizing beauty of nature and find peace while being surrounded by vibrant greenery and calming environment. The hotel is also known for offering warm hospitality with friendly staff. One will be amazed by the beautiful view of the greenery from the hotel. One has to just walk for 2 minutes towards the Double Six Beach, in order to enjoy the view of the sandy shores and the wide Indian Ocean. Whether it's a spa treatment, beauty session, or cocktail classes, the guests have endless ways to unwind. Get a taste of authentic local cuisine made from the freshest ingredients in the in-house restaurant. Adults can enjoy the hotel's bar to experience the nightlife of the place. Grandmas Plus Hotel Seminyak ensures that its guests get an exclusive slice of paradise.