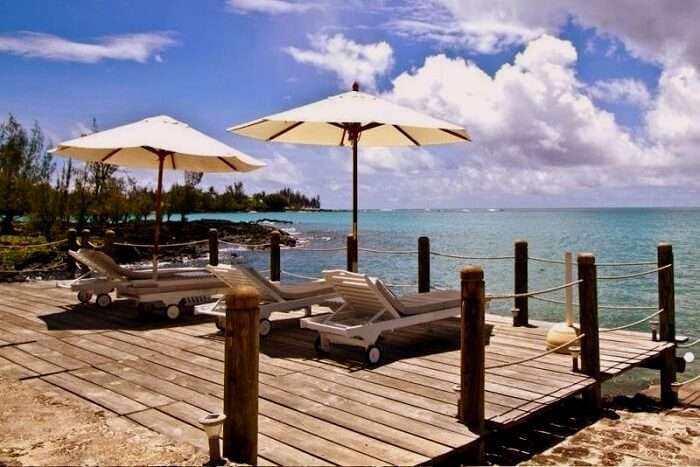 Overview
Hibiscus Beach Resort And Spa Pereybere is an elegantly designed 3-star property in the cozy village of Pereybere, located in the heart of north Mauritius. With the beach, a 12 minute walk away and a magnificent tropical garden in front, Hibiscus Beach Resort welcomes all kinds of travelers. Offering a wide range of amenities like a spa and well center, guests will not be disappointed at all. At Hibiscus Beach Resort And Spa Pereybere, guests can relax in spacious and attractively designed rooms that all offer breathtaking sea or garden views by means of a private terrace or balcony. Each room comes fully equipped with modern amenities, including satellite TVs, refrigerators, hairdryers, and en-suite bathrooms, and can accommodate a range of guests from couples to families.
Amenities
Hibiscus Beach Resort And Spa Pereybere offers one a wide range of services. Free WiFi is available throughout the premises while hairdressers, doctors, babysitters, and laundry services are all accessible upon request and for additional fees. Moreover, a children's area offers a special range of activities and facilities for the younger guests, while a spa allows guests to heal and refresh themselves with the massages, facials, body treatments, and sauna sessions.
Guests at Hibiscus Beach Resort can relax and rejuvenate at the unique swimming pool shaped like Mauritius Island, which includes a mini waterfall, a children's area, an open Jacuzzi and wooden deck chairs. Those seeking open waters can take a small path that leads from the hotel to the turquoise blue lagoon rimmed with coral reefs, a spot beloved of swimmers and amateur players of water sports. An experienced team of instructors offers free diving lessons for guests of all experience levels at the swimming pool. Experiences like snorkeling, sea walking, big game fishing, cycling, horse riding and guided tours of Mauritius Island can be organized by the hotel for a fee. For those seeking natural beauty on the ground, the Sir Seewoosagur Ramgoolam Botanical Gardens is loacted at an 18-minute drive from the hotel.
Dining
The Hibiscus Beach Resort And Spa Pereybere offers an open-air restaurant overlooking the pool and the beach, where guests can enjoy a variety of delicious meals in an exquisitely tranquil atmosphere. On special occasions, lunch and dinner are accompanied by live entertainment or cuisine demonstrations. The main restaurant offers breakfast, lunch, and dinner, while the main bar offers a number of cocktails and freshly squeezed juices. The snack bar provides tea and coffee, pastries, pancakes, ice-cream and other snacks with a typical Mauritian twist.
At the Hibiscus Beach Resort And Spa Pereybere, one is sure to have an unparalleled experience. Whether one is here with their family or just with their partner, they are sure to create some beautiful memories.
Resort Accommodation
Loft, Superior Garden view
Superior Sea View
Suite Sea View
Royal Suite
Hibiscus Beach Resort And Spa Pereybere has 50 rooms of 4 types on offer. Superior rooms can be chosen with either a beach or a garden view, and provide spacious accommodation of 47 square meters with private terrace/balcony. Both the Loft and the Senior Suite offer a wonderful view of the lagoon and comes with a Jacuzzi, a private balcony with sun beds and a small parlor with handcrafted sofas – the Loft comes at 54 square meters and the Senior Suite at 60 square meters. The Royal suite, at 94 square meters, comes with similar features and is lavishly appointed with both modern decoration and traditional wooden furniture, making it the ideal option for honeymooners.
Resort Highlights
The secluded lagoon allows guests to bathe in privacy, while the diving team holds ocean excursions
All rooms offer unparalleled views of the beach or the garden, with a private balcony or terrace
The open-air restaurant and bar allow guests to enjoy refreshing drinks and delicious food
The Mont Choisy Shopping Centre and the Grand Baie La Croisette Shopping Mall are only minutes away
The sauna and spa allow guests to rejuvenate themselves with healing baths and massages
Indian restaurants Near The Resort
Nitzana Mauritius
Indian Tarka
Saveurs Des Iles Restaurant
FAQs
Q1. What are the times for check-in and check-out?
A. The check-in time is 2:00 PM and the check-out time is 11:00 AM.
Q2. Is it possible to rent cars for sightseeing?
A. Hibiscus Beach Resort And Spa offers car rental facilities upon request and for an additional charge.
Q3. How can guests go swimming with sharks?
A. The diving team at Hibiscus Beach Resort And Spa offers group excursions for swimming with sharks. These are only from October to March and strictly upon reservation.
Q4. When is the hotel spa open?
A. Guests can avail of spa facilities between 10:00 AM and 7:00 PM daily.
Q5. How far is the hotel from the airport?
A. The hotel is 70 kilometers away from the Sir Seewoosagur Ramgoolam International Airport. Airport shuttle service is available upon request.
Footer Content
Hibiscus Beach Resort And Spa Pereybere leaves no stone unturned to create a delightful experience for its guests. The rooms are tastefully appointed with modern fittings and allow travelers ranging from solo guests to full families to feel comfortable. Free facilities such as continental breakfast, room toiletries, WiFi connectivity throughout the premises and on-the-spot parking enhance the experience. The handpicked multilingual staff members do their best to make everyone feel welcome and are always ready to accommodate special requests from guests, including dietary requirements, activities for different age groups, childcare/babysitting or special provisions for differently abled guests. With the beach and the lagoon just minutes away, guests can enjoy their favorite water sports together or simply go for a relaxing early morning swim by themselves. Elegant, inviting and imbued with the warm Mauritian spirit, Hibiscus Beach Resort, And Spa Pereybere is an ideal option for travelers of all kinds who seek a tranquil experience in the heart of northern Mauritius.