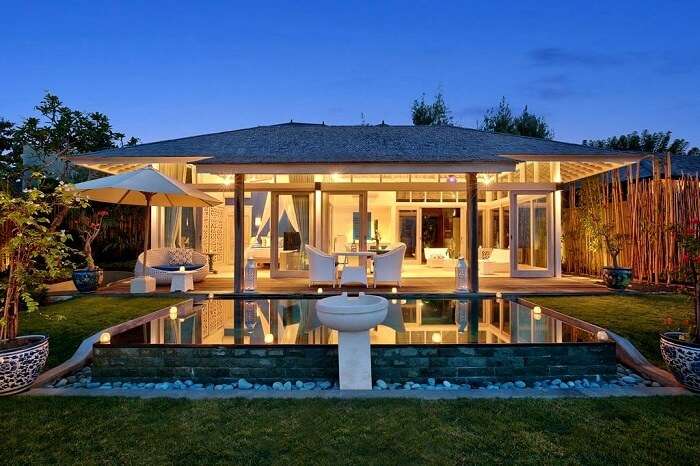 Overview
Hidden Hills Villas Uluwatu is a 5-star property in Kuta that is situated on the hilltop of Uluwatu. Its pristine location has it overlooking the Indian Ocean and accommodation can cater to all kinds of travelers, be it couples/honeymooners or business and leisure travelers looking for a wonderful holiday.It is just a 5-minute drive away from Padang-Padang beach. Some villas feature a private infinity pool and the property has a gym and spa center for all guests. The accommodation also boasts of its attractive design and modern-day amenities. Further, its warm hospitality and incomparable amenities help in making memories for a lifetime. Its proximity to the nearby tourist attractions makes it the right choice to explore Kuta. Its elegance and sophistication have lead International Hotel Awards and World Luxury Hotel Awards to call the hotel the Best Small Luxury Hotel in Asia and Best Luxury Hideaway Resort in Asia.
Amenities
Hidden Hills Villas Uluwatu proudly boasts of a gym, pool, and spa. It also features a menu prepared by Head Chef Ayu who brings Western and Asian influence to all the dishes. Besides, the hotel maintains a free parking area, offers free wi-fi and daily maid service. All the hotel rooms are equipped with state-of-the-art amenities. It also offers airport pick up and drop off, laundry and dry cleaning services at an additional charge. Further, guests can opt for BBQ facilities or hire a car and explore the city. The staff speaks Indonesian and English so most of the travelers will not have any issues.
Dining
Hidden Hills Villas Uluwatu features exceptional food brought to the guests by a renowned chef. The menu has Italian, Korean, Japanese and Thai cuisines. All of the dishes have some Balinese influence on them. The in-villa BBQ is another option for guests. The produce if freshly caught, adding to the flavor and the mesmerizing views. They have a cocktail menu as well which means guests can enjoy unique drinks in their villas.
Guests are sure to have amazing memories of their stay at Hidden Hills Villas Uluwatu. The views are second to none and the service is pristine. It is about 40 minutes away from the airport and promises an unforgettable experience away from the busy city life.
Villa Accommodation
One Bedroom Villa
Two Bedroom Villa
Three Bedroom Villa
Four Bedroom Villa
Five Bedroom Villa
The villas with friendly staff have elegant and carefully decorated rooms. It offers rooms under various categories, including one bed, two bed, three bed, four bed, five bed, and studio. All of the villas have TV sets, private butler service, night security, and complimentary bottled water. They also offer free wi-fi and complimentary breakfast. Bathroom amenities include a high-quality hair dryer, body wash, and shampoo. Guests can request for laundry and dry cleaning service, private tours and a private driver as well. All of the villas have amazing views of the valley. Guests don't have to leave their rooms for anything.
Villa Highlights
Enjoy various cuisines in the room
Some of the villas in Hidden Hills Villas Uluwatu have private pools
Work out at the gym
Rejuvenate at the spa with several treatments
Amazing views of the valley and the Indian Ocean
Opt for a variety of tours
Arrange for a romantic dinner
Indian Restaurants Near The Villa
Ganesha Ek Sanskriti Indian Restaurant
Indian Tandoor
Warung
FAQs
Q1. What is the distance between the hotel and the nearest airport?
A. Hidden Hills Villas Uluwatu is located around 18 km from Ngurah Rai International Airport.
Q2. Does the hotel provide an airport shuttle service to the guests?
A. Yes, the hotel provides airport shuttle services to its guests at an additional charge.
Q3. Are there any things to do in and around the hotel?
A. Guests staying at Hidden Hills Villas Uluwatu can indulge in activities like swimming, massages, and BBQ. They can rent a car and explore the city on their own or ask the accommodation to arrange for tours. They can go for Island tours, temple tours, cooking classes, golf, tennis, surfing, and ATV riding. There are several activities for kids as well.
Q4. Are breakfast charges included in the price?
A. Yes, the room tariff is inclusive of the breakfast for all guests.
Q5. Does the hotel have butler service?
A. Yes, the property provides private butler service.
Set overlooking the glittering Indian Ocean, Hidden Hills Villas Uluwatu is a perfect place for nature lovers! Here, experience the beauty of raw nature and find solace while being surrounded by vibrant greenery and soothing ambiance. The hotel is also known for offering warm hospitality with friendly staff. One can enjoy stunning views of the valley from a private terrace or balcony that accompany most of the rooms. Whether it's a spa treatment, gym or tours, the guests have endless ways to unwind. Get a taste of authentic local cuisine made from the freshest ingredients by the in-house chef. Further, the hotel offers a number of fun activities for kids as well. Guests can also indulge themselves in beach picnics, cooking classes, surfing and play tennis. Hidden Hills Villas Uluwatu offers a unique cocktail menu, in-room service, in-villa BBQ so the guests never have to leave the comfort of their private villa. For couples, the property offers several unique menu options. A stay here is surely going to be an unforgettable experience.