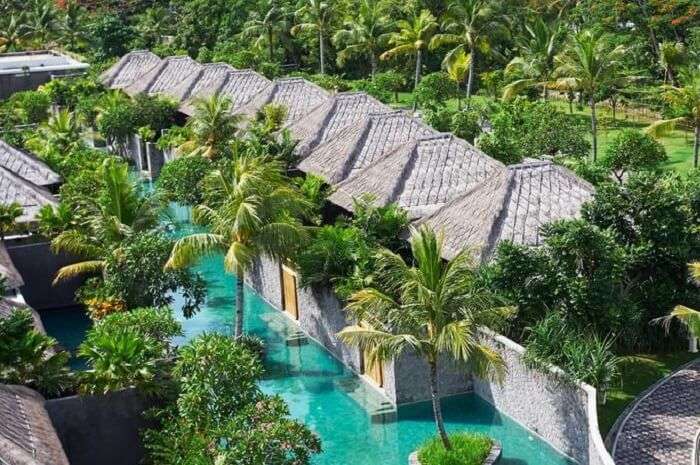 Overview
Inaya Putri Bali Nusa Dua is a luxurious 5-star hotel which is situated in the exclusive compound of Nusa Dua area, on one of Bali's most famed beachfront. This beach resort offers a blend of modern hospitality with a rich tradition. Set on the Island of the Gods, the hotel proves to be an ideal place for families, travelers and newlywed couples who are looking for a wonderful vacation. Offering 3 inviting outdoor pools, the hotel has this unique, heavily influenced Balinese architecture which sets the modern yet elegant accommodation apart from typical resort building. It boasts the architecture inspired by 7 Hindu Goddesses, and which incorporate elements of local artistry. Situated close to the beach, Inaya Putri Bali Nusa Dua is approximately a 25-minute drive from Bali Denpasar International Airport and a 20-minute drive from Pandawa Beach.
Amenities
Inaya Putri Bali Nusa Dua comes with a number of facilities and services which are offered for the convenience of its patrons. The property proudly boasts of a spa and wellness center where guests can have relaxing treatments. Moreover, it operates a 24-hour front desk that provides dry cleaning and laundry services. The concierge can assist with luggage storage, while day trips can be arranged at the tour desk. Other than this, meeting and banquet facilities are available. Facilities like free Wi-Fi, free parking, airport shuttle, childcare and housekeeping can also be availed by the guests during their stay.
Dining
Apart from this, Inaya Putri Bali Nusa Dua maintains 3 beautifully built restaurants and bars/lounges featuring a varied menu of international cuisines and beverages. Ja'Jan by the Sea, Gading Restaurant and Homaya Restaurant serve authentic Indonesian and International cuisines. Moreover, the hotel casual ocean-view Bar Lounge offers an extensive line up of beverages including international beers, sparkling cocktails, spirits and boutique wines. Moreover, guests can add sweetness to the taste buds by visiting the beachfront spot called INAYA Deli which offers sweet treats and assorted desserts including our homemade cookies, doughnuts and any more.
Get a healthy and relaxing treatment at the world-class spa and wellness center and spend a homely stay at the hotel. Enveloped in luxury, Inaya Putri Bali Nusa Dua creates the perfect recipe for comfort, relaxation and indulgence so that the guests can have a great time here during the holidays.
Hotel Accommodation
Deluxe rooms
Deluxe Pool Access Rooms
Suites with Garden View
Suites with Ocean View
Two Bedroom Suites
Inaya Putri Bali Nusa Dua offers a range of accommodation designed to suit every need with 457 guest rooms, suites and villas in five levels of luxury – Deluxe rooms, Deluxe Pool Access Rooms, Suites with Garden View, Suites with Ocean View and Two Bedroom Suites. The air-conditioned rooms feature a flat-screen TV, a wardrobe, a laptop safe and a comfortable seating area. Each room is equipped with an electric kettle, a desk, and a terrace. Moreover, the rooms come with an attached bathroom with a bathtub, hairdryer, slippers and free toiletries including a dental kit. Some rooms offer a convenient pool access while others overlook the lush garden view. Fresh towels and bed linens are also provided in each room for the convenience of the guests.
Hotel Highlights
Enjoy first-class dining at different restaurants offering delicious cuisines
Guests can enjoy themselves at the outdoor pools
Fitness lovers can visit a fitness centre to spend a healthy holiday
Feel the night vibes and taste mouth-watering drinks at the bars
Enjoy a stroll along the sandy beach while experiencing amazing views
Relax the senses and soothe the mind at the full-service spa
Kids can also enjoy themselves at the Kids' pool
Indian Restaurants Near The Hotel
Bumbu Delhi Indian Restaurant
Delhi Six
Malaika Secret Moksha
FAQs
Q1. Which is the nearest airport to the hotel?
A. Inaya Putri Bali Nusa Dua is located around a 25-minute drive from Bali Denpasar International Airport
Q2. Is airport shuttle service available at the hotel?
A. Yes, the hotel provides airport shuttle services to its guests.
Q3. What are the things in which one can indulge in during the stay?
A. Guests can indulge in a number of beach activities. Moreover, one can get a chance to explore a place like Pandawa Beach and Bali Collection which are a 15-minute drive from the hotel.
Q4. Does the hotel provide childcare service?
A. Yes, Inaya Putri Bali Nusa Dua takes special care of kids by providing childcare service to its guests.
Q5. Does the hotel offer special discounts to the guests?
A. Yes, the hotel provides special offers to couples by proving 15% off on laundry, 10% off on water sports (non-motoric). It also provides 10% off on food and a special gift upon arrival for the same.
Situated along the beachfront Nusa Dua, this 5-star luxury hotel is a perfect place for those who want to spend some quality time with their family and friends. Uncover the untouched beauty of this place by visiting this beautifully built hotel. The lush green ambiance of the hotel adds to the beauty of this property that compliments the tropical surroundings in an ideal way. Here, find solace while being surrounded by vibrant greenery and soothing ambiance. In attendance of friendly staff, feel comfortable to fully enjoy the best of services provided. One can enjoy stunning views of the sea, emerald gardens, and beach from a private terrace that accompany most of the rooms. Whether it's a spa treatment or water sports, the guests have endless ways to unwind. Taste some of the best authentic local cuisines in the in-house restaurants and enjoy international beverages. Further, the hotel maintains a special pool for kids to engage them in fun activities. Guests can also indulge themselves in beach picnics and supervised scuba diving. Inaya Putri Bali Nusa Dua ensures that its guests get an exclusive slice of paradise and experience a homely atmosphere at the same time.