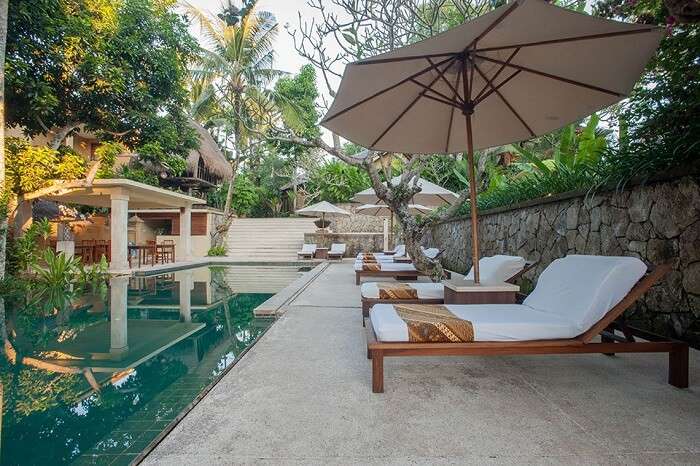 Overview
Komaneka at Bisma is a 5-star hotel which is nestled in the lap of a tropical forest in Ubud, Indonesia. Being a tropical hotel, the high-end property is just a 10-minute walk from Ubud's Main Street. As situated at one of the best-rated locations in Indonesia, the hotel is best for couples, families, and especially for honeymooners. Komaneka at Bisma offers phenomenal views of Campuhan River, rice fields and coconut plantations. Komaneka at Bisma has amenities like Lap Pool, Spa Villa with a semi-circular leisure pool nearby and wellness center, gym, a jogging path, swimming pool, Wi-Fi in all areas, bar and its own restaurant with international cuisines. Lap Pools are ideal for a secluded honeymoon. Pool Bar is also available in the hotel for its guests. The property's serenity and architecture are one of the reasons for its beautiful decor. The architecture of the Komaneka at Bisma demonstrates Indonesian art, culture, and tradition. From spacious guest rooms to suites with large private balcony, the hotel provides a comfortable and pleasant stay to its guests. The property is 38 km from the Ngurah Rai International Airport.
Amenities
At Komaneka at Bisma, guests can experience a variety of facilities and can pamper themselves with it. One can unwind and just relax at the spa villa. Honeymooners can enjoy in the Lap Pool. The other facilities that are offered at the hotel are an outdoor pool, Pool Bar, wellness center, gym, yoga classes, semi-circular leisure pool, massage facility, garden, and a jogging path. Further, the hotel also provides Wi-Fi in all areas, a restaurant, and a bar. Activities like cooking class, a class about local culture and bike tours are available on additional charges. Guests, who want to enjoy nature while reading a book, can enjoy here as they will be provided with a library. The luxurious hotel is also equipped with facilities like airport shuttle service. Other facilities like babysitting, business center, and banquet facilities are there in the Komaneka at Bisma on additional charges.
Dining
At the Komaneka at Bisma, guests can pamper themselves with first-rate food quality and some of the best wine and drinks. The luxurious property has one dining option namely Seneng Kitchen. One can treat oneself at the restaurant, the loveliness of the rice fields. Guests can enjoy the taste of authentic Indonesian and international cuisine here. The restaurant at the Komaneka at Bisma is available for its guests any time in a day from breakfast to supper. Experience the wonderful scenery and an extraordinary dining at the restaurant.
The Komaneka at Bisma is a well-appointed and luxurious 5-star hotel which offers all state-of-the-art amenities to its guests ranging from spa and wellness center, gym, lap pool, Wi-Fi in all areas and pool bar to babysitting facility and child services. Further, the hotel also serves various mouth-watering international delicacies for the foodies and some of the finest drinks at the bar. The hotel is surely one of those for an ever-lasting memory.
Hotel Accommodation
Two Bedroom Pool Villa
Family Duplex Pool Villa
One Bedroom Pool Villa
Family Suite
Bisma Suite
Komaneka at Bisma accommodates spacious and luxurious rooms that are categorized into Two Bedroom Pool Villa, Family Duplex Pool Villa, One Bedroom Pool Villa, Family Suite, Bisma Suite. The Two-Bedroom Pool Villa is a spacious villa with a private swimming pool, wooden sunning deck, garden with fish pond and kitchen. One Bedroom Pool Villa is perfect for honeymooners and couples. One can enjoy in-house activities such as Balinese dance class, yoga session, wood-carving lesson, and coconut leaf craft session at this villa in Komaneka at Bisma. The rooms depict Indonesian style with bathroom amenities such as a separate shower and bathtub and two vanity basins.
Hotel Highlights
Guests can have breathtaking views of rice terraces, coconut groves, and tropical rainforest
Pamper oneself in the spa with Indonesian beauty and massage treatment
The hotel is equipped with a lap pool and a pool bar and a restaurant
Guests can savor on authentic Indonesian cuisines from the hotel's restaurant
Each villa has a sun deck, fine wooden furnishings and dining area with splendid tropical forest views.
Indian Restaurants Near The Hotel
Warung Little India
Mumbai Station Pure Vegetarian Indian Cafe
Dapur Malabar – Homestyle Indian Food
FAQs
Q1. What is the distance between the hotel and the nearest airport?
A. Komaneka at Bisma is approximately 38 km from Ngurah Rai International Airport.
Q2. Is there an airport pick-up facility at this hotel?
A. Yes, the hotel does provide airport shuttle service to all guests.
Q3. What are the entertainment options in and around the hotel?
A. Komaneka at Bisma has a variety of things to offer including activities such as spa, cooking class, class about local culture and bike tours. There are many tourist attractions near the hotel for visitors to explore.
Q4. Does the hotel offer complimentary breakfast?
A. Yes, breakfast is inclusive of the price for all guests at Komaneka at Bisma. The facility of having breakfast in the room is also available in the hotel.
Q5. Can honeymooners avail any discount from the hotel?
A. Yes, Komaneka at Bisma provides special offers to its guests that include Damar Lintang Dinner, New Year's Eve Dinner Peken Senggol Batukaru, and Komaneka Honeymoon Package. Special offers also depend on the guests' stay and what deal they choose.
Komaneka at Bisma provides a serene and pleasing experience to its guests because of its location and high-end Indonesian decor. The villas of the hotel offer breathtaking views of nature and the beach. Lap Pool is something that can attract any honeymooner. Apart from the ambiance of the hotel, its traditional wooden features, lap pool, spa villa, pool bar and classes on Indonesian culture are Komaneka at Bisma hotel's special features. One of the major factors that make the hotel an impressive one is its location. Major attractions like Batur Lake, Batur Mountain, Campuhan River, and Bali Safari & Marine Park are located in close proximity to the hotel.