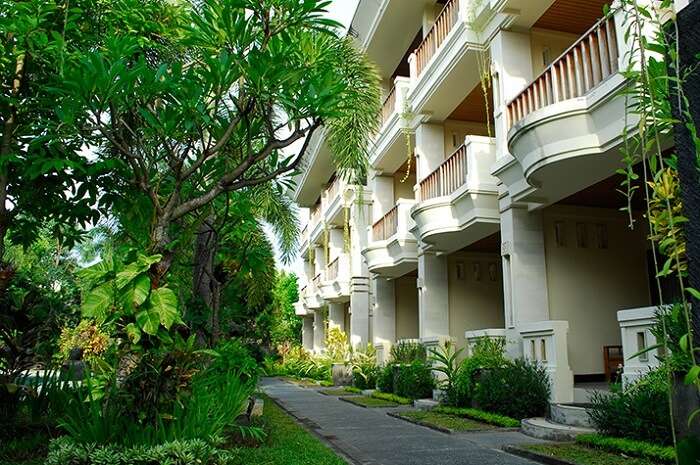 Overview
Kusuma Resort Seminyak, one of the popular 3-star properties in Seminyak, Bali, never fails to charm its guests. With lush green surroundings, the hotel offers a comfortable and ideal shelter to couples and leisure travellers who are looking for a wonderful holiday in Bali, Indonesia.It features a swimming pool and tropical garden to help its guests relax their senses. Kusuma Resort Seminyak also boasts of its attractive design and modern-day amenities. The architecture of the hotel offers glimpses of Indonesian art, culture and tradition. Further, its warm hospitality and friendly staff help create memories for the lifetime. Its proximity to the nearby tourist attractions, like Seminyak Beach, Kuta Square and Waterbom Bali, and public transport terminals makes it the right choice to explore the island of Bali. Notably, Kusuma Resort Seminyak is about 7 km from Ngurah Rai International Airport.
Amenities
Kusuma Resort Seminyak proudly boasts of an outdoor pool, swimming pool and tropical garden. It also features a restaurant on the hotel premises for the convenience of the guests. Besides, the hotel maintains a parking area, and 24×7 front and travel desks. All the hotel rooms are equipped with state-of-the-art amenities, including minibars and safe. Further, the hotel rooms feature attached bathrooms. It also offers car hire, concierge, laundry, housekeeping and doctor-on-call services, as well as Wi-Fi connectivity.
Dining
Furthermore, Kusuma Resort Seminyak features an exceptional restaurant that is popular across the area for offering delightful culinary experiences in an ideal setting. Sekar Restaurant, the on-site dining facility, offers a range of scrumptious Indonesian and international dishes. Also, it has the capacity to accommodate 40 guests at a time to enjoy the delicious and mouth-watering food. Besides, Sekar Restaurant is open for its guests from 7 in the morning to 11 at night.
While surrendering oneself to the tranquillity of the place, let go all the stress and anxieties. Also, get a chance to indulge in a range of well-being activities arranged by Kusuma Resort Seminyak. With a beautiful beach nearby, guests are likely to have ample opportunities to indulge in water sports and recreational activities. Moreover, the hotel is known for striking the right balance between lavishness and contemporary richness.
Resort Accommodation
Deluxe Double Room
Deluxe Twin Room
Deluxe Family Room
Deluxe Bungalow
Bungalow with Fan
The resort with friendly staff has a total of 25 elegant and carefully decorated rooms. It offers rooms under various categories, including Deluxe Double Room, Deluxe Twin Room, Deluxe Family Room, Deluxe Bungalow and Bungalow with Fan. Kusuma Resort Seminyak has 18 deluxe rooms. Each of Deluxe Bungalows at the hotel includes three bedrooms, a kitchen and an open living room. Also, there are Bungalows with 2-bedroom set up that include a kitchen and an open living room with the traditional Balinese-style main gate. Some of the rooms at the property offer views of the green surroundings and others face the hotel garden. All the rooms are equipped with LED TV sets, wardrobes, lockers and minibars, as well as free Wi-Fi.
Resort Highlights
Have an unforgettable culinary affair at the hotel's Sekar Restaurant
Indulge in various water activities like swimming and diving at the Seminyak beach
Sit in the lap of nature at the colourful tropical garden at the hotel premises
Gorge on authentic Indonesian food at Sekar Restaurant
The hotel accommodates 25 luxurious bungalows and rooms.
Indian Restaurants Near The Resort
Tiffin Bali
Chai'ba Street Kitchen & Bar
Spice Mantraa
FAQs
Q1. How far is the International Airport from the hotel?
A. Kusuma Resort Seminyak is located at a distance of 8 km from Ngurah Rai International Airport, which is a 35-minute drive.
Q2. Does the hotel provide an airport shuttle service to the guests?
A. Yes, guests at Kusuma Resort Seminyak can have delightful culinary experiences at its Sekar Restaurant, which offers delicious and mouth-watering Indonesian and international cuisines.
Q3. What are the activities to indulge in during the stay in the hotel?
A. Kusuma Resort Seminyak maintains a big parking area and it is free of cost for its guests.
Q4. Is the breakfast included in the room tariff?
A. Yes, breakfast is inclusive in the room tariff at Kusuma Resort Seminyak. The facility of having breakfast in the room is also available at the hotel.
Q5. Are there any special packages and discounts offered by the hotel?
A. Yes, other than Seminyak beach, there are places like Petitenget Temple, Kuta Art Market, Bali Mall Galleria and Waterbom Bali that are located within 4 km of Kusuma Resort Seminyak.
Set against the sparkling and dazzling Indian Ocean, Kusuma Resort Seminyak is a perfect place for nature lovers. The hotel offers opportunities to experience the beauty of raw nature and find solace while being surrounded by vibrant greenery and soothing ambience. The bungalows and deluxe rooms of the hotel offer amazing views of the beach. Its location and state-of-the-art Indonesian decor with dark wood furniture make it more appealing and beautiful. If one wants an escape from the busy city life, Kusuma Resort Seminyak is an ideal place to stay at. One can enjoy breathtaking views of the sea, green gardens and beach from a private terrace or a balcony. Also, the guests have endless ways to unwind at Kusuma Resort Seminyak. Get a taste of authentic Indonesian cuisine made from the freshest ingredients at Sekar Restaurant. Further, the guests can enjoy the nightlife of Bali at Hard Rock Cafe and Potato Head Beach Club that are around 3 km from the hotel. Kusuma Resort is also known for its warm hospitality and friendly staff. Whether relishing an exquisite meal at Sekar restaurant or witnessing the remarkable sunset, Kusuma Resort Seminyak ensures that its guests make memories for the lifetime.