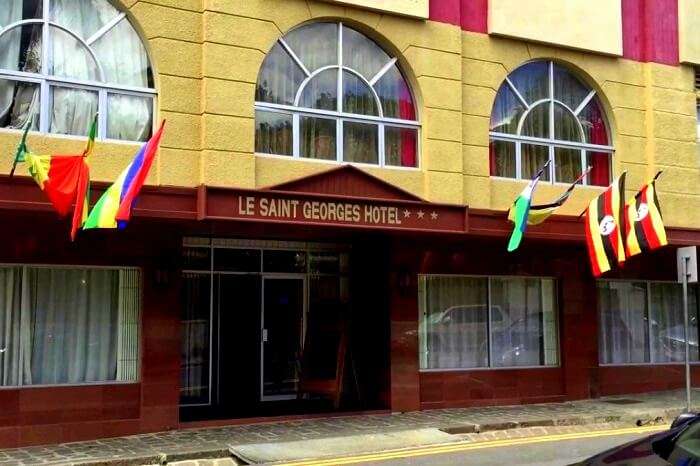 Overview
Located in the capital city of Port Louis in Mauritius, Le Saint Georges Hotel Port Louis is one of the fascinating 3-Star to spend some delightful moments. The best team of interior designers came together to design, Le Saint Georges Hotel Port Louis which beautifully captures the essence of the hotel. This marvelous accommodation is ideal for business travelers who are looking for a variety of business-related services. However, it is famous among leisure travelers as well due to its close proximity to plenty of tourist destinations. Being a privileged business hotel, this place offers a plethora of facilities to its guests, each adds up to render the guests with not just a business trip but the ultimate in luxury experiences as well. The rooms and suites of the hotel are extremely well designed for the comfort of its guests. The hotel is actually situated in the heart of the city and at a walking distance from the main business activities in Port Louis. This quiet and exquisite avenue gives an easy access to several leisure activities and the city's famous tourist attractions such as the Caudan Waterfront, its casino, nightclubs, the craft market etc.
Amenities
Offering its guests with some well equipped and advanced conference rooms, money exchange services, and car rental facilities, this hotel meets the expectation of business travelers quite well. Air-conditioned and sound-proofed, the conference rooms are huge and can hold up to 100 seats. Even the exceptional architecture of Le Saint George is something that cannot be described. It's entirely renovated floors, lush green garden area, awe-inspiring grandeur, well-decorated rooms are enough to provide one with the royal and memorable
Dining
Le Saint Georges Hotel Port Louis is reckoned not only for its beautiful ambiance and aesthetic beauty but also for its fine dining experience. Apart from this, the hotel houses a pub where travelers can taste a variety of cocktails and rums. The restaurant, Bistrot Saint Georges offers a brasserie for one's business lunch as well as some authentic Mauritian specialties. The Saint George's pub offers one a blend of different cocktails and rum.
Undoubtedly, staying in Le Saint George Hotel Port Louis will definitely offer an amazing experience and beautiful memories to linger on. Whether it's a first visit or the nth one but this hotel will surely endeavor to make one feel at home.
Hotel Accommodation
Standard Rooms
Junior Rooms Senior
Room King Suites
Le Saint Georges Hotel Port Louis features large and beautiful rooms which are decorated with all luxury amenities. They are classified into four different categories namely Standard Room, Junior Room, Senior Room, and King Suite. All of these rooms are well designed and reflect style and luxury in the true sense. There are total 28 standard rooms, 20 junior rooms, 20 senior rooms, and 14 king suites. All of the features individually controlled air conditioners, wardrobe, television, direct phone line and private attached bathroom with all facilities. Their interior decoration leaves one stunned and amazed and thus offers a memorable staying experience.
Hotel Highlights
Authentic Mauritian delicacies served at the restaurant
Two advanced conference rooms which are equipped with state-of-the-art infrastructure
Car rental services available to visitors
The hotel has an outdoor swimming pool as well
The hotel houses a traditional bar at the hotel
Indian Restaurants Near The Hotel
Tandoori Express Restaurant
Ltd Indra Restaurant
Namaste Restaurant
FAQs
Q1. Can one find secretarial services at Le Saint Georges Hotel Port Louis?
A. Yes, the front desk staff of the hotel is well trained to offer a complete range of secretarial services to their guests.
Q2. How many people can be easily accommodated in the conference room at Le Saint Georges Hotel Port Louis?
A. There are two conference rooms, one with 100 seats and the other one with 40 seats.
Q3. Will one be able to find Internet Services at the hotel?
A. Yes, Le Saint Georges Hotel Port Louis renders free internet services to their guests so that they can stay connected with the world.
Q4. How far away is the airport from the hotel?
A. The airport is at a distance of 35 km from the hotel.
Q5. How many people can be accommodated in the senior room category at Le Saint Georges Hotel Port Louis?
A. A maximum of 3 people can be accommodated in senior rooms.
Le Saint Georges Hotel Port Louis is one of the classic and royal business class hotels in Mauritius. Nothing can justify the beauty of this marvel located in the middle of the city. Owing to its rustic beauty and picturesque location, this place is famed for offering splendid experience to its patrons. Needless to mention, that this place is a rebirth of elegance. Its advanced business facilities easily grab the eyeballs of the renowned business travelers across the globe. Its secretarial services, mouth-watering cuisines, on-site bar, complimentary private parking, and impeccable hospitality is something difficult to forget. With its brilliant weather and stunning beaches, Mauritius is no doubt an attention-grabbing place for tourists to explore. Mauritius Holidays are like non-stop joyride loaded with adventure, thrill, and happiness. So, if one wishes to spend some pleasurable time with his near and dear ones in Mauritius, then choose to accommodate in Le Saint George Hotel Port Louis.