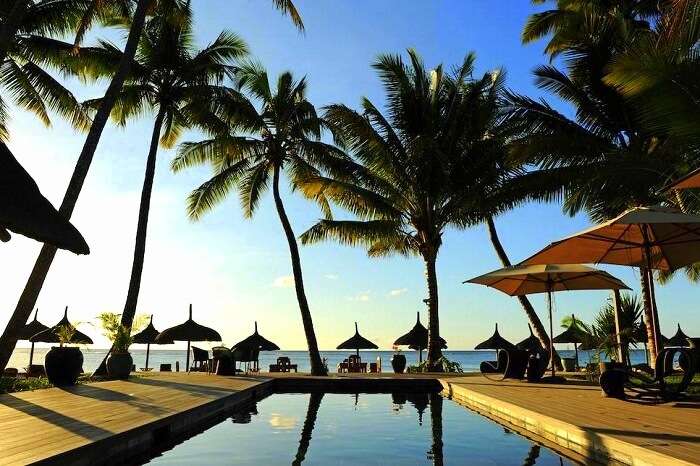 Overview
Nestled amidst the picturesque surroundings, Le Sakoa Hotel Trou Aux Biches is one of the elegant and iconic 4-star properties to stay in Mauritius. The picturesque and romantic location of this hotel makes it ideal for honeymooners and couples so that they can celebrate love in the true sense. Along with couples, this hotel warmly welcomes families as well. Its plush settings and charming beauty create a magical aura and thus grabs the attention of tourists all over the world. This hotel gives direct and easy access to white and sandy beach of Trou Aux Biches. Guests can also indulge in the heavenly spa and sauna services at the hotel. Although, the architectural design of Le Sakoa Hotel Trou Aux Biches is an icing on the cake. This grey and white hut style hotel is famed for its aesthetic decor and awe-inspiring grandeur. The rooms and suites in Le Sakoa reflect the next level of beauty and comfort. Their charm is something that can only be felt.
Le Sakoa Hotel Trou Aux Biches is located approximately 20 minutes away from Port Louis, the capital city of Mauritius. Set amidst the lush tropical gardens, this property is almost 2 km away from Maheswarnath Temple. It boasts of a plethora of thrilling and adventurous activities and is famed for offering scenic and quaint views of surroundings.
Amenities
Le Sakoa Hotel Trou Aux Biches is honored as a boutique hotel in Mauritius not only because of its ravishing beauty but also for its impeccable facilities. It offers a number of facilities like a relaxing spa and sauna, where can go for a revitalizing massage. Apart from this the hotel also offers some water-related activities at the beachfront such as snorkeling, scuba diving, and kite surfing.
Dining
Here one can savor lip-smacking delicacies, including local and seafood dishes. The restaurant Oak that is housed within the hotel offers some delicious seafood options to its guests that leaves them wanting more. There is a traditional bar loaded with a variety of wines, spirits, and fruit juices also available at the hotel where one may sit back and enjoy a drink.
Undoubtedly, this beauty of this marvel cannot be justified with few words. Le Sakoa Hotel Trou Aux Biches is all set for delivering its guests the best experience of a lifetime with extreme royalty and comfort.
Hotel Accommodation
Senior Suite
Honeymoon Suite
Double Room Garden View
Double Room Sea View
Rooms at Le Sakoa Hotel Trou Aux Biches define luxury at it best. They are classified into two main categories namely Honeymoon Suite and Senior Beach Suite. The honeymoon suite is specially designed for newly-weds who visit there to spend some quality time with each other. These suits with their romantic decor and great ambiance are ideal for couples. It's a picturesque setting automatically enhances the romantic aura and thus allows couples to enjoy their lovely time to the fullest. Senor beach suite, on the other hand, is ideal for those who come to enjoy with family. It can accommodate 2 beds for children as well.
Hotel Highlights
Enjoy a swim in the outdoor swimming pool at Le Sakoa Hotel Trou Aux Biches
One can pamper themselves at the spa and wellness center at Le Sakoa Hotel and rejuvenate the mind and body
The most striking feature of Le Sakoa Hotel Trou Aux Biches is that it offers direct access to the beach
Enjoy the authentic taste of original Mauritian flavors at the restaurant
Explore the stunning and glamorous terrace and beach views
Indian Restaurants Near The Hotel
Happy Rajah
House of India
Le Tandoor
FAQs
Q1. Can one avail laundry service at Le Sakoa Hotel Trou Aux Biches?
A. Yes, laundry service is available at Le Sakoa Hotel so as to facilitate guests in the best way possible.
Q2. Will guests be able to find Wifi facility in Le Sakoa?
A. Yes. One can easily find Wi-Fi facility in Le Sakoa Hotel Trou Aux Biches. It offers a strong connection so that guests can stay connected to the world with ease.
Q3. Does Le Sakoa Hotel Trou Aux Biches offer room service?
A. Le Sakoa Hotel Trou Aux Biches provides room service to their guests so as to offer them a comfortable experience.
Q4. Can one find rooms in Le Sakoa Hotel Trou Aux Biches with balconies and kitchenettes?
A. Yes. Some of the rooms in Le Sakoa Hotel have balconies and kitchenettes facility.
Q5. What is the specialty of the in-house bar at Le Sakoa Hotel Trou Aux Biches?
A. The in-house bar at Le Sakoa Hotel Trou Aux Biches offers a complete range of cocktails, fruit juices, and wines. Also, it has a full stock of cigars and rums.
Le Sakoa Hotel Trou Aux Biches is no less than a magical retreat in Mauritius. Its tranquil ambiance, divine charm, extreme royalty, incredible hospitality and drop dead gorgeous views are enough to grasp the attention of travelers across the globe. This boutique hotel offers a variety of facilities to its patrons so as to make them feel comfortable and pleasurable. One can spend delightful moments in rejuvenating spa and enjoy a plethora of massage treatments which offer ultimate relaxation to one's mind and body. Its in-house restaurant is bordered by the swimming pool which allows visitors to enjoy alluring and charming views. It is known for its stunning and dazzling beaches, friendly people, renowned landmarks and commendable staying options. Visitors will be engrossed easily in the beauty of this place if they chose to accommodate in the hotel. This hotel with its resplendent spoilt luxury and royal charm offer the best ever holiday experience to its patrons.