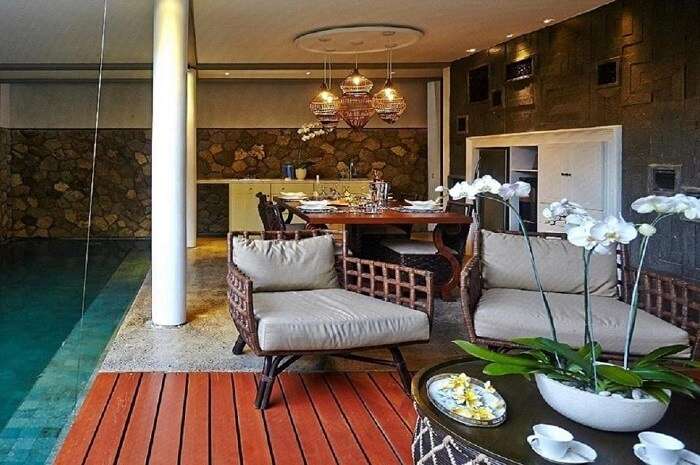 Overview
Mahala Hasa Villa Seminyak is one of the most impressive 4-star properties in Bali that never fails to charm its guests. Located merely 2 km away from the scenic Petitenget Beach, the property offers a relaxing stay to couples/honeymooners, business/leisure travellers and families looking for a wonderful holiday.Its location in Seminyak, which is one of the most stylish and upscale beach resort areas in Bali, makes it all the more appealing amongst those who love to explore. Moreover, this place is ideal for people looking forward to a relaxing and rejuvenating vacation in the midst of nature. Guests can enjoy in the tranquil waters of the private swimming pool or go for a relaxing stroll at the lush green garden or indulge in soothing massages and spa treatments. Moreover, one can sit back and get a golden tan at the sun terrace. The property also boasts of its attractive design and modern-day amenities. Further, its warm hospitality and incomparable amenities help offer memories for the lifetime. Being located in close proximity to several tourist hubs, Mahala Hasa Villa is one of the favourite destinations amongst those who love to explore. Some of the must-visit places near the property are Petitenget Beach, Seminyak Square, Seminyak Beach, Kuta Art Market and many more. Ngurah Rai International Airport is approximately 50-minute drive from the 4-star establishment.
Amenities
Mahala Hasa Villa Seminyak offers various activities and services to its guests in order to facilitate a comfortable stay. The accommodation units at the property feature private swimming pool for a total intimate and private experience. Guests can enjoy the cool tranquil waters of the pool and have a relaxing session. One can also avail spa and massage services for achieving a perfect harmony of mind, body and spirit. Additionally, Mahala Hasa Villa features a sun terrace, which is ideal for all those who want to get a golden tan. Besides, the property maintains a parking area, 24-hour front and travel desks. All the accommodation units are equipped with state-of-the-art amenities and complimentary Wi-Fi.
Dining
Mahala Hasa Villa Seminyak offers a gastronomic experience to its guests. One can relish a range of scrumptious dishes with their loved ones in a comfortable setting. Every villa features a fully-equipped private kitchen as well as dining area for enhanced privacy. Alternatively, one can also head to the centre of Seminyak in order to explore a plethora of dining options such as Ku De Ta, Potato Head, Sarong restaurant and many more.
Mahala Hasa Villa is ideal for those looking forward to ultimate relaxation, be it couples, families or a group of friends. Guests who value serenity and embrace tranquillity should look no further as Mahala Hasa Villa Seminyak is the place to be! One can relax and unwind without worrying about the hustle-bustle of city life while staying within reach to Seminyak Square and other tourist hubs.
Villa Accommodation
Mahala Hasa Villa Seminyak features nine private, split level one bedroom villas for ensuring complete privacy. The villas feature a private swimming pool plus a spacious and airy living room. These accommodation units also have a dining area wherein guests can relish scrumptious dishes with their loved ones in a private setting. Each room is furnished with some of the finest amenities and services like complimentary Wi-Fi, air-conditioner, comfortable pillows and a king-size bed for ensuring a good quality sleep after a tiring day. The en-suite bathrooms are equipped with complimentary bath amenities and hairdryer.
Villa Highlights
Enjoy private dining at Mahala Hasa Villa Seminyak
Take a plunge in the cool waters of the private pool
Guests can also avail a variety of spa treatments and soothing massages
Get a golden tan while relaxing at the sun terrace
Indian Restaurants Near The Villa
Chai'Ba Street Kitchen & Bar
Indian Food Punjabi Tadka Bali
Queen's Tandoor – Seminyak
FAQs
Q1. How much time is required to reach the hotel from the airport?
A. It takes nearly 50 minutes to reach Ngurah Rai International Airport from Mahala Hasa Villa Seminyak.
Q2. Does the hotel offer airport transfers?
A. Yes, the property provides complimentary one-way pick up from the airport while the drop-off is chargeable.
Q3. How can guests enjoy themselves during their stay at the hotel?
A. Mahala Hasa Villa offers several ways to unwind. One can enjoy tranquil waters of the pool or indulge in spa sessions. Go for a stroll in the lush garden or sit back and relax at the sun terrace.
Q4. Do the villas have a dining area?
A. Yes, each villa features a private dining area for relishing delectable dishes with family.
Q5. Do the villas a private pool?
A. Yes, Mahala Hasa Villa Seminyak boasts of nine villas, which feature a private swimming pool for enhanced privacy.
For all the travelers who want to escape the reality, Mahala Hasa Villa Seminyak is an ideal place to be! Here, experience the beauty of raw nature and find peace while being surrounded by vibrant greenery and soothing ambience. The ease of access to must-visit areas of Bali from the property is definitely a plus point for all those who love to explore. The establishment is also known for offering warm hospitality with friendly staff. The property, which is a perfect harmony of luxury, comfort and elegance, offers a fine-dining and gastronomic experience to one and all. The calm waters of the private swimming pool are a sure-shot method to refresh one's senses. Be it a spa treatment, massage session, strolling in the garden or relaxing at the sun terrace, the guests have endless ways to unwind. In addition, the accommodation units, which are an ideal blend of warmth and style, are perfect for unwinding after a tiresome excursion. The impeccable hospitality coupled with a multitude of facilities makes Mahala Hasa Villa Seminyak an apt choice for accommodation when visiting the lively and vibrant city of Bali.