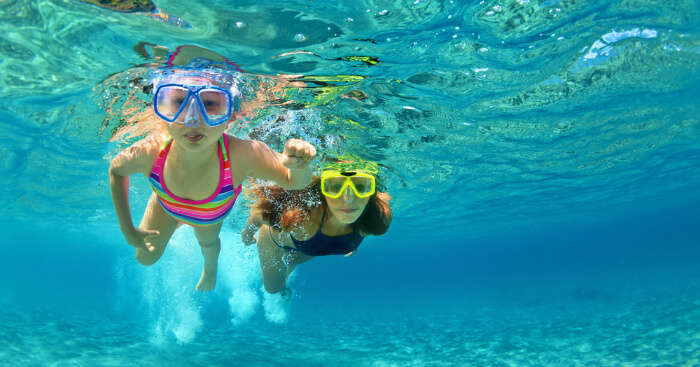 Mauritius is a heaven for peace seekers, romantic couples and people who wish to relax and take a laid-back vacation. The sizzling beaches, islands and posh beachfront properties will end up in a perfectly invigorating vacay. But, the island also offers an array of diverse water sports, making it an ideal pick for adventure-loving souls. Among all the exhilarating water sports seen in Mauritius, snorkeling is the most popular one. Featuring vibrant coral reefs and marine organisms, Mauritius offers snorkeling at various beaches and this truly fascinating water sport is a must try for all. Glance at all the details about Mauritius snorkeling, given below, before you take the plunge. From the best time to snorkel to the best spots for snorkeling, we've got everything you ever wanted to know about Mauritius snorkeling tour. Hop on a Mauritius snorkeling tour to experience the best underwater life.
About Mauritius Snorkeling Tours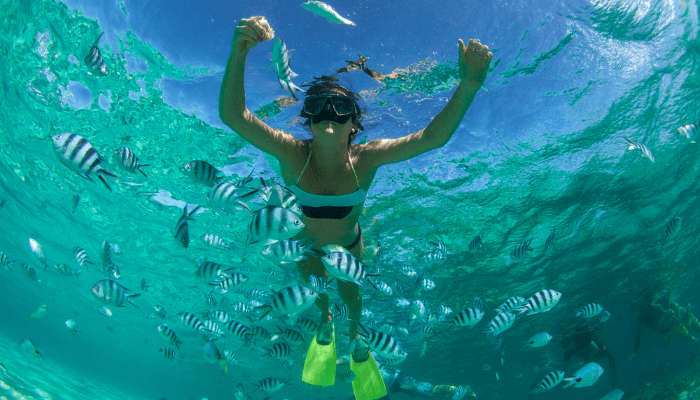 Mauritius is known for extensive and vibrant marine flora and fauna. In fact, Mauritius tour is half-hearted and incomplete, if you do not try snorkeling. Perfect for non-swimmers, this is an excellent opportunity to explore the blue ocean and see the beautiful fishes and other marine animals. Unlike many other islands of the World, where the water level has increased due to global warming, damaging the reefs and impacting the lives of marine creatures; Mauritius has got it preserved till now, thereby making up as an idyllic place for snorkeling and scuba diving.
There are various tour agencies that organize Mauritius snorkeling tours. The average snorkeling prices in Mauritius is INR 3000/person. The package includes sightseeing, packed meals, dolphin spotting, trips in glass bottom boats, scuba diving and snorkeling. Select one of the tour agencies and check with them about the details of the package.
Must Read: 10 Festivals In Mauritius To Experience Its Vibrant Culture And Heritage
Best Time For Snorkeling In Mauritius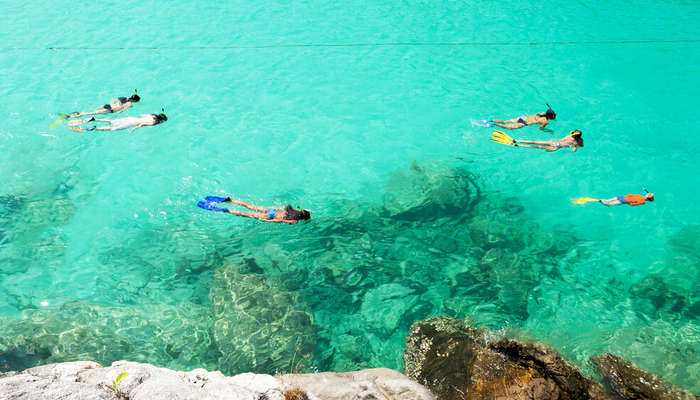 Mauritius experiences hot and humid tropical climate, all year round. Lying in the southern hemisphere, this place enjoys winter from June to September and this season is dry, less warm and moderately windy. The best time for snorkeling in Mauritius is in the summer months from October to December, as warm water attracts fishes in a large scale. Try snorkeling early in the day. With increasing crowd and touristy water sports, the chance of seeing marine creatures decreases.
Must Read: Rodrigues Island: A Guide To A Hidden Paradise Off The Coast Of Mauritius
5 Spots For Mauritius Snorkeling
Take a look at these spots for Mauritius snorkeling from the beach that offer the most thrilling experience!
1. Trou Aux Biches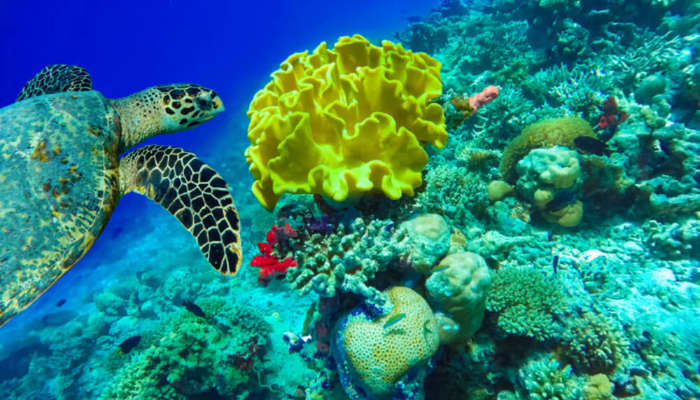 The beach of Trou aux Biches is stunning and exudes natural charm. Encircled by casurina plantations, this white sand beach has shallow water and coral reefs, making it a haven for snorkeling. Indulge in this super thrilling activity and watch out colourful fishes, coral and other marine animals.
Location: Pamplemousses District, Mauritius
Suggested Read: 10 Historical Places In Mauritius That Tell A Great Deal About This Country!

2. Flic En Flac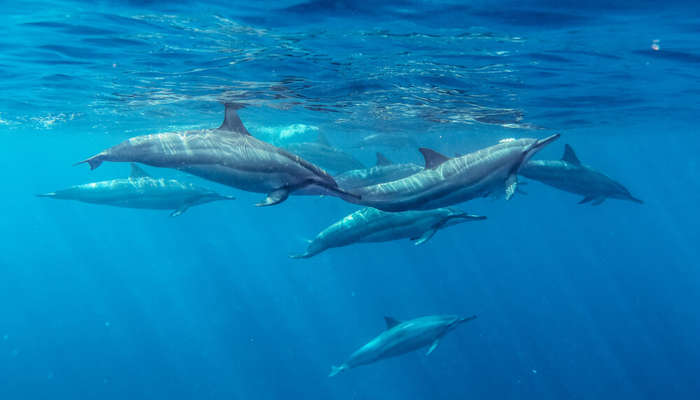 Much famed as the longest beach of the island; Flic en Flac is the best place to try snorkeling in Mauritius. The water is shallow and calm here with abundance of marine animals like blue-tarred parrotfish, whitespotted box fish and stripped moorish idol. This the best place if you want to experience best snorkeling in Mauritius.
Location: Black River District, Mauritius
Suggested Read: Discover Scuba Diving In Mauritius: Enjoy The Serenity Of These 8 Sites
3. Pointe Aux Piments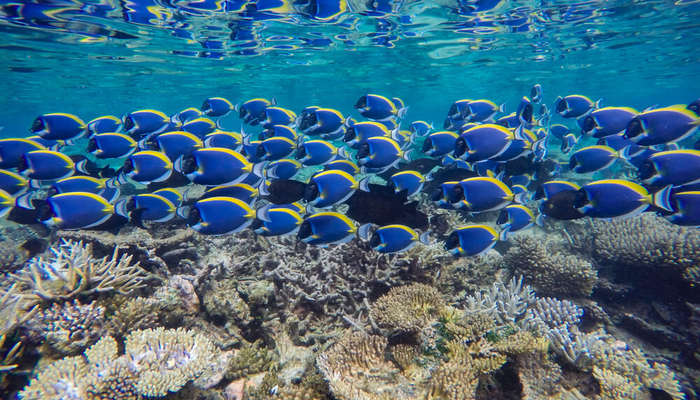 Tucked at the north-west coast of Mauritius, Pointe aux Piments is another perfect spot for snorkeling. This is a narrow beach, ideal for sunbathing, leisure walks, picnic and sunset views. Pointe aux Piments beach is also famous for spotting sea turtles.
Location: Pointe Aux Piments, Mauritius
Suggested Read: 7 Waterfalls In Mauritius: The Prodigious Works Of Nature

4. Ile Aux Cerfs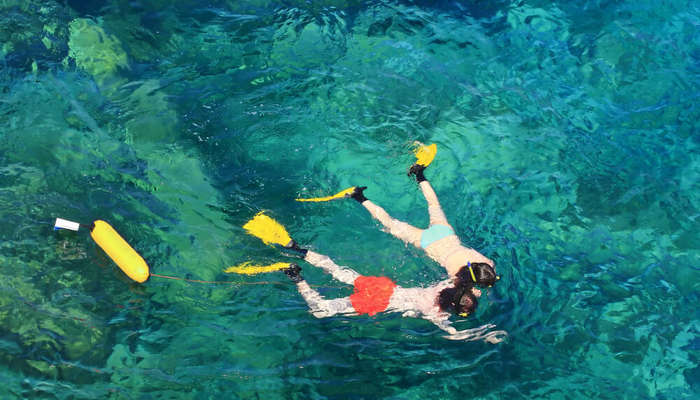 Surrounded by white sand dunes and turquoise blue lagoon, Isle aux Cerfs is a stunningly beautiful beach of Mauritius. The place is a perfect spot for Mauritius snorkeling and one can swim and spot exotic marine species like blacktip groupers, blue stripe snappers and sunbream. This is one of the best beaches in Mauritius for snorkeling.
Location: Flacq District, Mauritius
Suggested Read: Citadel Fort In Mauritius: A Comprehensive Guide To Help You Plan Your Trip Well
5. Blue Bay Marine Park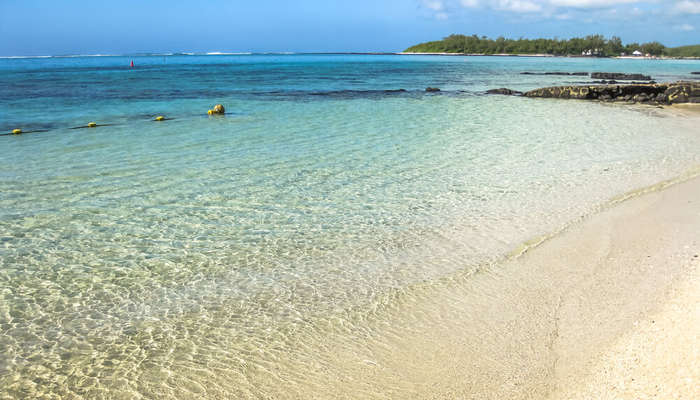 Perfectly resting on the south-eastern corner of the island, Blue Bay Marine Park is a sprawling marine biodiversity park and one of the most popular places for snorkeling in Mauritius. The water depth is just about 5-6 metres, making it ideal for beginners and first-timers. Get your underwater cameras ready for damselfish, angelfish, parrotfish, clownfish and wrasse.
Location: Blue Bay, Mauritius
6. Pereybere Beach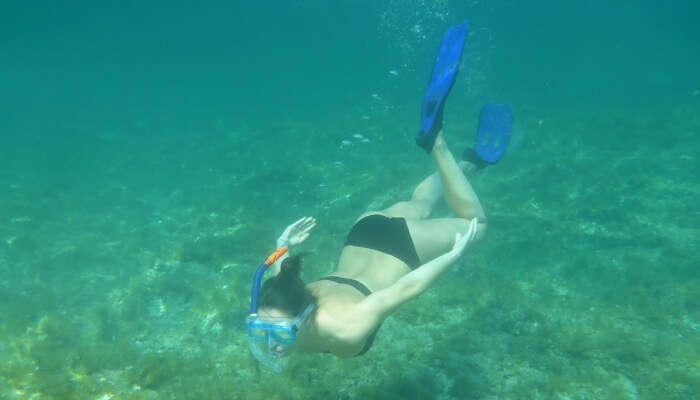 This is one of the best snorkeling sites in Mauritius. This beach is located in the northern region of Mauritius and the lagoon here is known for its amazingly clear water. This is why this beach is considered to be perfect for an awe-striking snorkeling. This beach is quite happening amongst the tourists owing to the various restaurants with various scrumptious local dishes.
7. Mahebourg Bay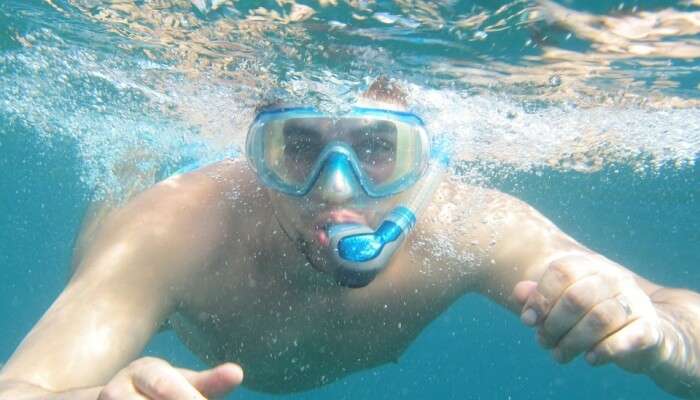 Snorkeling at this place is nothing less than a divine experience. From Mahebourg, you can go on a guided tour with some certified company that even provides you with a local guide. The coral here is known to be preserved in the best way, attracting a huge number of exotic fish. The school of fish that can be witnessed while snorkeling here includes the barracudas, damselfish, needlefish, and clown fish.
8. Tamarin Bay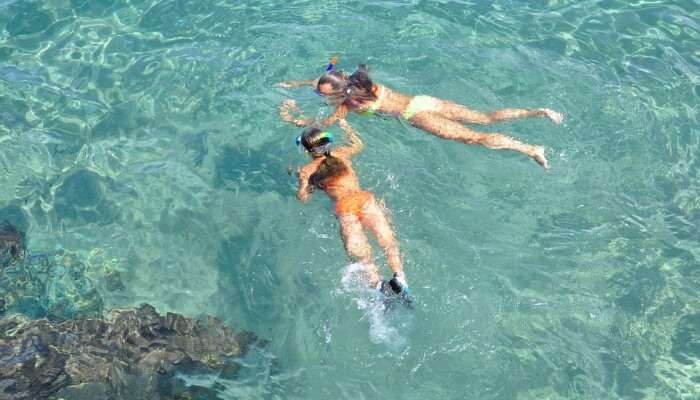 This is an extremely picturesque village in Mauritius that is located at a distance of 5 kilometers from Flic en Flac. The village of Tamarin is renowned as the Natural Aquarium and is counted amongst the most picturesque seascapes in Mauritius. Snorkeling in the waters of Tamarin Bay will definitely be an experience to remember. There are other water sports activities too that can be enjoyed here, including paddle boating, jet-skiing, and swimming.
9. Coin De Mire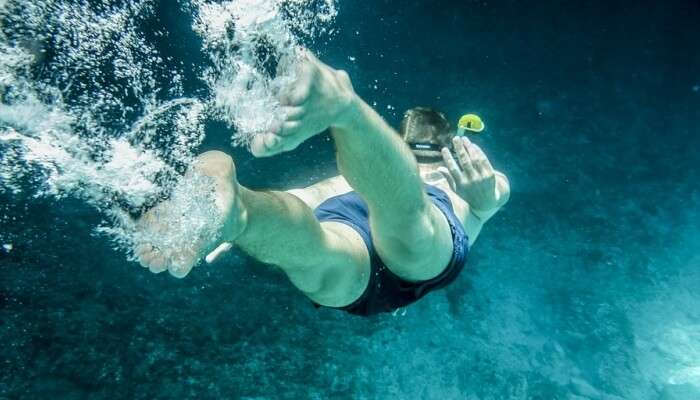 This snorkeling site in Mauritius is located at a close distance to Djabeda. The coral reefs, rocks, and seabeds here are pinkish in shade – an eye-pleasing location for the tourists. Moreover, this place is considered to be a famous underwater photography site. Therefore, it is a must visit for the purpose of snorkeling. The rich and magnificent marine life will simply take your breath away.
10. Benitiers Island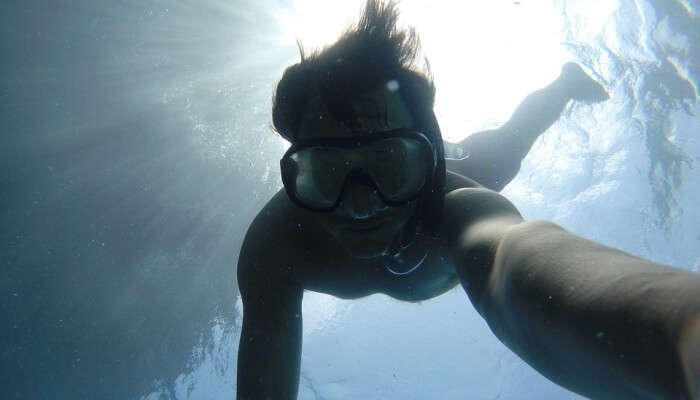 This beautiful island is visible from Le Morne mountain. From the mountain, you can even look at Le Morne Beach – a 4 kilometer long beach from where people take trips to Benitiers Island. You'll find numerous dolphins in this island and snorkeling here can be once-in-a-lifetime experience, as you'll get to witness the amazing marine life.
Tips For Snorkelling In Mauritius
Below are certain things you must keep in mind, to enjoy your snorkelling experience in Mauritius.
1. Make sure to get the appropriate right fit of snorkelling equipment which includes the mask, snorkel and fins.
2. Carry a float vest with you to be safe if you don't swim a lot, or have just learnt snorkelling.
3. It is important to ensure that your mask does not leak. If it happens it may get filled with water. If such a case arises, it is advisable that you come to the surface, throw the water out and then continue your dive.
4. Do not panic underwater. Just relax and breathe through your snorkel.
5. Do not dive against the current of the sea.
Further Read: Mauritius Is Offering Citizenship And Passports To Foreigners. BRB! Sending Application Now

Going snorkeling in Mauritius? Prices will not stop you! It is thrilling, fascinating and a must-try for everyone. So, whenever you are preparing for a Mauritius holiday, make sure you plan for all your favourite water adventure activities.
Frequently Asked Questions About Mauritius Snorkeling
Q. Can you swim with turtles in Mauritius?

A. Pointe aux Piments is one place where you can swim with turtles in Mauritius.
Q. Which is the best place to snorkel in Mauritius?

A. Blue Bay, Flic-en-Flac, Le Morne and Rodrigues are some of the best places to snorkel in Mauritius.
Q. Is there a good scope for snorkeling in Mauritius?

A. Yes, Mauritius being an island, offers great scope for snorkeling. The water here is very clear and there are shallow depth areas that are suitable for this underwater adventure sport.
Q. Which coast in Mauritius is best?

A. Considering the scope for water sports, West Coast is preferred. For instance, Flic-en-Flac in the West Coast, is a great spot for diving and watching the sunset.
Q. Are there coral reefs in Mauritius?

A. In Mauritius corals started to grow in shallow waters parallel to the shore resulting in the formation of a fringing reef, covering 150 Km around the coast of Mauritius.
Q. What is the best area to stay in Mauritius?

A. Le Morne, in the south, or Belle Mare, on the east coast, in summer
Q. Are there sharks in Mauritius?

A. Mauritius is a rather unique island with lagoons protected by the reefs, which prevent sharks from having access to the beaches.
---
Looking To Book An International Holiday?
---
People Also Read
Snorkeling Near Grand Baie Snorkeling Near Le Morne Beach Snorkeling Near Mahebourg Snorkeling Near Trou Aux Cerfs Snorkeling Near Grand Bassin
Comments
comments