Famed for its sun-kissed beaches and picturesque landscapes, Mauritius will surely cast a spell on you. Another popular part of Mauritius is its stunning underwater life and it doesn't stop here, there are many famous scuba diving sites as well in the country. Scuba diving is not only an adventurous activity but also a thrilling one. With more than 330 km of beach line scuba diving in Mauritius is very extensive and amazing.
Explore the mysterious marine life as well as shipwrecks from the 18th century by heading to the famous spots mentioned in this intricate handy guide specially made for all those who would love to have an encounter with the little creatures underwater.
Best Time For Scuba Diving In Mauritius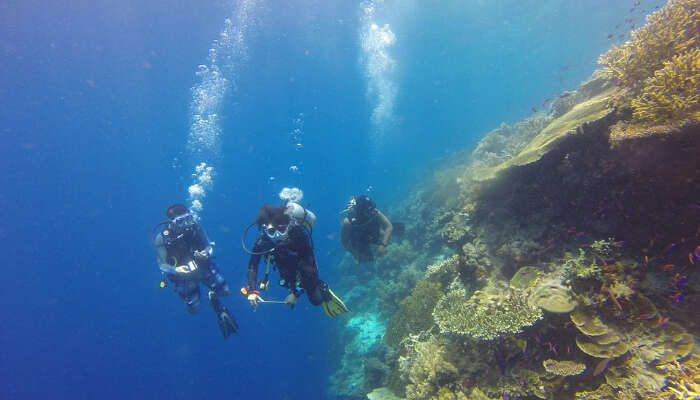 The best time for scuba diving in Mauritius is all around the year. Every season has its own flavor and look. For best visibility underwater visit Mauritius from October to December. Although the water during this time will be pretty cold. The months of March and April are also a great time for scuba diving in Mauritius. The summertime makes the water warm and attracts a lot of marine life.
There is also a specific time to see specific animals which follow as:
Turtles: November – March
Dolphins: June – October
Sharks November – May
Humpback Whales: June – October
Sperm Whales: all year round
Suggested Read: 10 Festivals In Mauritius To Experience Its Vibrant Culture And Heritage
8 Best Sites For Scuba Diving In Mauritius
From the isolated shipwrecked beaches to the exotic and magnificent coral reefs, Mauritius has some of the most spectacular diving spots for the enthusiastic scuba divers who can experience the underwater adventure at its best at this location. Also take a look at the prices of scuba diving in Mauritius!
1. Grand Baie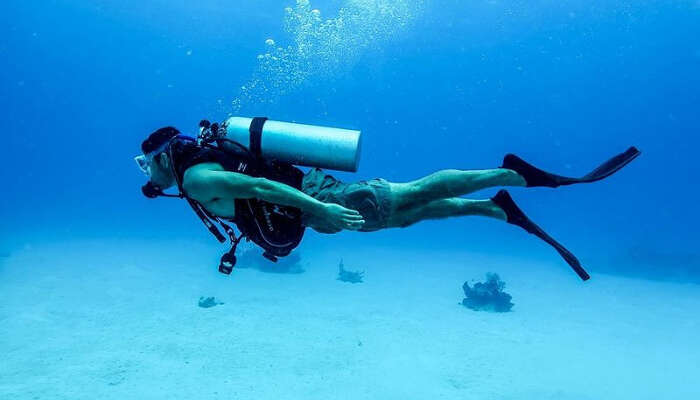 Being one of the popular spots among places for scuba diving in Mauritius in Mauritius coast and off-coast, Grand Baie is a perfect site for those who are beginners. The scuba diving in Mauritius reviews for this site are also superb. Here travelers can witness unique coral formations and jagged rocks formations. It also supports a great ecosystem and one can witness octopi, lobsters and trumpetfish, striking swordfish and hammerhead sharks. There are also many interesting wrecks to witness. Another benefit of this site is that it has a weak current which makes it easier to dive.
Price: starts at INR 4300
Timings: 8am – 4.30pm
Must Read: Mauritius Snorkeling: 10 Spots For Snorkeling In This Scenic Island Nation
---
Mauritius Holiday Packages On TravelTriangle
Take a break with an exotic holiday in Mauritius. Experience the best of Mauritius with North and South island tours: Inclusive of Hotels, Sightseeing, Transfers, & Meals. Best Prices Guaranteed. Customizable Package & Free Guidance From Destination Experts.
---
2. Trou Aux Biches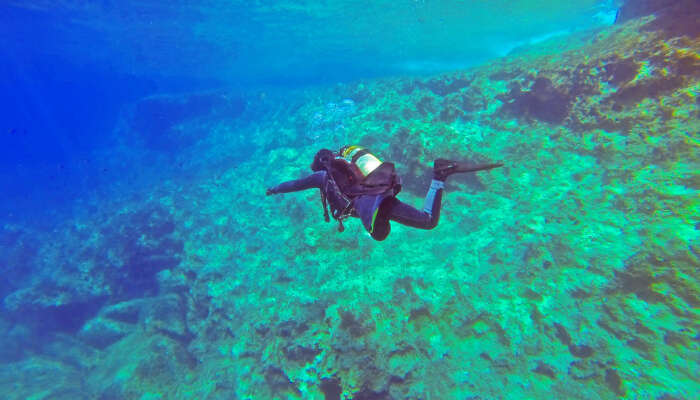 Located in the north, Troux Aux Biches is for those who are looking for a less crowded spot for Mauritius diving trip. It is very similar to the Grand Baie but is lesser known and will let travelers have time off the crowd and a bustling beach. Travelers can see coral reefs and beautiful formations underwater. The reef is filled with wrecks that will tell travelers a part of history they have never noticed.
Price: NA
Timings: 7.30am – 3pm
Suggested Read: 10 Museums In Mauritius Every History Buff Must Visit
3. Blue Bay Marine Park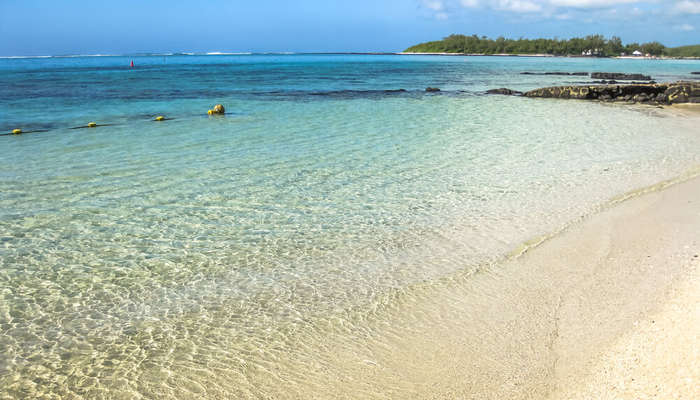 Witness the stunning corals and colorful fishes and turtles at the Blue Bay Marine Park. The coral reefs here are shallow which makes the spot suitable for those who are beginners and are looking for an easy diving spot. Here the water is very clear giving visibility up to 50 meters, it just feels like a bottomless pool. While diving you will come across sealife like snappers, clown fish, moray eels, batfish, nudibranchs, and reef sharks.
Price: starts at INR 3000
Timings: 8am -4pm
Suggested Read: 10 Best Mauritius Cottages For An Entrancing Stay Experience
4. La Passe Du Puits At Belle Mare Plage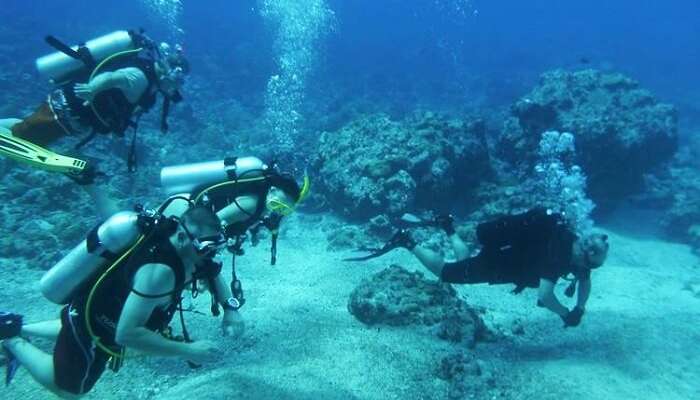 La Passe du Puits at Belle Mare Plage is an outstanding diving site. It is great for beginners and amateurs. This has one of the best scuba diving in Mauritius reviews . Here divers can witness eagle rays, barracuda, blackjacks, tuna and whitetip reef sharks. scuba diving belle mare mauritius is like a fantasy world where visitors are transported to.
Price: starts at INR 33,000 (dive package)
Suggested Read: Breathe In Nature In The Depths Of Black River Gorges National Park

5. Colorado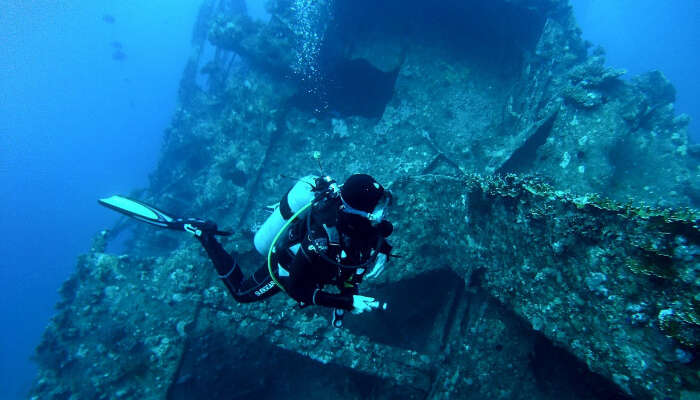 One of the most famous scuba diving in Mauritius is in Colorado. It is an extremely popular site for witnessing one of the most significant shipwrecks in history like The Sirius and more. It also hosts interesting creatures who live in and around age-old canons. It is a huge drop 40-meter drop filled with parrotfish and groupers.
Price: starts at INR 14,000
6. Cathedral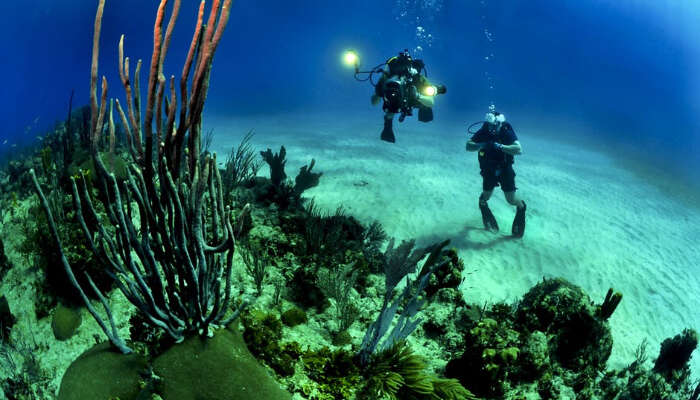 Although all the diving sites of Mauritius are great, the Cathedral is a must go if you love diving. It is perfect for divers from any level of expertise. The site is like a dream come true for photographers. The water is very clear and all the sea life is clearly visible. The light penetrating into the water makes the coral reefs visible and this site has good scuba diving in Mauritius reviews.
Price: starts at INR 4300
Timings: 8.30am – 4pm
Suggested Read: 10 Historical Places In Mauritius That Tell A Great Deal About This Country!
7. Aquarium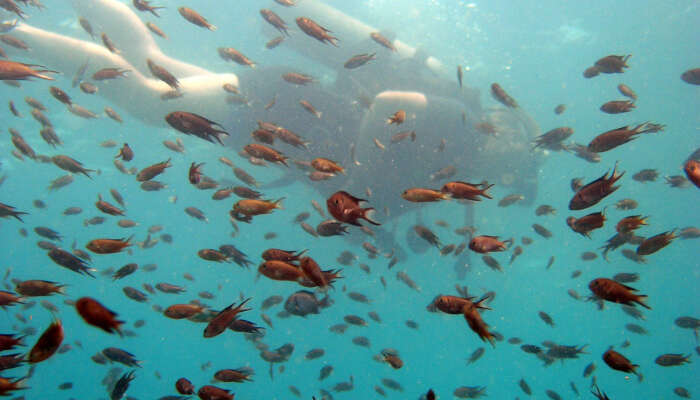 Aquarium is a colourful world for scuba diving in mauritius. It is filled with colorful rocks and clownfish, butterflyfish, stonefish, puffer fish and wire coral. The depth is only 15 meters and hence is a perfect spot for the beginners. It is like a happy place where travelers will forget their worries and will be left with wonder and awe.
Suggested Read: Hiking In Mauritius: Explore The Spectacular Nature Of The Island Nation
8. Passe St. Jacques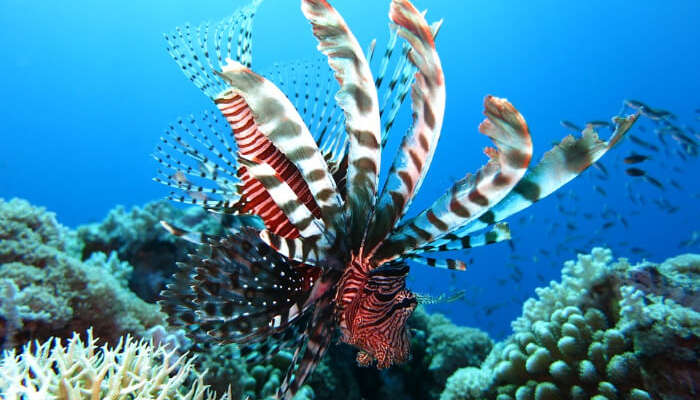 It is surely one of the best scuba diving in Mauritius. The depth ranges from 3 meters to 30 meters. It is a grey reef adding a sense of mystery during the whole experience. This dive site is a must go for beginners and amateurs. Here divers can see these rare sea animals like grey reef sharks, stingrays, turtles, and moray eels.
Price: starts at INR 3000
Tips For Scuba Diving In Mauritius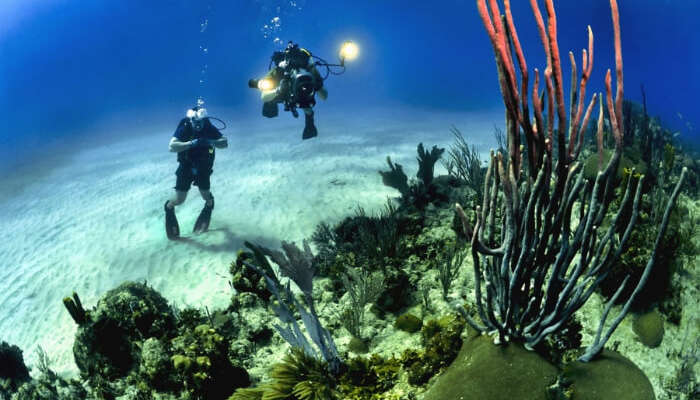 1. Always dive with guides from reputable dive centers like Provide Limited, Orca Dive Clubs and Sun Divers Ltd who are (PADI/ MSDA certified).
2. Mauritius scuba diving cost is already set at these centers.
3. Avoid flash photography – fishes get alarmed.
4. Dive packages are cheaper compared to single dives.
5. Travelers can surely bring in their Gopro.
6. Respect underwater creatures and do not touch or walk on them.
Further Read: 7 Waterfalls In Mauritius: The Prodigious Works Of Nature

Are you tempted to go scuba diving in Mauritius and look at the completely different world? So, get packed, pick up this guide and plan your Mauritius vacation and get ready to have the best dive of your life!.
Frequently Asked Questions About Scuba Diving In Mauritius
Q. What is Mauritius famous for?
A. Mauritius is known for the most pristine white-sand beaches, lush greenery, picturesque landscapes, and stunning aquatic life making it a favorite holiday destination for water lovers.
Q. Is Mauritius good for diving?
A. Yes, Mauritius is an amazing place for diving. It is an evergreen destination for scuba diving where you will find various different spots for diving. You will even find more adventure activities in Mauritius for couples.
Q. What can you do in Mauritius?
A. You can find yourself a number of things to do in Mauritius like:
1. Take an island tour to Ile aux Cerfs.
2. Scuba diving
3. Explore Black River Gorges National Park
4. Experience the local culture in Mahebourg
5. Explore Tea Plantations
Q. Is scuba diving in Mauritius safe for first-timers?
A. Scuba diving in Mauritius is well supervised and of good standards making it quite safe for non-swimmers or first-time divers.
Q. How much does scuba diving cost in Mauritius?
A. Basic diving in Mauritius will cost you at least Rs 2000. The cost will depend on the equipment required, safety gears, location, etc.
Q. Which is the best scuba diving centers in Mauritius?
A. The most popular scuba diving centers in Mauritius are:
1. Ocean Spirit Scuba Diving Mauritius
2. AquaBASE dive shop
3. TICABO Diving Centre
4. Dive Passion Mauritius
5. Just Diving In Mauritius Scuba Diving
Q. Which is the best time to visit Mauritius?
A. The pleasant months of October to December and March to April is the most favorable time to visit Mauritius for water sports as well as otherwise.
Q. Is a diving certificate necessary for scuba diving in Mauritius?
A. It's not mandatory for divers to carry a diving certificate to take part in scuba diving activities, but it is recommended that you have prior training or experience for the same.
---
Looking To Book An International Holiday?
Book memorable holidays on TravelTriangle with 650+ verified travel agents for 65+ domestic and international destinations.
---
People Also Read:
Scuba Diving in Singapore Scuba Diving in Andaman Scuba Diving in Kerala
Comments
comments