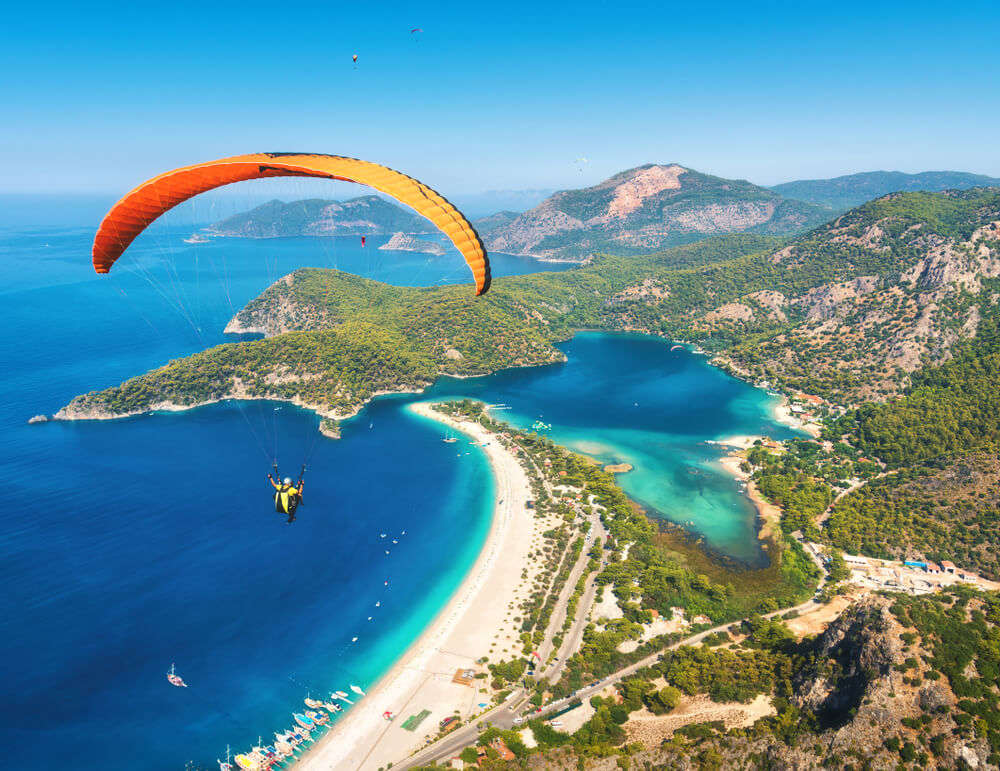 Mauritius is surreal! Adorned by turquoise blue water, sun-kissed beaches, swanky resorts and water villas; Mauritius acts as the perfect honeymoon abode or relaxing vacation getaway. But if you wish to add a dash of fun and adventure in your trip; try paragliding in Mauritius, along with other adventure sports. Fly and soar like a bird over the vast ocean as you indulge in this exhilarating activity and believe you me; it will be an experience of the lifetime. For all the adventure junkies who are planning to visit Mauritius anytime soon, here is a handy guide on everything you must know to plan paragliding in Mauritius.
About Paragliding In Mauritius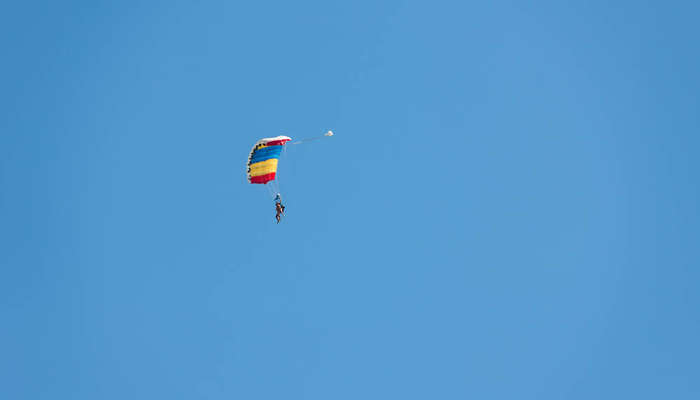 Offering jaw-dropping views of the ocean and islands and unmatched ecstasy, Paragliding is one of the most sought-after adventurous activities in Mauritius. You can fly high like a bird, maneuver against wind and enjoy this 5-15-minute activity to the fullest. Ideal for adventure junkies; this activity is sure to pump your adrenaline hormone levels and at the end leave you bewildered and thrilled.
If you are a novice, you may hire an instructor during the flight, but if you are a pro pilot; just soar, fly and enjoy the most mesmeric views of lagoons. Paragliding wings of varied size are available, as per the skill and experience of the person. The fun-filled activity of paragliding lasts from 5-15 minutes. Depending on the level of difficulty, the cost for paragliding in Mauritius varies between 24-35 Euro/person. Parasailing is also a popular adventure sport and cost of parasailing in Mauritius starts from 160 Euro.
Must Read: 10 Historical Places In Mauritius To Visit In 2021 That Tells A Great Deal About This Country!
Best Time For Paragliding In Mauritius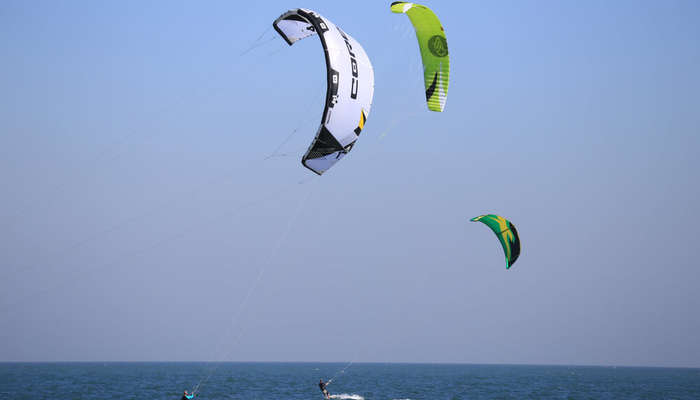 Mauritius is blessed is a tropical climate, round the year. The summer months from October to December are hot and humid and hanging out on the beaches is slightly exhaustive and draining. Also, if you are an adventure junky and wish to try paragliding; the best time to visit Mauritius from October to November. The weather then is dry, less warm and with appropriate wind speed, making it the best time for paragliding in Mauritius.
Suggested Read: Fly Like A Bird: 21 Gorgeous Places In India For An Exhilarating Paragliding Experience In 2021
Spots For Paragliding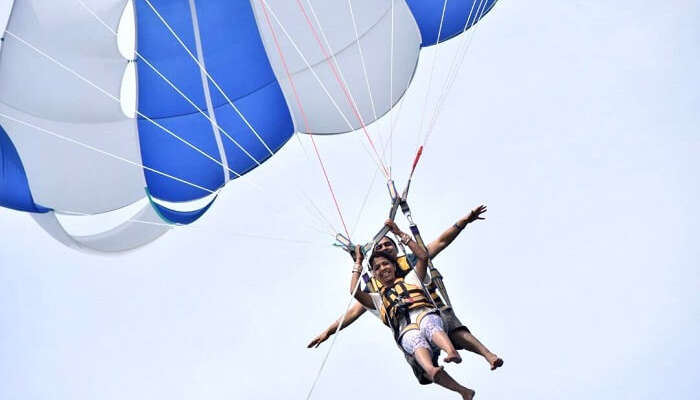 An adventure sport like paragliding is all about suitable weather conditions, favorable wind flow, and astonishing views. Mauritius is known for white and golden beaches, azure sea, green and hilly terrain, which makes the island a great hub for paragliding and other adventure sports. Mauritius has many operators who host these activities. The most popular and favorable spots for paragliding in Mauritius are many which include Pieter Both, le Pouce, Tourelle de Tamarin, Mahebourg, Trou d'eau Douce, Grand Bay, parasailing in Belle Mare, Mauritius and Corps de Garm.
Suggested Read: 10 Festivals In Mauritius To Experience Its Vibrant Culture And Heritage
Tips For Paragliding In Mauritius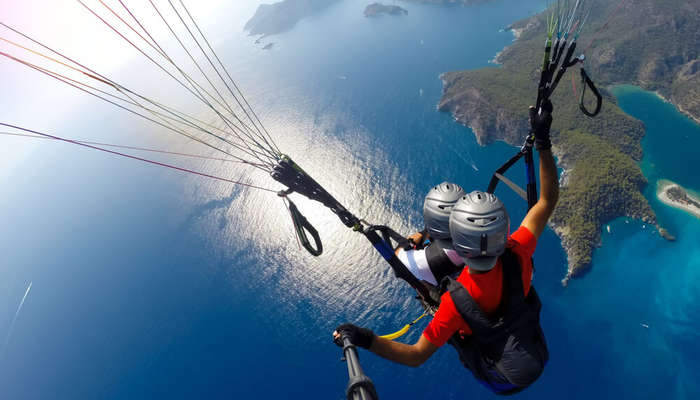 You need to be at least 8 years of age, to try paragliding in Mauritius. The maximum body weight for this adventure sport is 90 kg for an individual person.
Paragliding operates from 9 am to 4 pm, every day.
Swimming is not required for paragliding and the tour operators will provide with a lifejacket before you take the leap. The lifejacket must be tightly zipped or buttoned up.
One must wear tight or body fitting clothes. Loose outfits may interfere with the wind speed.
Before you take the plunge; make sure your hair is tied neatly and shoelaces are tightly tied.
Further Read: 7 Waterfalls In Mauritius: The Prodigious Works Of Nature
Are you excited about experiencing this thrilling adventure activity and fly like a bird? We hope the above given information have helped imagine your trip better. Plan a trip to Mauritius right away and make sure that you keep a day in the itinerary to indulge in paragliding in Mauritius and other thrilling adventure sports.
Frequently Asked Questions Paragliding in Mauritius
Q. What is the minimum age for paragliding?
A. The minimum age for paragliding is 8 years.
Q. What is the best time for paragliding in Mauritius?
A. The months of October and November are the best ones if you want to visit Mauritius for paragliding.
Q. Where can you go paragliding in Mauritius?
A. You will be able to find several spots that accommodate paragliding including Pieter Both, Tourelle de Tamarin, Mahebourg, Grand Bay, Le Pouce, Belle Mare, Tour d'eau Douce and many more.
Q. How much does one have to pay to go paragliding in Mauritius?
A. Paragliding in Mauritius lasts between five to fifteen minutes. You will have to pay approximately twenty-five to thirty-five euros per person to go paragliding for the said time.
Q. Can a beginner go paragliding in Mauritius?
A. Mauritius luckily accommodates paragliding for people with little to no experience. Even if you do not know how paragliding works, you will be able to participate in the activity without any problem in Mauritius.
Q. What is the apt time for going paragliding in Mauritius?
A. The perfect time to go paragliding in Mauritius is between October to November. During the said months, you will be able to enjoy the activity without any fear since the weather stays dry, and there is no imminent fear of rain.
Q. Is there a weight restriction for tourists who want to go paragliding in Mauritius?
A. Yes, people with more than 90 kilograms of weight cannot go paragliding in Mauritius.
Q. When does the paragliding trips occur in Mauritius every day?
A. The paragliding trips in Mauritius usually take place between 9 AM to 4 PM any day of the week.
Q. What should one wear during paragliding in Mauritius?
A.  Most expert professionals in Mauritius suggest tourists wear tight-fitted clothing while going for a paragliding trip there. The reason behind the said suggestion is that loose-fitting clothes may result to be dangerous while flying amid wind.
Q. Is there any limit of age on who can go for paragliding in Mauritius?
A. Yes, children who are below the eight years are not allowed on the trip.
---
Looking To Book An International Holiday?
Book memorable holidays on TravelTriangle with 650+ verified travel agents for 65+ domestic and international destinations.
---
Comments
comments