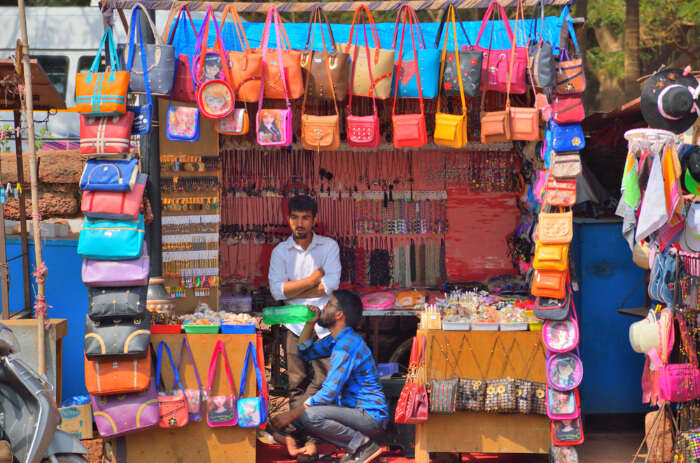 Panjim, also known as Panaji, is the administrative capital of Goa. This is a small and charming old town of this Portuguese influenced India state. The old school vibes, colorful villas lining the cobblestoned streets, a relaxed yet bustling lifestyle and trendy street fashion styles best describe the city from a traveler's perspective. And for deeper and closer experiences, you really need to spend some days in this gorgeous city resting on the banks of the Mandovi River.
Panjim is known for the serene palm-fringed Miramar Beach and baroque styled Our Lady of Immaculate Conception Church, perched on a hill overlooking the city. The city is also popular for it's street and boutique shopping scenes. Shopping in Panjim is like opening an old photo album, full of colorful pictures depicting a blend of old and new fashion style.
12 Best Places For Shopping In Panjim
This amazing small city in Goa has everything in the store that can convince you as a traveler to stay a little longer. Here are some of the popular places where can experience shopping in Panjim at its best:
Municipal Market
Khadi India
Singbal's Book House
Caculo Mall
Velha Goa Galeria
New Municipal Market
Marcou Artifacts
Barefoot
Sosa's
White Brick Wall
Orchid Boutique
Cotton Village
1. Municipal Market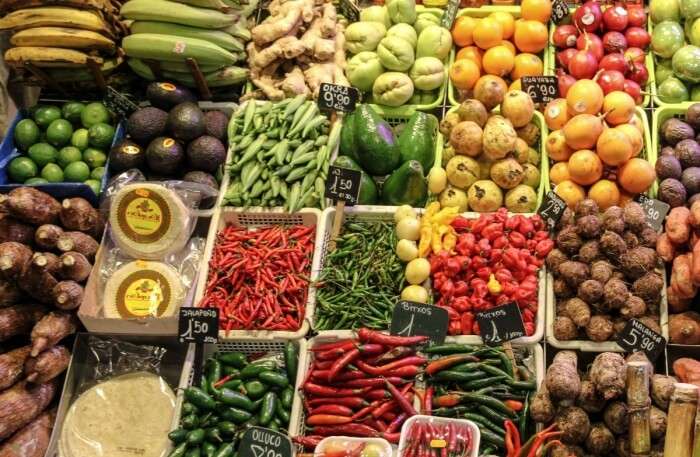 The Municipal Market in Panjim has an atmosphere of its own and offers inexpensive shopping in Panjim. This busy place has narrow streets that have been covered and converted into stalls and shops. You would find anything and everything that you would expect from local shopping in a Goan city. Explore the variety of goods including wines, Goan spices, cashew nuts, seafood, grocery, and fresh vegetables and fruits. Apart from these, Panjim Municipal Market has a few clothing and handicraft stalls. There is also a multiplex and some eateries from where you can munch some delicious local food and snacks.
Address: Near Panjim Fish Market, Panjim, Goa 403001, India
Timings: 7.30 AM to 8 PM
Must Read: Nightlife In Panjim: 8 Best Nightclubs Every Party Freak Must Visit After The Sun Sets Down!
2. Khadi India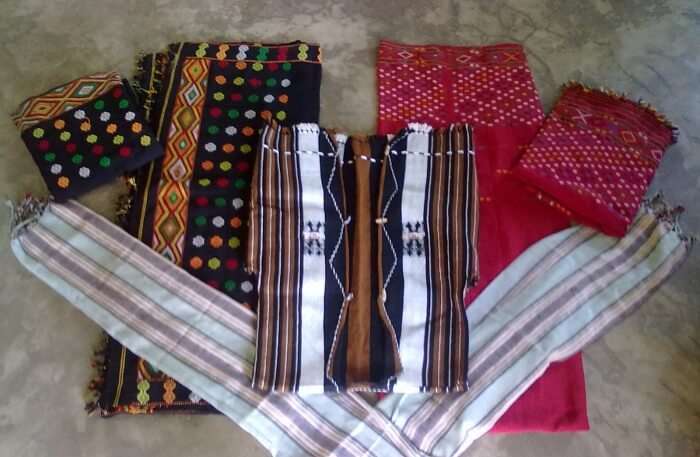 Khadi India is one of the best places for clothes shopping in Panjim. This is the only outlet of Khadi & Village Industries Commission of the Government of Goa. Khadi India mainly features a variety of fine quality hand-woven cotton clothing including shirts, kurtas, kurtas, skirts and other dress materials. The outlet also features many cosmetic products like oils and soaps. You can also purchase some flavourful spices from here. The store also displays a range of handmade products like coconut shell statues, wood products, etc. The earnings from these products directly benefit the regional villages.
Address: Dr Atmaram Borkar Rd
Timings: 9 AM to 1 PM and 3 to 7 PM
3. Singbal's Book House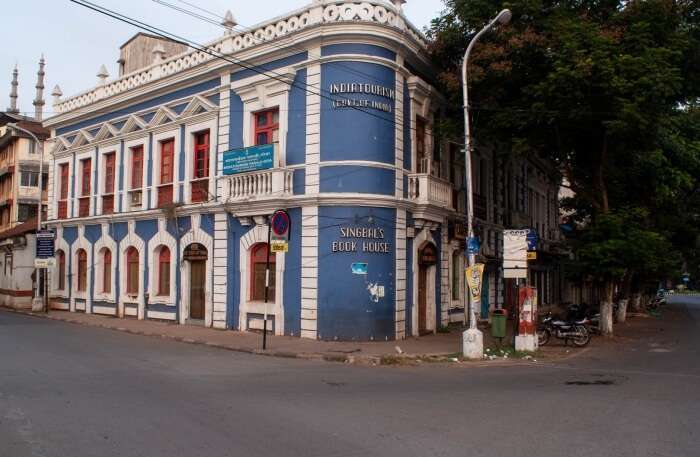 This is one of the best shopping catches for the bookworms. Singbal's Book House is located on the opposite corner of the main church of Panjim. It is a local hotspot for a wide collection of international magazines and newspapers. They also have many books based on Goa and travel. This is one of the most satisfying experiences of street shopping in Panjim, Goa.
Address: Praça da Igreja, Church Square, Altinho, Panaji, Goa 403521
Timings: 10 AM to 8.30 PM
Suggested Read: Plan A Honeymoon In Goa In 2022 And Ride The Myriad Waves Of Romance
4. Caculo Mall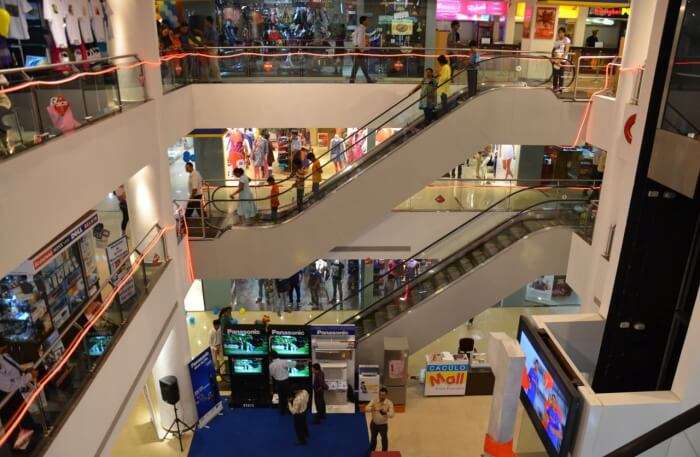 Caculo Mall is a premium shopping location where you can indulge in shopping of international standards with leading brands from the world. This is the biggest mall in Goa. Caculo Mall is built in 4 levels with central air-conditioning. The mall has everything for a complete family shopping under one single roof, including high-end brand stores, food stalls, kid's toys, etc. They also have a gaming section where you can play bowling and arcade games. This shopping mall in Panjim, Goa is an easy solution to those who have come here for a short duration.
Address: 16 Shanta, St Inez Rd, Panaji, Goa 403001
Timings: 10 AM to 10 PM
5. Velha Goa Galeria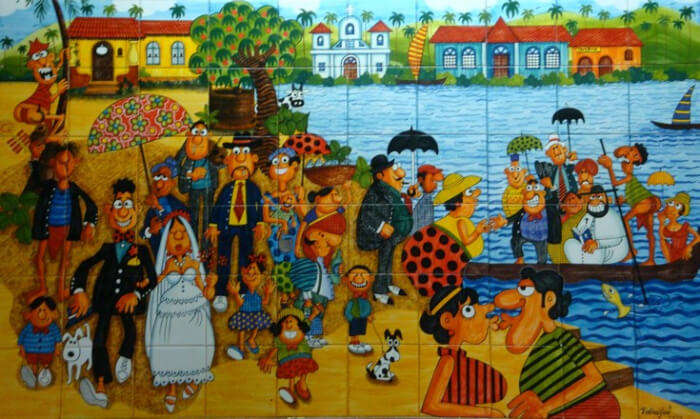 If you love art to collect or if you wish to buy some souvenirs that would last a bit longer then Velha Goa Galeria is the place you should head to. This is a gallery and a shop combined, located next to the Panjim Inn. Velha Goa Galeria is one of the many places in Panjim that specializes in 'Azueljos' which are a form of glazed and colored tiles. You would also find vases other ceramic objects made in the old style by Portuguese artist, Anabela Cardosa. The products are a bit pricey but you'll be mesmerized by seeing the work on the pieces.
Address: Rua de Ourém, Fontainhas (quarter), Altinho, Panaji, Goa 403001
Timings: 10 AM to 1 PM and 3 to 7 PM
Suggested Read: 55 Best Places To Visit In Goa For A Splendid 2022 Vacay!
6. New Municipal Market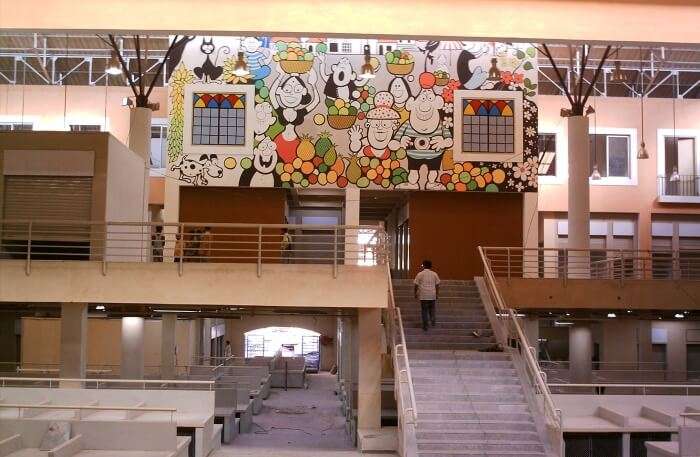 The New Municipal Market does not have the charm of the original Municipal Market in Panjim, located just next to it. But if you wish to shop for some really fresh fruits and vegetables, this well lit redeveloped building is just perfect for you. You would find stack of fresh produce in the downstairs of the New Municipal Market. There are also some electronics shops and tailors located upstairs.
Address: Heliogordo Salgado Rd
Timings: Opens from 7.30 AM
7. Marcou Artifacts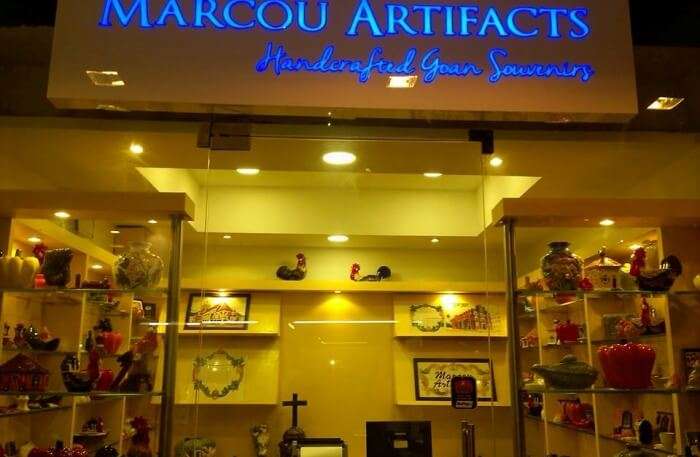 Marcou Artifacts, just as suggests, is a small shop that sells cute products of art. Located in the Fontainhas of Panjim, the store gives out irresistible Portuguese vibes. This is one of the most picturesque places for shopping in Panjim, Goa. Marcou Artifacts master in products or souvenirs made of glazed tiles, hand-crafted Portuguese and Goan ceramics including figures of fish, frog, vegetable and kitchen utensils. The products are reasonably priced. They also have showrooms at Hotel Delmon and Margao's market.
Address: Casa Rocha, 31st January Road, near Viva Panjim Restaurant, Fontainhas, Panjim Goa-403001
Timings: NA
Suggested Read: 20 Luxury Hotels In Goa That Are Worth A Hole In Your Pocket In 2022!
8. Barefoot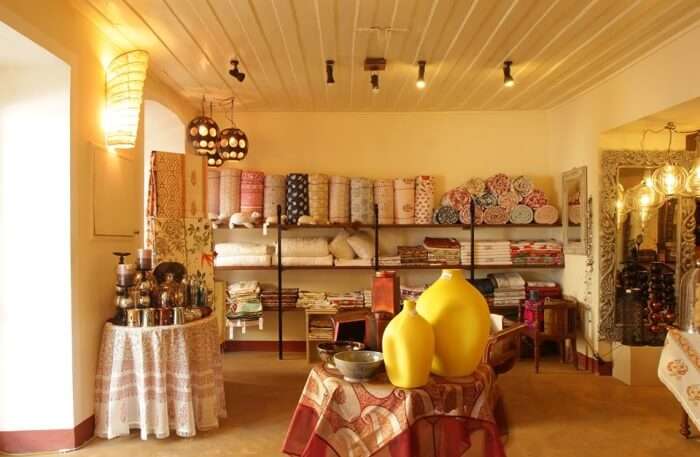 Barefoot, The Home Store is one of the best in Panjim which has come up as a result of the new trend of high-end shopping in the city. This store has a wide collection of bohemian and earthy home decor items, including gorgeous vases, organic cotton blankets, block print stuffed toys and colorful cushions. The store also has lighting and mirror fixtures. The range of ethnic designs and modern showpieces in store makes Barefoot one of the most aesthetically appealing shopping places in Panjim. And after shopping, you can enjoy some snacks at Cafe Venite.
Address: Rua 31 de Janeiro, Near Head Post Office, Altinho, Panaji, Goa 403521
Timings: 10 AM to 8 PM
9. Sosa's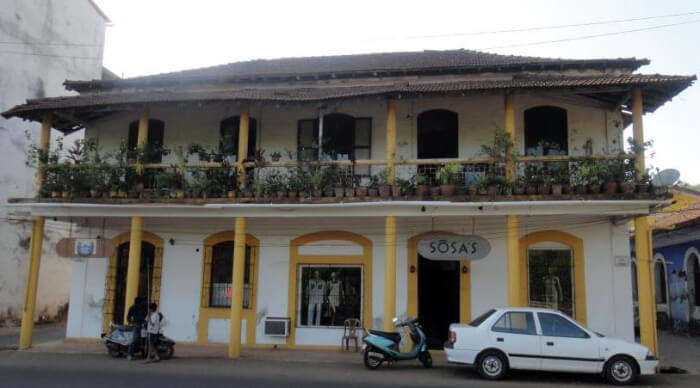 Sosa's is an exclusive fashion boutique located on the bank of River Mandovi. The store features clothes designed by new and established Indian designers including Aki Narula, Rahul Mishra, Gaurav Gupta, and Savio Jon. The boutique is set up in an old Goan home and has in store some interesting local brands like Horn Ok Please, Hidden Harmony and Free Falling. You can pick from a variety of cotton and silk dresses, cotton casuals, resort wear, accessories, and jute handbags.
Address: Opp Foot Bridge, E-245, Rua de Ourém, Altinho, Panaji, Goa 403001
Timings: 10.30 AM to 7 PM
Suggested Read: 16 Mystical Temples In Goa That Are A Perfect Pilgrimage Getaway In 2022
10. White Brick Wall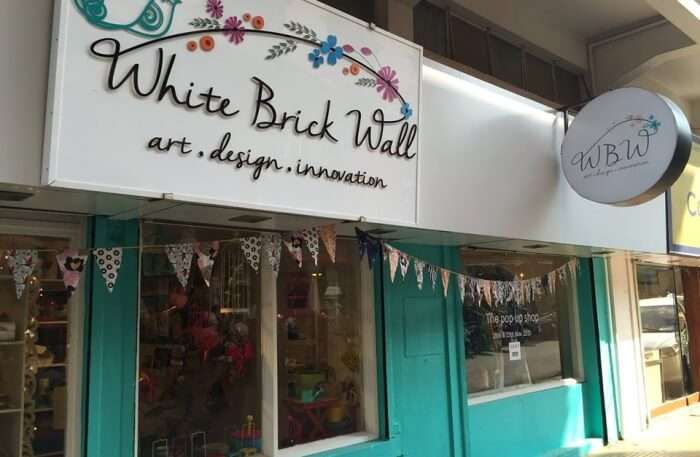 White Brick Wall is a lovely home decor and fashion store in Panjim. Everything that this place has in store is made in India by local and established designers. It has everything from trendy clothing to fancy home decoration items. Each piece at White Brick Wall is unique and has been designed with a lot of attention. You can shop for beautiful scarves, paintings, mirrors, photo frames, showpieces, etc. The vibrant and wide range of products makes the shopping experience here to be one of the best shopping in Panjim.
Address: Shop No: 4/5/6, Jesuit House Building, Travessa Da Revolução St, Near Church, Altinho, Panaji, Goa 403001
Timings: 11 AM to 9.30 PM
11. Orchid Boutique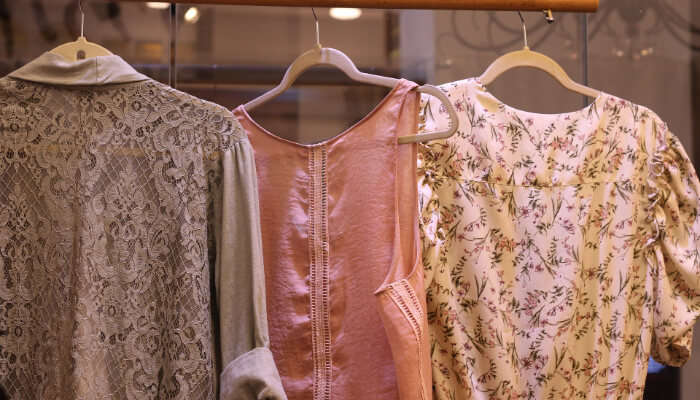 Image Credit – Orna Wachman from Pixabay
Disclaimer: The image is for representation purposes only.
Orchid Boutique is one of the popular boutiques in Panjim. It has an amazing collection of fashion dresses, accessories and footwear. It is always crowded by shopaholics as they get many new and different varieties of clothes here. The best part is it is so reasonably priced that you won't leave from here without buying the trendy dresses. 
Address: MG Road, Near Main Post Office, Patto Colony, Panaji, Goa 403001
Timings: 10:00 AM – 7:30 PM, Closed on Sunday
Suggested Read: 29 Most Romantic Places In Goa For Couples To Have A Lovely Time In 2022!
12. Cotton Village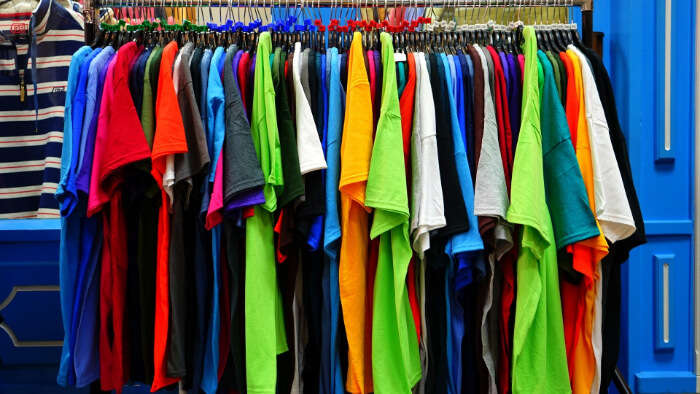 Image Credit – Mikes Photos from Pixabay
Disclaimer: The image is for representation purposes only.
At Cotton Village you will get the most stylish and comfortable clothing for men and women. A Pune based couple, Aalok and Swati are the owners of the store. The store is famous for its beautiful cotton outfit. It has everything ranging from dresses to kurtas and footwear to junk jewelries. They also have ethnic stole, scarves and tray. It is one of the most popular shopping places in Panjim. Head here on your next trip for a happy shopping time. 
Address: Inside The White Balcao, Panjim, Goa
Timings: NA
Further Read: 43 Famous Beaches In Goa That Will Make Your 2022 Vacay A Happy Trip
Roaming on the streets and lanes of Panjim, the vibes of the Portuguese colonial era cannot go unnoticed. This city will embrace you the moment you step here. Plan a trip to Goa and come down to the capital to experience shopping in Panjim and take home some beautiful pieces of memory. Also, make sure that you explore all the above-listed shopping places of this little Goan city.
For our editorial codes of conduct and copyright disclaimer please click here. 
Frequently Asked Questions About Shopping In Panjim
What can we buy from Panjim, Goa?
Some of the best things to buy in Panjim, Goa are agricultural products like vegetables and fruits, Goan spices, colourful bags, street style and boutique apparel, beaded ornaments, local handicrafts items, cashew nuts, and wines.
Is Panaji and Panjim same?
Yes, Panjim is the former name of Panaji, the capital of Goa.
What is there to see in Panaji?
Panaji has many amazing places to see including the gorgeous beaches, grand churches, historical forts and old lanes. Some of the best places to visit in Panaji are Miramar Beach, Our Lady Of The Immaculate Conception Church, Fontainhas, Reis Magos Fort, Goa Science Centre and Planetarium, Shantadurga Temple, Se Cathedral, Patnem-Colomb Beach, and several cruise casinos. There are also some amazing nightclubs to enjoy the nightlife in Panjim.
Which railway station is near Panaji, Goa?
The nearest railway station to Panjim is Karmali Railway Station (KRMI), which is located 10Kms from the city. But not all trains stop there. Madgaon Junction, located at a distance of 45Kms from Panjim is a more prominent railway junction on the Konkan Railway.
What are the cheap things in Goa?
Goa has some cheap local markets for buying inexpensive items like Anjuna flea market from where you can buy clothes, ornaments, bags, spices and souvenirs. Baga Night Market, for buying a variety of things at one place in very minimal prices. Arpora Saturday Night Bazaar, for buying some of the best handicrafts, toys and souvenirs. Mapusa Market, for pottery, sculptures, and handicraft. They also have a wide range of pickles.
What is famous for shopping in Goa?
Street fashion clothes, beachwear, bags, junk jewellery, metal, wooden and clay handicrafts, spices, sea shell products, leather items, beer, wine are some of the famous products for shopping in Goa.
Is Goa good for shopping?
Yes, Goa is known for its flea markets and street shopping scenes. There are also some amazing boutiques for shopping in Goa.
Which market is best in Goa?
Some of the best markets in Goa are Anjuna Flea Market, Panjim Market, Mapusa Market, Calangute Market Square, Baga Market, and Night Bazaars in Goa.
Comments
comments