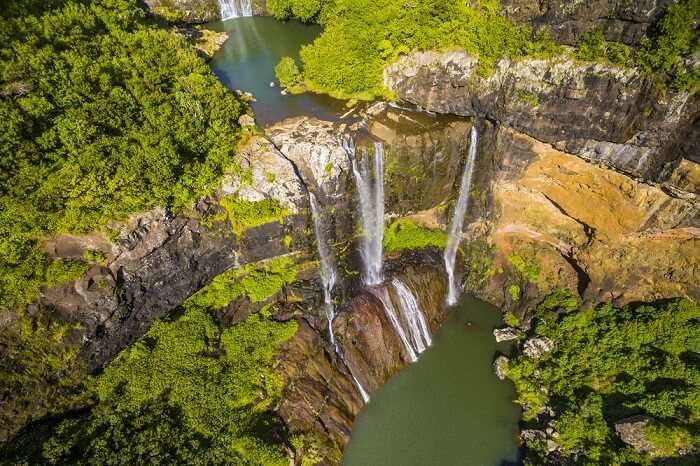 Located in the west part of the city, Tamarind falls in Mauritius is among the top-rated tourist places on the island where people feel rejuvenated. This waterfall is so gorgeous that people visit this place across the year. Mauritius is known for the excellent seaside, but it also has a spot where you can go hiking in a perfect forest area. Tamarind falls one of them. Tamarind waterfalls are also called 7 cascades because it has seven steps to it. It is an immutable place for nature lovers as the place a lot because of the serenity of nature and beauty of the surroundings.
The sight of the Tamarind waterfalls will force you to fall in love with this place a lot more than ever. You will unexpectedly discover that Mauritius has another side also which is solely towards this kind of adventure which is amalgamated with nature to a great extent. It is a paradise of animal lovers because of the national park here. The Tamarind Falls is among Mauritius' most beautiful canyons. The soundest approach to thoroughly undergo Mauritius' vibrant tangible habitat is to move on a Tamarind Falls hike. The Tamarind Falls that is recognized as Seven Cascades is among Mauritius's canyons and is a must-visit place. Situated in south-west Mauritius, it is an astonishing collection of 11 waterfalls, rivers, forests, mountains, and lush green vegetation. Schedule a hiking trip with us; we can assist reach you to hard-to-approach natural areas of Mauritius.
Things To Do Around Tamarind Falls
Here are a few things you should do around Tamarind Falls in Mauritius to make the most of your day trip to this attraction.
1. Hiking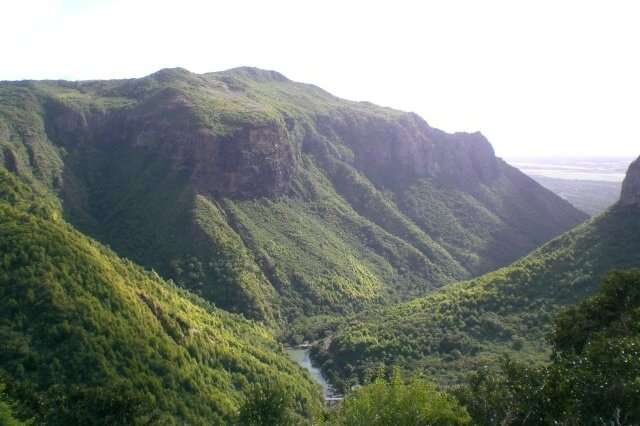 The trek to Tamarind falls in Mauritius is itself journeys which will make you wish that the trip should not end ever. There is a natural park, and those places are reserved, and no one is allowed to enter the core area for the sake of the animals as well as the safety of the visitor itself. The Tamarind Falls hike in Mauritius is one of the highest packages you can enjoy while traveling to Mauritius. The walk is not so harsh and can be done by everyone. This is fun and also very thrilling altogether. And you will be able to feel that this is one of the calmest places in Mauritius and it is far away from the cacophony of the city. There are exotic vegetation and also the unknown birds which will leave you speechless throughout your hiking journey. It is around 40 minutes journey in the hike to discover the first step and the other steps will go like that only. The hike will make you understand the route very well, and you will forget all of your tiredness by the sight of the beautiful views right from there.
Must Read: Trou d'Argent Beach: For An Exquisite Tour Down The White Sands Charm In Mauritius!
2. Sea Karting

Mauritius is among places in the globe where you'll get a sea kart trip. Whether you choose for half a day tour or an hour-long session with us, you will experience some fantastic action-compact fun-racing starting from Black River to the breathtaking coastline, getting in throughout to Le Morne Brabant from Flic-en-Flac.
3. Bois Cheri

The most popular tea brand of Mauritius, experience a bowl of Bois Cheri in a pristine native perspective in Savanne. You can follow the workshop trip for a behind-the-scenes glance at how the concluding goods are manufactured, from tea leaf plucking to binding them into packets. Tickets also incorporate a journey of the plantation, the Bois Cheri Chalet tea testing and the museum where you will relish your cuppa in tranquility and peace.
Suggested Read: 8 Places To Visit In Curepipe That Will Make Your Mauritius Tour More Interesting In 2022!
4. Rum

Rhumerie de Chamarel provides a quality-rich 'Eco-Friendly' rustic Rum. If you are a rum-lover, tor to Rhumerie de Chamarel of Mauritius. As a portion of the trip of the rum distillery, you will find the rum manufacturing process, and taste a variety of rums. With alcohol amount varying between 40% to 50%, you will more than expected leave Rhumerie de Chamarel believes a tad merry.
5. Seven Coloured Earths

The Seven Coloured Earths is among the La Vallee des Couleurs Nature Park's chief point of attractions. One of the island's most charming natural appearance is the Seven Coloured Earths, an unusual geological composition rendezvousing millions of years. The multi-colored landscapes like lunar consist of dunes in seven different colors – brown, red, violet, blue, yellow, green, and purple – which never disintegrate in spite of adverse climatic conditions and torrential downpours. You will also spot a playground or children's and some monstrous tortoises.
Suggested Read: 12 Exciting Water Sports In Mauritius For An Out-Of-The-World Experience In 2022
6. Le Morne Mountain

Except for flora and fauna, Tamarind falls have the magnificent view of Le Morne Mountain and also the west coast of Mauritius. The walk on the Basalt rock which is made from the volcano eruption will take you through the time travel of the time of the incident and will leave you dumbstruck by the beauty of it.
7. Bath Under The Falls

Anyone can enjoy the bathe in the fresh water, and it is believed that if you stand under the series of 7 cascades, then you will get a natural massage by the flowing water of the falls. The total trip is for a full day, and so you will get enough time to enjoy the beauty of the place and click beautiful pictures to save it in your heart as a lifetime memory of an exciting day in Mauritius. The waterfalls itself has an excellent view because of its seven cascading flow, and it looks more beautiful if you go near there. You need to take your swimming costumes if you want to make a refreshing bath in the waterfalls and take the natural massage of nature. And that will be the cure of all of your problems in life.
Suggested Read: The Best Of Mauritius Food To Try In 2022: Infused Richly With The Indian Cuisine
Where To Stay Near Tamarind Falls
There is a vast count of places to visit near Tamarind falls. Many hotels are there to stay and enjoy the beauty of the falls elatedly. Some of the impressive hotels near the falls are:
1. Hillside Haven

Located in Tamarind, it offers benevolence at the foot of La Tourelle Mountain. This spot possesses elevated sea and mountain views. Positioned on the ground floor, every flat here has a porch forcing onto the lush garden. They each hold a flat-display TV with satellite channels, a fully-equipped kitchen, and free WiFi. Each flat also has beach towels, beach chairs, umbrella, and a cooler box which visitors can utilize — availability of free, individual parking in a guarded enclosure with automatic gate.
Address: Allee Des Flamboyants, Morcellement Carlos, Tamarin, Mauritius
Tariff: INR 6,400 per night
Suggested Read: 4 Indian Restaurants In Mauritius To Savor Some Desi Delights In A Foreign Land
2. Lacasepoz

Positioned in Tamarind, It is a self-serving cottage with scenes of Tamarind Bay, the neighboring mountains and Tamarind waterfalls. It emphasizes private parking and free WiFi. The air-conditioned benevolence allows an equipped terrace and a fully furnished open-plan kitchen with an oven and microwave. Starring a shower, the individual bathroom is outfitted with a hairdryer and towels. The living room accommodates an extra bed and a satellite TV. Sir Seewoosagur Ramgoolam Airport is situated only at a distance of an hour drive from the location.
Address: Avenue des Lauriers Roses, Impasse des cassis, Carlos, Tamarin, Mauritius
Tariff: INR 10,000 per night onwards
Suggested Read: 7 Perfect Places For Water Skiing In Mauritius For All Those Who Love Water Sports!
3. The River House

Offering luxury with a fantastic swimming pool in Tamarind, It offers BBQ facilities and free WiFi access. Tourists can rest in the patio, the library, or the sun terrace.
The guest rooms here come with a flat-screen TV and DVD player with satellite channels. Comprehensive with coffee-and-tea-making facilities, the flats are shielded with mosquito nets across the beds and rooms are fully air-conditioned. Along with a hairdryer, the separate bathrooms are equipped with a shower. Other amenities here combine water sports, grocery deliveries, and a shared couch. This breakfast and bed is just a 3-minute walk to the beach and a 2-minute stroll from Tamarindo Golf Course. The place is simply 54 kilometers away from the Sir Seewoosagur Ramgoolam Airport.
Address: Le Barachois, Tamarin Bay, Tamarin, Mauritius
Tariff: INR 8,230 per night
The children under age 12 are not allowed there. And this place is open on all days in a week. You can go there and wander around for 6 hours. Its entry starts at 9:00 Am and closes at 3:00 PM. You require to take some safety measures if you want to finish this hiking safely like taking the proper hiking equipment and the appropriate materials to guard your body and skin. The critical stuff is backpack, swimsuit, hiking shoes or Sports shoes, Particular clothing's, Warm clothes, Skin protection materials like sunscreen cream, insects repellent, Some spare shoes or clothing in case of an emergency.
Further Read: Mauritius Aquarium: A Must-Visit Attraction On Your Next Vacation To The Tropical Paradise!
Generally, Mauritius is known as the place where people spend their holiday by the seaside or by an extravaganza of luxury. This trek will make you feel triumphant that you did something to rejuvenate yourself and spice up your boring holiday trip a bit. The hike to Tamarind Falls is exciting and you will feel alive after coming back from this adventurous trip. The trip you will take from here will be a stunt in your peaceful holiday in Mauritius.
---
Looking To Book An International Holiday?
Book memorable holidays on TravelTriangle with 650+ verified travel agents for 65+ domestic and international destinations.
---