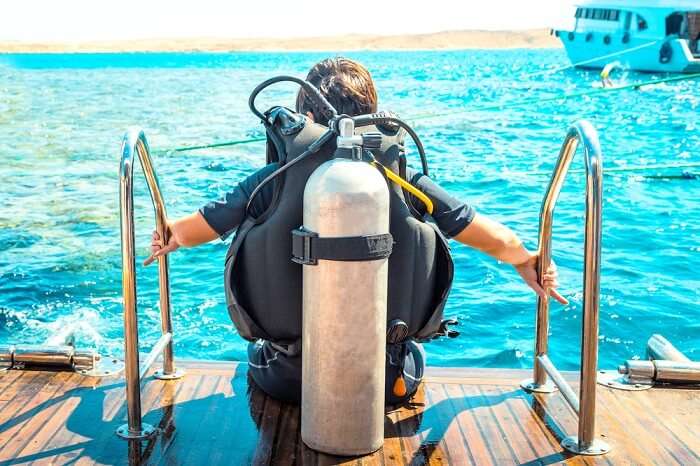 Greenland, unlike its name, it is actually a cold beauty. The green in Greenland is contrasted with the cold icy blue of the sky and the waters make for amazing picturesque landscapes, especially against the backdrop of mountains and geothermal springs. There are tonnes to do in Greenland and while one might think that going scuba diving in Greenland certainly can't be one of them, but it is actually a popular activity to undertake as Greenland as well as Iceland has everything from crystal clear lakes to geothermally heated ones which offer amazing diving and snorkeling opportunities.
10 Best Places For Scuba Diving In Greenland
Take an adventurous tour to one of these places and experience scuba diving in Greenland just like a pro-scuba diver.
1. Westjfords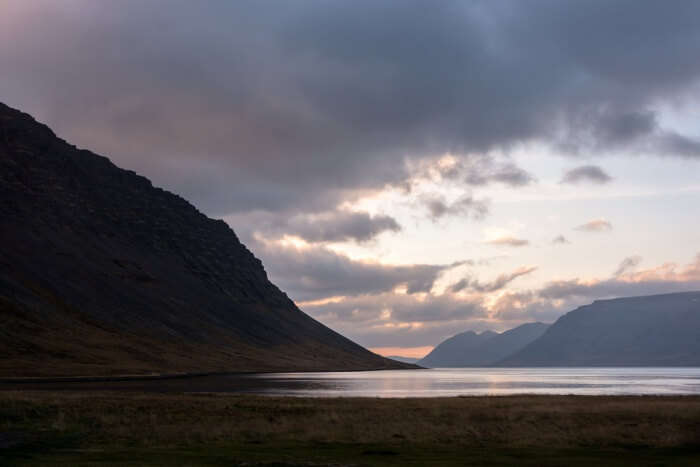 Some say that if you look at the map of the country in a particular way, then it seems like an organism or animal. Apparently, the long Snæfellsnes and Reykjanes represent the appendages of the animals while Westfjords acts like its head. Westfjords are an important place which supports Greenland's fishing Industry. It is also a very sparsely populated and remote region, which is known for its deep fjords and golden beaches. There is a great diversity in regards to the dive sites present. This is a fun scuba diving in Greenland spot and divers will get to see many old wrecks and artifacts along with the rich marine life present there. In the summers dolphins and whales are frequently spotted and it is also the only spot where hard coral is available offshore in Iceland.
Location: The Westfjords Region, Westfjords peninsula
Suggested Read: Scuba Diving In Malta: Discover The Underwater Secrets Of The Blue-Green Mediterranean Sea
2. Nesgja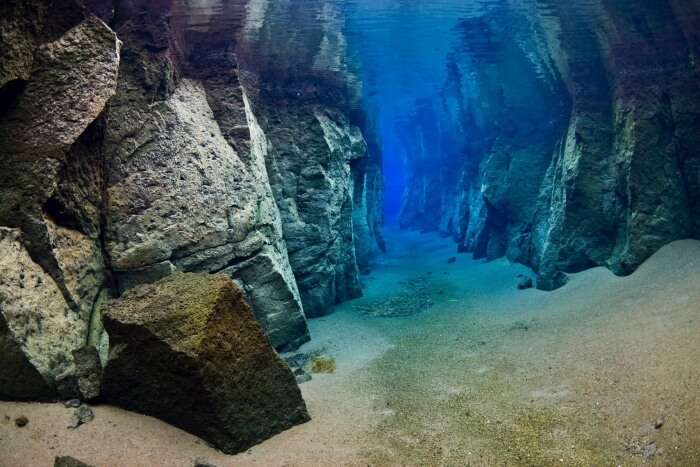 It is a beautiful freshwater fissure which is filled with clear crystal water. These fissures can be seen all the way from the south west of Iceland, to the northeast and they are formed as a result of earthquakes. So, over time some fissures get filled up with glacial water which has been filtering through the lava fields for years before it finally flows right into rivers, these fissures or the ocean. The slowly dripping water through the porous lava rock has been filtered just perfectly. Nesgjá is shallow, but the large and stunningly beautiful.
Location: Nesgjá, North Iceland
3. Bjarnagja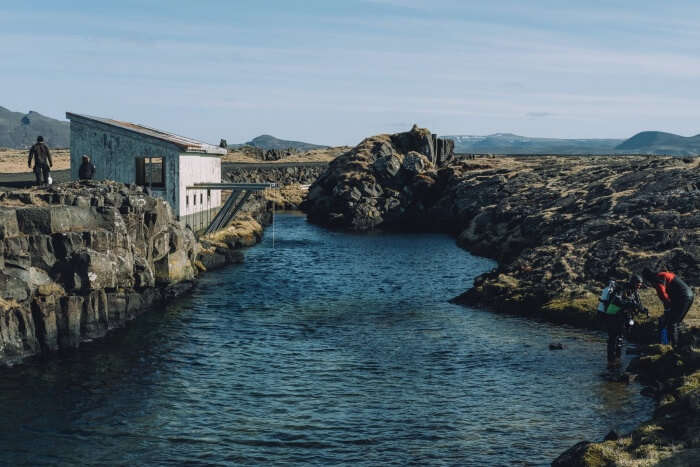 Image Source
Bjarnagjá is an 18 m deep lava ravine present on the peninsula where tectonic activity caused Iceland to form by rising out of the ocean. The water here is fresh groundwater, but it isn't fresh and one can find the salt of the sea in it since the rift is just a few hundred meters from the coast. This site is located near the town of Grindavik and also to the renowned Blue Lagoon. There are great diving spots here for those who have the appropriate diving and training experience.
Location: Bjarnagjá, 240 Grindavík
Suggested Read: 10 Places To Go For Scuba Diving In Cape Town & Explore The Magnificent Underwater World!
4. Davidsgja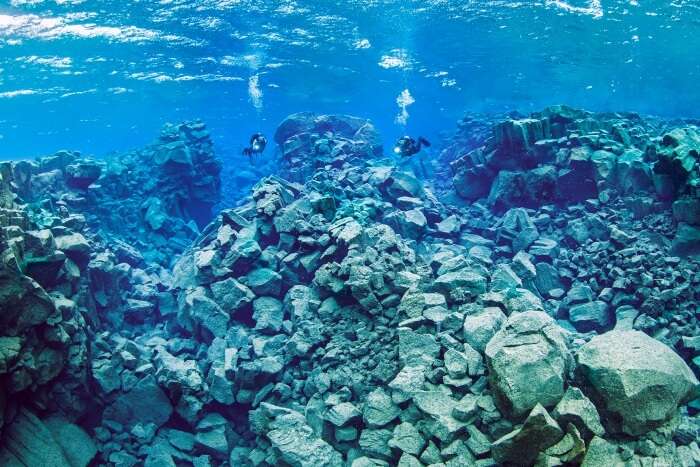 Image Courtesy
One of the best places to go scuba diving in Greenland, Davíðsgjá is a fissure which is located in the lake Thingvellir and is a favorite amongst local divers. Here you can walk straight right into the water and then go for a shallow swim in warm waters. The maximum depth of the dive in this fissure is about 21 meters. Davíðsgjá also has amazing underwater visibility, but divers should make a note that it depends on the weather a lot as well. The top fissure in Davíðsgjá is about 7 meters and as such, trouts love to visit this fissure along with divers.
Location: Thingvellir National Park, 801 Selfoss
5. Silfra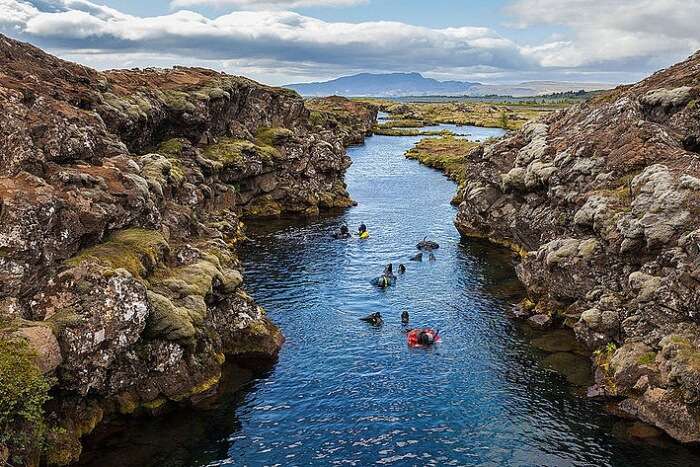 Image Source
Located in the Thingvellir National Park, Silfra is a fissure present between the North American and Eurasian tectonic plates.The water here is filtered beautifully through porous underground lava for around 30 to 100 years before reaching the large spring which feeds the Silfra. While the water is cold in here (2°C-4°C) but the water never freezes as fresh water constantly pours into the fissure. Silfra is touted to have very clearest water in the world. Silfra is stated to be a living diving spot as it is constantly underground small and large changes. This shifting creates new caverns, tunnels and underwater landscape which makes for some splendid viewing.
Location: National Park Thingvellir, Iceland
Suggested Read: 10 Spots For Scuba Diving In Christchurch That'll Pamper All The Divers!
---
Planning your holiday but confused about where to go? These travel stories help you find your best trip ever!
Real travel stories. Real stays. Handy tips to help you make the right choice.
---
6. Strytan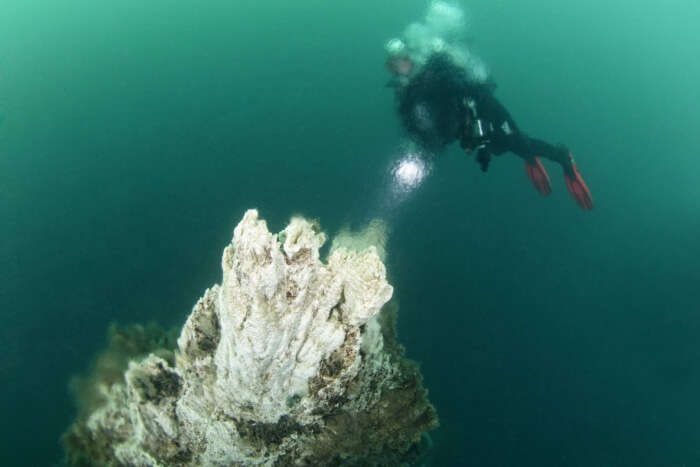 Image Courtesy
Strýtan is a very special diving site, located in North Iceland in the middle of Eyjafjörður. Not far from the country's second biggest town Akureyri, Strýtan has a depth of 70 meters. There is also a 55-meter talk limestone chimney in here with goes 15 meters under the surface of the water. A protected natural reserve, at Strýtan divers, can explore the fauna and flora in here, which have developed under these situations. They will also love to feel the hot water which comes out the Strýtan. This is the best scuba diving in Greenland site, but only for the experienced divers because they need to be in control of their buoyancy and the currents can be strong here.
Location: Iceland
Price: 40.000 ISK for the day tour
7. Litlaa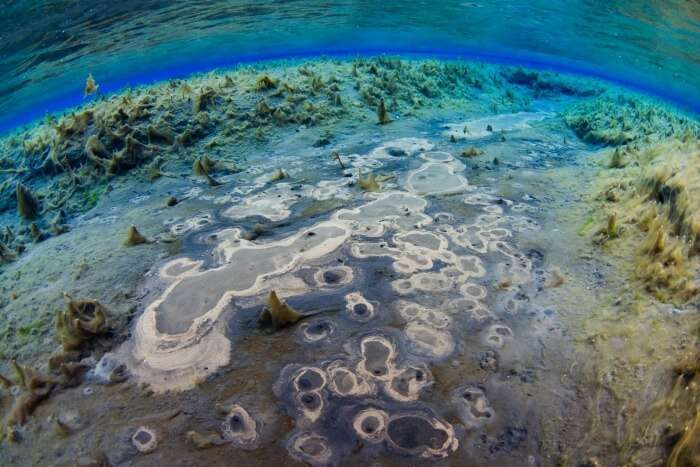 The name means Little River in Icelandic. Situated near the northern coast of the country and just south of the Arctic circle, Litlaá is a 17°C river. The geothermal activity going on keeps it warm. The river is shallow, so diving isn't really possible, but snorkeling is certainly enjoyable. The floor of the river is made up of amazing dancing volcanic sands along with multicolored sediments which leap out from the bottom.
Location: Litlaá, North Iceland
Suggested Read: Scuba Diving In Greece: 8 Places To Explore European Marine Life To The Fullest
8. Gullfoss And Geysir
Image Source
Gullfoss and Geysir are two of the major sites on the famous 'Golden Circle' route. This is a famous scuba diving place in Greenland. Gullfoss is a very powerful waterfall which is located around 130 km inland from Reykjavík. Gullfoss is best visited on a sunny day to understand why it is named as such. The force of the falls creates a mist which covers the whole area in a golden veil when it is caught by sun rays. Geysir is a geothermal area which has two active geysers and multiple boiling hot spots. The recently active ones are named as Strokkur which erupts around every 4-6 minutes.
Location: Geysir, 801 Selfoss
9. Gardur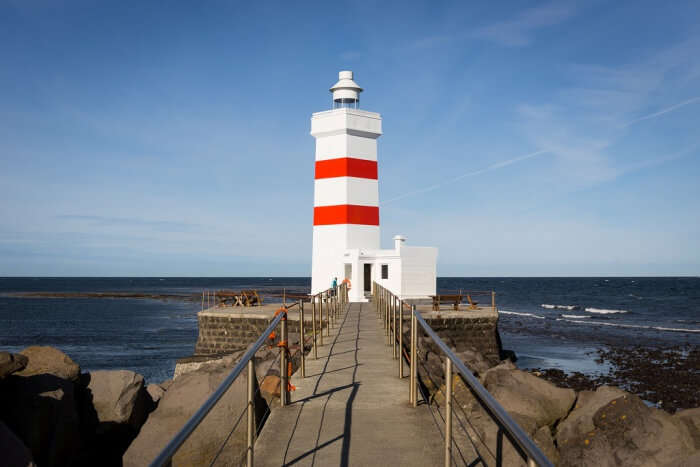 Image Source
Located right at the end point of the Reykjanes peninsula, Garður is an hour's drive just from there. You can enter into the water from the shore or by climbing down from a ladder in the pier. Garður actually means Garden in Icelandic and since it contains a bounty of 42 species of colorful aquatic algae in it so it does count as a garden. Apart from this, there are kelp forests as well which are great residences for fish like scorpion fish, wolf fish, monkfish and more. The seascape here consists of sandy spots with Corals sometime rising out of them.
Location: Garður Pier, 250 Garður
Suggested Read: Scuba Diving In Colombo: 10 Places For Witnessing The Beauty Of Marine Life Like Never Before
10. Kleifarvatin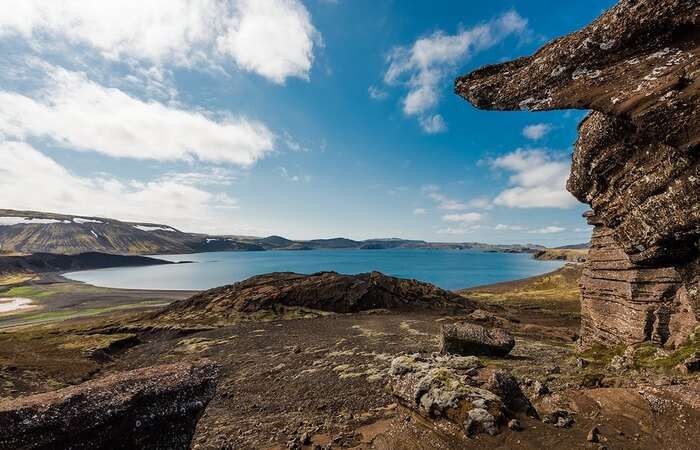 Covering an area of eight square meters, Kleifarvatn is actually the biggest lake present in the Reykjanes peninsula. Its maximum underwater depth is 90 meters and it is situated around 30 km outside of Reykjavík. The lake sits between a volcanic landscape which is full of lava formations and colored hills. There are underwater hot springs in here as well as a large crater which pours out huge quantities of gases and warm water.
Location: Kleifarvatn, Reykjanes Peninsula
Further Read: Scuba Diving In Brazil: 10 Brazilian Sites That'll Give You The Best Diving Experience
Greenland is a paradisiacal land on earth. Its lush green beauty is unlike that of the tropical provinces and surrounded by the cold weather and the hot springs, this land is nothing short of heaven on earth. As such event simple adventure gets more enhanced in here- be it scuba diving in Greenland or going trekking, make sure to not miss out this on your much-awaited international vacation.
Frequently Asked Questions About Scuba Diving In Greenland
What is Greenland known for?
Greenland, one of the farthest points in the north is located between the Antarctic and Arctic Oceans. With 80% of its land covered in a thick blanket of snow almost all through the year, Greenland is known for its giant glaciers and cold, icy blue waters, and picturesque landscapes.
Is Greenland good for scuba diving?
Though the waters of Greenland is believed to be icy cold, it has a number of crystal clear and geothermally heated lakes that provide excellent sites for diving and snorkeling.
What is there to do in Greenland?
Here are a few things to do in Greenland which is totally worth a try: 1. Witness Aurora Borealis at Kangerlussuaq 2. Try Dog Sledding 3. Enjoy Skiing Adventure 4. Experience Cold Water Diving 5. Visit Ilulissat Icefjord – a UNESCO World Heritage Site
Which is the best time to visit Greenland?
The most ideal time to visit Greenland is during the summer months of June to August. It's also a great time to enjoy flightseeing, watching the midnight sun, enjoying hot springs or watching giant whales.
Is scuba diving in Greenland safe for first-timers?
Scuba diving is quite safe and enjoyable for first-timers in Greenland provided you follow proper instructions from your dive instructor and have all the knowledge and skills for this activity.
Do you have to be certified to scuba dive in Greenland?
Yes. For cold water diving, you will have to be at least PDAI OWA certified.
Is scuba diving in Greenland expensive?
Greenland is a pretty expensive place and everything in Greenland is a bit pricey but the experience is totally worth it.
---
Looking To Book A Holiday Package?
Book memorable holidays on TravelTriangle with 650+ verified travel agents for 65+ domestic and international destinations.
---