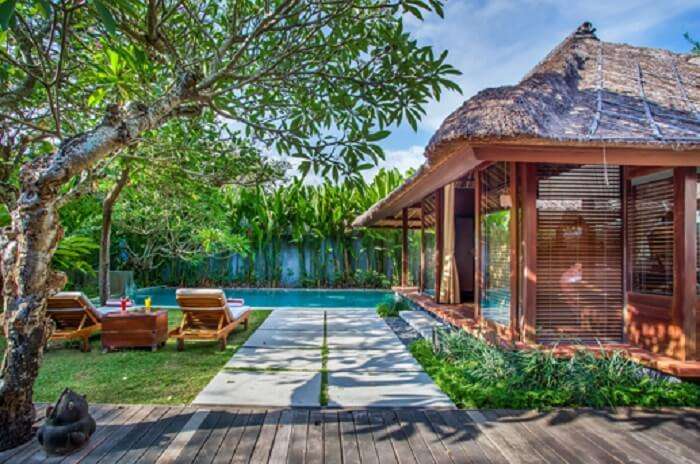 Overview
Mayaloka Villas Seminyak is one of the most remarkable and breathtaking 4-star properties that never fails to impress its guests. The contemporary-styled establishment is situated in Seminyak, which is one of the most stylish and upscale beach resort areas in Bali. Surrounded by lush green setting, Mayaloka Villas offers a comfortable shelter for couples, honeymooners, and families looking for a peaceful time away from hustle and bustle of everyday life. For enhancing the overall experience of the guests, the property offers a plethora of facilities, which include private pools and sun deck chairs. Mayaloka Villas Seminyak is a serene escape where tranquillity combines with warm hospitality to offer a relaxed stay. The establishment also boasts of its attractive design and modern-day amenities. Its proximity to the nearby tourist attractions and public transport terminals makes it the right choice to explore Bali. The Ngurah Rai International Airport is an approximately 40-minute drive from the property. Its location in Seminyak brings it closer to the vibrant nightlife as well as entertainment malls. Some of the major tourist hubs near the property are Seminyak Beach, Kuta Square, Kuta Art Market, Potato Head Beach Club and many more.
Amenities
Mayaloka Villas Seminyak proudly boasts of a variety of services and amenities for ensuring a comfortable stay. The property offers in-villa dining for enhancing the private experience of its guests. In addition, one can avail the spa facility in villas. The property also maintains a parking area, 24-hour security and front desk, and travel desk. All the hotel rooms are equipped with state-of-the-art amenities and complimentary Wi-Fi. Guests are offered services like luggage storage, airport transfer, room service, motorbike rental, wake-up service, daily housekeeping, and doctor-on-call. Further, it also provides some services on a chargeable basis which include dry cleaning, ironing, and laundry. Within Seminyak until 6 p.m., free shuttle service is also provided by Mayaloka Villas.
Dining
Mayaloka Villas Seminyak offers a private dining experience to its guests, thus providing a unique experience. One can relish a variety of dishes while relaxing in a modern and stylish setting. Guests can also experience the in-villa dining facility while lounging beside the private pools. Moreover, enjoying a glass of wine under the romantic moonlight is something which no one wants to miss! In-villa dining services comprise scrumptious breakfast, lunch, dinner, as well as a large selection of wines.
While surrendering oneself to the tranquillity of the place, let go all the stress and anxieties and avail a range of services offered by Mayaloka Villas Seminyak. In-villa massages are likely to revitalize mind, body, and spirit. Moreover, Mayaloka Villas is known for striking the right balance between lavishness and contemporary richness.
Villa Accommodation
1 Bedroom Villas
2 Bedroom Villas
4 Bedroom Villa Seminyak
Honeymoon Pool Villa
Mayaloka Villas Seminyak with friendly staff offers four types of villas to choose from, which include 1 Bedroom Villas, 2 Bedroom Villas, 4 Bedroom Villa Seminyak, Honeymoon Pool Villa. All the villas are well-furnished and artistically decorated. The warm hues of the decor are perfectly blended with a wide range of services and facilities for a relaxed stay. 1 bedroom and 2 bedroom villas are engulfed in lush green gardens and feature a private swimming pool. They also have a spacious open area which offers a scenic view of the pool. 4 bedroom villas offer a comfortable stay in relaxed and serene settings. They feature a private turquoise pool wherein guests can unwind on a sunbed while relishing an exotic cocktail. It also features a large open area for guests to plan a meal. The iconic Bali Honeymoon Villas are specially designed for giving all the privacy the newly-weds deserve! They have a separate living area, which features a romantic outdoor bathtub in an intimate setting. Moreover, these villas offer a private accommodation in a romantic environment. They are absolutely are an ideal blend of luxury and romance. In addition, all the villas are air-conditioned and equipped with iPod dock, LED TV sets, mini bar, safety box, complimentary Wi-Fi and en-suite bathrooms with bathtub and shower facility.
Villa Highlights
Have an unforgettable in-villa dining experience
Dive in the cool waters of private pools and relax senses
Revitalize mind, body, and spirit with in-villa massages
Bask under the sun on comfy sunbeds
Relish exotic wines under romantic moonlight
Enjoy scrumptious dishes while lounging on poolside
Indian Restaurants Near The Villa
Chai'Ba Street Kitchen & Bar
Tiffin Bali
Indian Tandoor
FAQs
Q1. How much is the distance between the hotel and the International Airport?
A. Ngurah Rai International Airport is 13 km away from Mayaloka Villas Seminyak.
Q2. Does Mayaloka Villas Seminyak provide airport pickup services?
A. Yes, the property provides airport shuttle services but at an additional cost.
Q3. What are the recreational activities one can indulge in and around the hotel?
A. Guests can relax by the private pools or avail in-villa spa services. One can also relax at the sundeck while enjoying refreshing beverages.
Q4. Do the villas have private pools?
A. Yes, all the villas have private pools for enhanced privacy.
Q5. Are there any special offers provided by Mayaloka Villas Seminyak?
A. Yes, guests can avail different packages as per their requirements. Some of them are Romantic Bali Villas, Bali Honeymoon package Family Easter Getaway and Bali Holiday Packages for Families.
Surrounded by the lush green garden, Mayaloka Villas Seminyak is a perfect place for those seeking peace and tranquillity! Here, experience the beauty of raw nature and find solace while being surrounded by vibrant greenery and soothing ambiance. The property is also known for offering warm hospitality with friendly staff. Guests can make a splash at the private pools or enjoy a romantic dinner under the moonlight in a private setting. The villas also feature a spacious open living area wherein one can relish a scrumptious meal in a relaxed atmosphere. Be it enjoying in-villa massages or relaxing on a sunbed, Mayaloka Villas ensures that its guests get an exclusive slice of paradise.