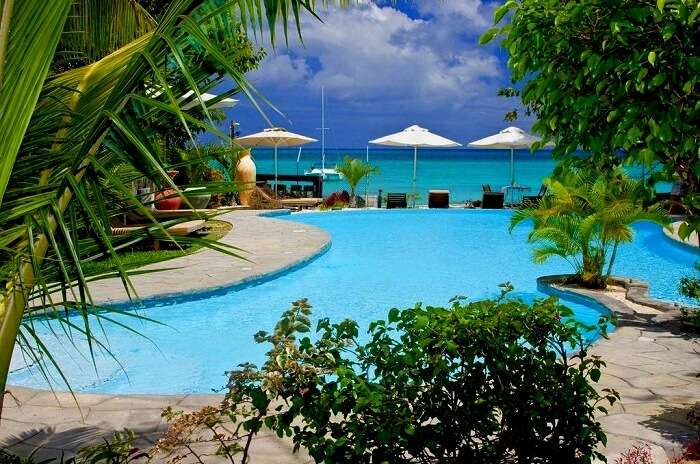 Overview
One's search for a paradise hotel ends with a quaint 3-star boutique hotel called Ocean Beauty, Pereybere, Mauritius. Pereybere is a small fishing village on the north tip of the main island. And nestled here on a beachfront is this beautiful hotel. The hotel welcomes all kinds of travelers including families as well as couples. The serene views that the hotel offers is one that everyone will enjoy. Constructed in a very modern minimalistic European style, this hotel was initially meant to be a bed and breakfast place. This concept is still in place and the guest can enjoy a scrumptious breakfast where dishes of various cuisines are served. Even the rooms are built quite lavishly, offering views of the beautiful garden surrounding the hotel, and the pristine blue Indian Ocean.
Due to its location, guests can experience the buzzing nightlife of Grand Bay area where the beaches are full of markets, restaurants, and bars.
Amenities
Being a boutique hotel, the Ocean Beauty, Pereybere, Mauritius may not have many onsite activities. Although the hotel has a beautiful swimming pool tucked away from public eyes where the guests can relax and soak in the tropical sunshine. One can also order food and drinks from the restaurant which can be served on the deck. For families staying in the hotel seeking some privacy from their kids, babysitters can be arranged too. For children too old for babysitters, the help desk at the hotel can organize supervised activities. Guests can also enjoy a soothing massage at the hotel and avail some of its exceptional spa services.
Dining
The Ocean Beauty, Pereybere, Mauritius, does have a restaurant which serves a-la-carte meals as well as a full dinner service. The cuisine at the in-house restaurant is mainly local flavors, salads, and fresh seafood. Although the hotel does not have a bar but can serve drinks if requested. One may indulge in some of the mouth-watering delicacies at this restaurant or head out to discover the restaurants nearby.
But for travelers seeking more exotic flavors, the Grand Bay area offers many bars and restaurants serving flavors of Creole, African, Asian, European and local cuisines. There is also a thriving nightlife on the Grand Bay beaches, all at a short distance from the Ocean Beauty, Pereybere, Mauritius.
Hotel Accommodation
Standard Room
Luxury Room
Deluxe Room
Basic Suite
Garden Suite
Ocean Suite
This hotel has nine well-appointed rooms full of conveniences for the guests. There are divided into three types of junior suites and deluxe rooms. The junior suites are all furnished in the same minimalistic theme which runs through the hotel. They are all equipped with king sized beds and have amenities like wifi, bathtubs, televisions etc. They all have the provision of adding an extra bed. The hotel has a family room which can accommodate 2 adults and 2 children. This room has two bedrooms and a kitchenette. The deluxe rooms are for the more budget-friendly traveler. These rooms are all outfitted with the needed requirements for a comfortable stay such as wifi, fridge, television etc and a fully functional washroom.
Hotel Highlights
Catamarans which take guests out on tours to the islands of Ile Aux Cerfs and Ile Gabriel are easily available
A day-long cruise is available which includes a scrumptious meal, picnic style, on any of the given islands
You can also go snorkeling among the reefs and spot some beautiful fishes
Water ski rides and parasailing are also available on the Ocean Beauty, Pereybere, Mauritius beachfront
A private dinner on the beach can be arranged for couples
Babysitters are available for families who may want to opt for these services
Indian Restaurants Near The Hotel
Nitzana Mauritius
Saveurs Des Iles Restaurant
Happy Rajah
FAQs
Q1. Are there any other attractions except Beaches and Shopping?
A. Watersports, tours to adjoining islands on catamarans and a wide choice of Bar and restaurants are available during your stay at Ocean Beauty Pereybere.
Q2. Are there any extra charges for car parking and amenities?
A. No, there is no extra charge for any hotel amenities and car parking facility. But extra beds in the suites are chargeable.
Q3. Does the hotel have a private beach or swimming pool?
A. Yes, there are swimming pools and one private beach for the guest.
Q4. How far is the hotel from the Sir Seewoosagur Ramgoolam International Airport?
A. The Ocean Beauty, Pereybere, Mauritius, is a seventy-five-minute drive from the airport.
Q5. What are check-in and checkout timings?
A. The check-in and check-out time is 2 pm and 11 am respectively.
The Island nation of Mauritius is well known for its beauty. Surrounded by the crystal clear waters of the Indian Ocean, the green of the hills of the island makes it one of the most sought-after vacation destinations. And hence, Mauritius is on the vacation bucket list of every traveler. But not every traveler can afford to stay in a luxurious resort or hotel. The Ocean Beauty, Pereybere, Mauritius, is an ideal stay option for the budget-friendly traveler. One will surely find the value for money at this hotel. Full of amenities required for a comfortable stay, proximity to activity options, restaurants and bars and shopping areas and being right on the beachfront, all these make it an ideal vacation stay for any traveler. With the amenities that this hotel has to offer, you are sure to have a memorable stay at the hotel.