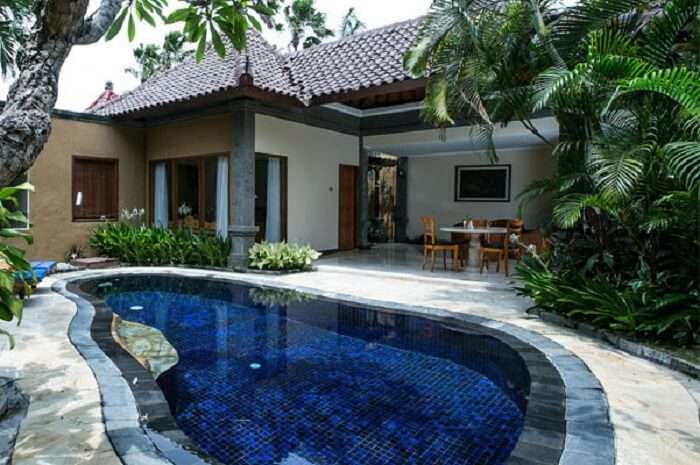 Overview
Parigata Villas Resort Sanur is an unmatchable 4-star property located in the center of Sanur. Set amidst palm trees, this beach resort takes one away from the hustle-bustle of the city life. This hotel is a perfect place if one is looking for spending some quality time with one's family, friends, and partners. The hotel provides a traditional heritage of spa treatment recipe and maintains an inviting pool where one can revitalize. The property provides a pleasing blend of modern Balinese style with contemporary comfort. Parigata Villas Resort Sanur is just a few meters away from Sanur Beach and also located close to Sanur's downtown area. Moreover, Ngurah Rai International Airport is approximately 11 km away from the hotel. hotel.
Amenities
Parigata Villas Resort Sanur comes with a number of facilities and services which are offered for the convenience of its patrons. The property proudly boasts of a spa where guests can have relaxing beauty treatments or therapeutic massages. Moreover, it operates a 24-hour front desk that takes care of all the needs of the guests. Other than this, meeting and banquet facilities are available. Guests can indulge in cycling to explore the area. Other things to do include enjoying a barbecue by the pool or spending quiet reading time in the library. Facilities like free Wi-Fi, free parking and an airport shuttle can also be availed by the guests during their stay.
Dining
Other than this, Parigata Villas Resort Sanur offers a range of delectable dishes to its guests. The on-site Widury Restaurant serves a range of authentic Thai and European dishes. Moreover, food and drinks are available 24/7 and breakfast, lunch and dinner are served in the restaurant only. It also maintains a Coffee shop. Apart from this, room service is available upon request. One can explore the nearby streets to experience cuisines and beverages.
Get a soothing massage and relaxing beauty treatment at the spa, and spend a homely stay at the hotel. The experience at Parigata Villas Resort Sanur is truly one-of-a-kind. Enveloped in luxury and the beautiful scenery that the hotel offers to the guests, one will have a great time here. Creating the perfect combination of relaxation and indulgence, the hotel gives its guests the best of comforts.
Resort Accommodation
Standard Villa
Deluxe Villa with Private Pool
Executive Villa with Private Pool
Offering views of the garden, the resort maintains well-furnished rooms for the guests. These Balinese-style villas come with thatched roofs, high ceilings and large living spaces which are categorized as Standard Villa, Deluxe Villa with Private Pool and Executive Villa with Private Pool. Each villa has a dining area and a bathroom with a spa bath. Standard Villa and Deluxe Villa with Private Pool offer private balcony while Executive Villa with Private Pool offers a balcony with terrace. All rooms are equipped with complimentary Wi-Fi and individually controlled air conditioners, along with a host of other amenities for the convenience and comfort of guests. The rooms are equipped with LCD TV, IDD phone and supply of hot and cold water.
Resort Highlights
Enjoy culinary experience at the restaurant offering delicious cuisines.
Guests can enjoy themselves at the outdoor pool.
One can check in at Bali Beach Golf Course to play golf.
Feel the night vibes and taste mouth-watering drinks at the nearby bars.
Enjoy a stroll along the sandy beach while experiencing amazing views.
Relax the senses and soothe the mind at the spa.
One can indulge in a number of beach and water sports.
Indian Restaurants Near The Resort
Little India
Curry in Bali
Gateway of India-Sanur
FAQs
Q1. How far is the hotel located from the international airport?
A. Parigata Villas Resort Sanur is located around a 45-minute drive from Ngurah Rai International Airport.
Q2. Does the hotel offer pickup from the airport?
A. Yes, the hotel provides airport shuttle services to its guests.
Q3. What are the activities to do in and around the hotel?
A. One can enjoy a number of beach sports during their stay at Parigata Villas Resort Sanur. Other than this, one can relax down at the spa where guests can have soothing beauty treatments or therapeutic massages within the hotel premises.
Q4. Does the hotel provide any children-friendly service?
A. Yes, the hotel provides childcare services to its guests.
Q5. Are there any special offers for newlywed couples?
A. Yes, the hotel provides special offers to newlywed couples by giving welcome drink/ fruit upon arrival in the Honeymoon Package. It also includes a romantic candlelight dinner with standard Balinese decoration and 2 hours of spa treatment.
Situated near the beach, this 4-star luxury hotel ensures a quality stay for families and honeymooners alike. This refined resort occupies a bunch of stylish villas which is located 7 km away from the Bajra Sandhi Monument and 13 km from shopping and nightlife at Jalan Legian. Uncover the untouched beauty of this place by visiting this beautifully built hotel. The lush green ambience of the hotel adds to the beauty of this property that compliments the tropical surroundings in a supreme way. Gain relief while being encircled by vibrant greenery and soothing ambience. Enjoy the best of services provided by the hotel in attendance of a friendly staff. One can enjoy stunning views of the sea beach from a private terrace that accompany some of the rooms. The guests have endless ways to unwind ranging from a spa treatment or water sports. Guests can also indulge themselves in beach picnics and supervised scuba diving as the hotel is located near the beach. Parigata Villas Resort Sanur ensures that its guests can get a lifetime experience and enjoy the vacations having a homely atmosphere at the same time.