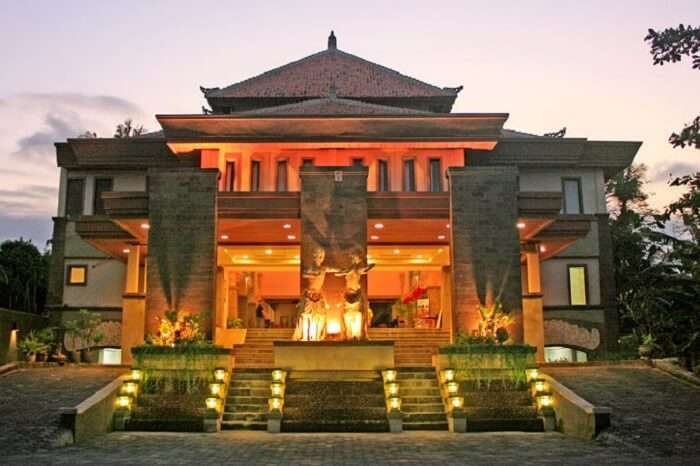 Overview
Pelangi Hotel Bali is a 4-star hotel located in beautiful Seminyak. Located on the white sandy beach offering the view of rolling waves, this beach hotel is perfect for those who wish to enjoy the warmth and mind-blowing landscape. The property is an ideal place for both honeymooners and leisure travelers. The beachfront resort has a spa and an outdoor pool with a swim-up bar. Offering spacious layouts, the accommodation options with a touch of Balinese accents are enough to refresh one's spirit. Sweeping beach and pool views add to the beauty of the place and make it a suitable place to stay. Pelangi Hotel Bali Is a 5-minute drive from Kuta. Moreover, the hotel is about a half-an-hour drive from Ngurah Rai International Airport.
Amenities
Pelangi Hotel Bali provides a range of facilities to its patrons including a large luxury pool for children and adults having a restaurant in the center of it. Apart from this, The Siloam Spa & Fitness Centre is designed in a typical Balinese style spa which provides Balinese traditional treatments to its guests. One can freely enjoy massage and beauty treatments while sitting in the lap of nature. For leisure, day trips around Bali can be arranged at the tour desk. Staff at the 24-hour reception can assist with childcare and business needs.
Dining
Other than this, the hotel offers a variety of cuisines to its guests. Pelangi Hotel Bali has Rama Restaurant & Bar, Sunset Terrace Restaurant & Bar, Sunken Pool Bar and XO Lounge Lobby Bar where guests can taste the best of delectable dishes and international drinks. Travelers can have Indonesian specialties and European dishes at Rama Beach Restaurant while enjoying sweeping beach and pool views. Besides, one can relax with a cocktail in hand at XO Lounge Bar. Moreover, Sunken Pool Bar allows you to be in the center of the swimming pool and perfect for those who wish to sit back and relax with the ocean beach view. Sunset Terrace Restaurant & Bar is an open-air restaurant which is suitable for a special event, private/wedding party, gathering or other occasion events.
Hotel Accommodation
Superior Rooms
Deluxe Rooms
Super Deluxe Rooms
Suite Rooms
The hotel maintains 89 spacious and well-appointed guest rooms for its patrons. Featuring a blend of Balinese and modern architecture, the rooms are categorized as Superior Rooms, Deluxe Rooms, Super Deluxe Rooms, and Suite Rooms. Offering spacious layouts, all rooms are air-conditioned with private balconies. Guests can enjoy the comfort of cable TV, free tea/coffee makers and a mini bar in the rooms. All the rooms have private bathrooms with hot and cold running water, a shower and a bathtub. The suite room offers a private large balcony, a minibar, fridge, large Jacuzzi and shower. Moreover, these rooms also have amenities like IDD call, hairdryer, and safe deposit box. Guests can enjoy free wireless internet access in all the rooms. The hotel also provides free cribs/infant beds keeping in mind the convenience of the parents.
Hotel Highlights
Enjoy first-class dining at different restaurants offering delicious cuisines
Guests can enjoy themselves at the poolside
Fitness lovers can visit a wellness to spend a healthy holiday
Feel the night vibes and taste mouth-watering drinks at the bars
Enjoy a stroll along the sandy beach while experiencing amazing views
Relax the senses and soothe the mind at the world-class spa
Sit back and relax in the Sunken Pool Bar located in the center of the pool
Indian Restaurants Near The Hotel
Ganesha Ek Sanskriti Indian Restaurant
Chai'Ba Street Kitchen & Bar
Roti Daal
FAQs
Q1. How far is the hotel from the international airport?
A. Pelangi Hotel Bali is about a 25-minute drive from Ngurah Rai International Airport.
Q2. Does Pelangi Hotel Bali have a pickup service from the airport?
A. Yes, the hotel provides an airport shuttle to all guests.
Q3. What are the things to do in and around the hotel?
A. Pelangi Hotel Bali allows its patrons to indulge in a number of activities and experiences, ranging from water sports to spa treatments. Guests can indulge in various beach sports as the hotel is located on the beach.
Q4. Does Pelangi Hotel Bali provide a childcare facility?
A. Yes, the hotel takes special care of the children by providing childcare service.
Q5. Are there any honeymoon packages that guests can avail?
A. Yes, the hotel offers Pelangi Honeymoon Package to the newlywed couples. It includes full day tour with English speaking guide and lunch and seafood dinner at Jimbaran Bay. The guests receive flower and cake upon arrival.
Facing crystalline waters of the ocean and one of the most picturesque beaches on the island, the hotel provides all the comfort and luxury to its guests. Imposing and impressive, this masterpiece balances traditional Balinese opulence with modern comforts and offers breathtaking views of the sunrise and sunset over the ocean. Pelangi Hotel Bali provides a luxurious stay for families and couples seeking the ultimate holiday in paradise. The crystalline blue surroundings of the hotel enhance the beauty of this property in an ideal way. The hotel is capable of maintaining an open-air restaurant which is suitable for a special event, private/wedding party, gathering or other occasion events. The flawless and personalized services of the hotel are what a traveler looks for. It gives its patrons a chance to get enthralled by involving in various beach sports. So, come to make some unforgettable memories at this mesmerizing and warm place.