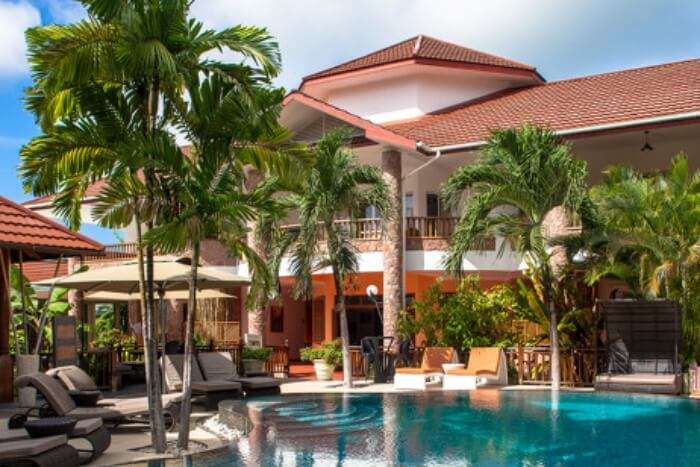 Overview
Praslin is a naturally beautiful place in Seychelles with beautiful beaches and is very famous for the Coco de Mer palm trees. Praslin Seychelles hotels are ideally located among these groves with scenic surroundings. The Anse Lazio beach is the most popular and known for its giant coral reefs. Tourists can choose from a wide range of resorts at different locations in Praslin. Staying on the beach gives the added advantage of staying within reach of hordes of activities.Praslin is also a group of islands that provide tourists with a plethora of options to explore the flora and fauna and the pristine beaches as well. Tropical forests and distinctive fauna surround Praslin. Guests at the resorts can enjoy snorkeling and scuba diving in the warm waters of the Indian Ocean, and when they are tired, they can directly step into their rooms to relax. Most people come to Seychelles to enjoy the beach and have a relaxed holiday by the sun and sand.
Special Experiences
The hotels in Praslin Island Seychelles go out of their way to ensure that visitors enjoy their stay and make the best of their time while in Praslin. There are resorts to suit every kind of pocket, and all of them provide comfortable amenities. The 5-star and 4-star resorts offer premium services along with the regular amenities. Other resorts that are budget-friendly and provide basic services. The 3-star Coco de Mer Hotel and suites are located along a private beach in the beautiful Anse Bois de Rose Beach. After a warm day at the beach, guests can further enjoy the cool water in the swimming pool at the resort. When they feel refreshed, they can explore the vast 200 acres of tropical gardens. There are budget-friendly options like the Seashell Self Catering, but many are a little away from the beach. However, this should not dissuade visitors are these pocket-friendly accommodations are about a five-minute walk from the beach and offer a nice ambiance and average level services.
Facilities
The best hotel in Praslin Seychelles, Le Relax Beach Resort provides world-class amenities to guests. Residents of this resort can enjoy a varied range of services offered to them. It is nestled in the pristine surroundings with a tropical backdrop overlooking the blue-green sea. Guests can enjoy these beautiful views sitting in their balcony and sipping on the cool refreshments provided by the resort. The value added services like the complimentary and diet planned breakfast give a jump start for the day. Now guests are prepared for more adventure and can look forward to a day packed with action and fun. Staying here opens the door to many more opportunities in Praslin. The friendly hotel staff provides with information that helps explore the island like a pro. Every day is a new day, and people can look forward to something at every moment here. After spending a fun and relaxing day at the beach, guests can come back for a delectable dinner and drinks and retire to bed to start their next day.
Dining
There is a wide variety of menu for dining at the Castello Beach Praslin Seychelles hotel. One can enjoy from a wide array of choices from the Italian, Creole and Spanish cuisines. Enjoy a pizza with cocktails or order cheesy pasta with some beer and the selection is unlimited. Guests can throw their feet up and enjoy their dinner viewing the sunset and listening to the soft waves. The well-informed staff of the resort also helps to improvise the choice with their suggestions. After a fulfilling dinner, guests can retire to their room for a relaxed night that is noiseless and silent.
FAQs
Q1. Why is Praslin such a popular place?
A. Praslin beaches are beautiful, and a tourist's paradise and people have the opportunity to stay right on these beaches and enjoy this paradise. The beach is always in sight from these resorts.
Q2. Are pets allowed in beach hotels in Praslin?
A. Most Praslin beaches and resorts allow pets and usually are pet-friendly. However, some five-star resorts may have some reservations. It is best to find this out before booking the room.
Q3. Which beach hotels in Seychelles are the closest to the airport?
A. Coral Sand and Eden Bleu are pretty close, and there are several more close to the airport. These are popular hotels, but there are many budget hotels as well.
Q4. What cuisines are served in hotels in Seychelles?
A. Different cuisines like Creole, Italian, Spanish, Indian and continental cuisines are served. Some unique restaurants also serve Japanese and Chinese as well. There is no shortage of American-style fast food as many such outlets are present across Praslin, Seychelles.
Q5. Which are some of the best resorts in Praslin?
A. Island Charm of Praslin, Constance Lemuria, Le Relax Beach resort and Castello Beach Hotel are some of the best resorts to stay in Praslin. However, it depends on the tourist's choice of location to select a specific resort. Guests can stay at the beachfront or opt for something a little inland, though walking distance from the beach.
There are so many resorts to explore in the Praslin Island and no matter what the choice is one can never go wrong. While some resorts like Island Charm of Praslin are surrounded by the lush green hills and tropical trees overlooking the sea and some like Bliss Hotel Praslin are right on the beach. Such hotels offer a lot for the visitors by providing them with different settings and also services. The amenities like Wi-Fi and high-speed internet connectivity give the guests the freedom to stay connected and post their pictures immediately to social media. A variety of menu is placed for the guests to have a great culinary experience. Tourists are often bewildered by the tropical set up and the sightings of such rare flowers, plants, and animals. People can enjoy the pristine surroundings of Praslin by choosing the Praslin Seychelles hotels to stay.