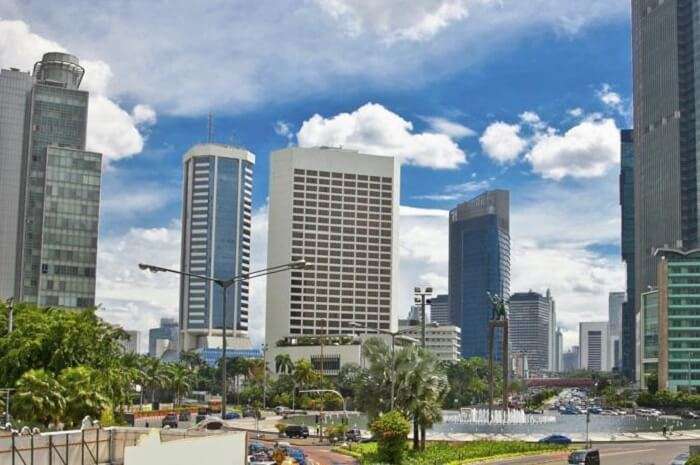 Overview
Pullman Jakarta Indonesia is a 5-star accommodation option, located in the heart of the city and providing a multitude of amenities and facilities for the convenience of guests. The hotel offers state-of-the-art amenities making it an instant favorite among business travelers and people looking for a lavish experience. Pullman Jakarta is a business hotel that features exclusive facilities like spa center, health club, infinity pool and modern fitness for a relaxing yet entertaining experience for its guests. The hotel also boasts of chic, stylish and modern guest rooms accompanied by attentive services. Further, the hospitable staff and incomparable amenities offered by this top-rated hotel will leave the guests with a memorable experience. The convenient distance of Pullman Jakarta Indonesia from major tourist attractions and public transport terminals marks it as a suitable choice to explore Jakarta.
Amenities
Pullman Jakarta Indonesia proudly boasts of a luxury spa and fitness center called 'Fit and Spa', along with an outdoor swimming pool. Guests are also offered a relaxing retreat with the presence of Jacuzzi, sauna and massage services. The hotel features restaurants and bars within the premises that offer exclusive culinary experience to guests. Besides, the hotel maintains 24-hour front desk, free parking, valet parking, and foreign exchange counters. All the hotel rooms feature modern amenities including air conditioner, High-Speed internet access, an efficient working desk, mini-bar, and LCD TV. It also offers laundry service, airport shuttle, babysitting service, and concierge service. For business travelers, the hotel has the facility of self-service business center, safe deposit box at reception, a fax machine, and availability of copy/print service. This upscale hotel is ideal for people looking for a luxurious urban feel.
Dining
Pullman Jakarta Indonesia houses highly acclaimed restaurants and bars for dining, chilling and parties. The hotel maintains seven restaurants namely Sana Sini, Kahyangan, Le Chocolat Lounge, Makaron, the Backroom, Ginza Sushi Ichi, and UNA – A Bar Above. Sana Sini is famous for its four buffets and cooking stations that showcase European and Asian cuisine. One can enjoy excellent Japanese food at Kahyangan, along with outstanding views of Jakarta. Le Chocolat Lounge is a chocolate-inspired hotel lounge, whereas guests can enjoy delectable pastries, cakes, homemade bread, and beverages at Makaron. The Back Room is ideal for enjoying refined drinks and light snacks. Further, patrons can enjoy breathtaking views of Jakarta's skyline from the rooftop bar UNA. And, Ginza Sushi Ichi is famous for its authentic omakase-style sushi.
While enjoying the excellent services of the place, guests can indulge in a range of wellness activities arranged by Pullman Jakarta Indonesia. One can relax and reenergize themselves by availing the spa services of the hotel or enjoy in the outdoor pool. This 5-star property is known for its fitness and spa center, event venues, executive lounge, and fine dining options.
Hotel Accommodation
Superior Room
Premium Superior Room
Deluxe Room
Grand Deluxe Room
Grand Deluxe Executive Room
Grand Deluxe Executive Suite
Deluxe Apartment
Accent Suite
The hotel has a total of 427 rooms and suites, with a contemporary design and modern-day amenities. It offers rooms under eight categories, including Superior Room, Premium Superior Room, Deluxe Room, Grand Deluxe Room, Grand Deluxe Executive Room, Grand Deluxe Executive Suite, Deluxe Apartment, and Accent Suite. Moreover, accommodation at this hotel come with various security precautions like security peephole, audible smoke alarms, and key-card operated door locks. Further, certain suites and apartments feature washing machines, spacious living rooms, and well-equipped kitchenettes.
Hotel Highlights
Have a memorable experience at the hotel's restaurants
Fitness lovers can go to the well-equipped fitness center of the hotel
Relax with hot stone therapy massage offered by the hotel
Try spicy and seasonal chocolate drinks and desserts at Le Chocolat Lounge
Gorge on authentic omakase-style sushi at Ginza Sushi-Ichi
Recline on the sun-loungers and enjoy the Jakarta sunny sky
Indian Restaurants Near The Hotel
KoMallas Indian Vegetarian Restaurant
Namaste Resto
Dapur Bollywood.
FAQs
Q1. How much time is required to get to the international airport from Pullman Jakarta Indonesia?
A. Pullman Jakarta Hotel is located a 1.5-hour drive from Soekarno Hatta International Airport.
Q2. Does the Pullman Jakarta Indonesia offer pickup from the airport?
A. Yes, the hotel provides airport shuttle services to its guests.
Q3. What are the things in which one can indulge in during the stay?
A. Guests can engage in a variety of wellness activities at the fitness center of the hotel. One can also enjoy relaxing spa sessions within the hotel premises. Guests can visit the famous Monas National Monument and the National Museum (Elephant Museum), located near the hotel.
Q4. Does the hotel offer complimentary breakfast?
A. Yes, the room tariff is inclusive of the breakfast for guests.
Q5. Does the hotel provide special offers or discounts to its guests?
A. Yes, the hotel provides special offers and discounts on their restaurants, bakery, lounges, and bars. Further, offers are also available on spa sessions.
Centrally located from all the major business and shopping venues, Pullman Jakarta Indonesia is a perfect place for people looking for accommodation that provides quick access to all popular attractions of Jakarta. Guests, who wish to indulge in some unmatched shopping experience, will find Plaza Indonesia Shopping Mall right across the hotel. Whether it's a spa treatment, beauty session, or gym, the guests have endless ways to relax and enjoy themselves. One can satisfy their cravings with worldwide cuisines, which are cooked from the freshest ingredients in the in-house restaurants. Further, the hotel also has a separate swimming pool for kids to enjoy. Meanwhile, adults can enjoy at the hotel's bars to experience the nightlife of the place. Whether relishing an exquisite meal at the rooftop restaurant or providing easy access to luxury malls and business districts, Pullman Jakarta Indonesia has built a perfect haven for the global nomad.