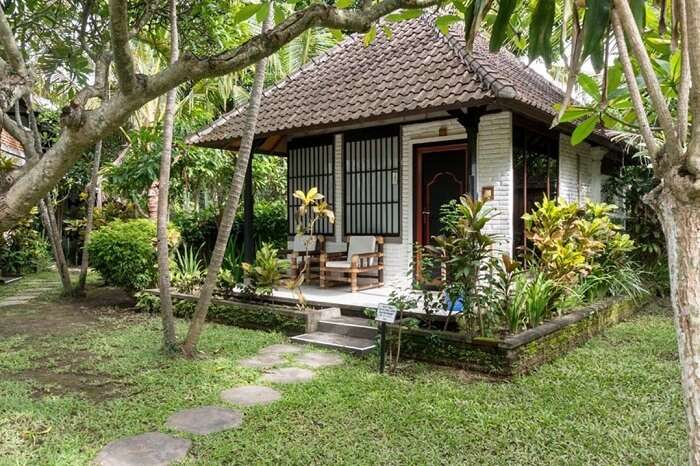 Overview
Puri Kelapa Garden Cottages Sanur is one of the most charming 3-star properties in Bali that leaves its guests with an exquisite experience. Set amidst rich tropical gardens, this cottage is an ideal retreat for honeymooners as well as couples looking to spend some leisure time in the lap of nature. The property features an outdoor pool and remarkable spa services for its guests to freshen up their senses. This beach hotel also houses a separate shallow swimming pool for kids. This serene accommodation boasts of the traditional Balinese style adopted in the decoration of the cottages. Further, the warm hospitality of the staff and incomparable amenities make this property a favorable choice. The central location of Puri Kelapa Garden Cottages Sanur makes it easy for the guests to access the closely located shops, local markets, restaurants, and bars.
Amenities
Puri Kelapa Garden Cottages Sanur offers a wide array of facilities to ensure the comfort of its guests. It proudly boasts of an outdoor pool with sunken bar. To make their patrons' stay a memorable one, the rooms of this cottage are equipped with excellent amenities like air conditioner, refrigerator, coffee maker, sitting area and essential toiletries. Besides, the cottage maintains a parking area, 24×7 front desk and front desk safe. All the hotel rooms are equipped with basic amenities and complimentary Wi-Fi. It also offers shuttle services, laundry service, daily housekeeping, and doctor-on-call services. Further, guests are provided opportunities for the sensational spa to have a relaxing experience. This cottage also features a separate swimming pool for kids, which is an inviting deal for family travelers.
Dining
Puri Kelapa Garden Cottages Sanur provides an exceptional dining experience to its guests at the in-house restaurant that offers a selection of delicious cuisines to relish. This cottage facility maintains an open-air dining pavilion at Warung Taman. Guests can enjoy a wide variety of Western and Asian dishes at this restaurant. Warung Taman also provides the facility of room service to guests from 7:00 until 21:30. While enjoying a refreshing dip, one can enjoy various cocktails or mocktails from the poolside bar.
While surrendering oneself to the tranquil beauty of Bali during their stay at this quiet sanctuary offered by Puri Kelapa Garden Cottages Sanur, one can let go of all their stress by basking in the glorious sunshine of Sanur Beach. These thatched-roofed cottages offer the opportunity to behold the enchanting views of the surrounding tropical gardens. Also, this cottage accommodation is known for striking the right balance between comfort and contemporary richness.
Cottage Accommodation
Standard Double Room
Cottage Room
Along with friendly staff, this cottage facility has a total of 48 smoke-free accommodations that are decorated in a traditional Balinese style. It offers rooms under two categories, namely Standard Double Room and Cottage Room. One should choose these cottage units to enjoy direct beach access and spectacular views of the hotel's landscaped gardens and swimming pool. The cottage room is an ideal pick for those who wish to sit on the veranda while enjoying garden view. Moreover, accommodation at this property comes with a spacious private balcony where guests can enjoy a hot cup of tea/coffee in the pleasant weather of Bali. All the rooms are equipped with basic amenities that include air conditioner, mini fridge, coffee/tea maker, wardrobes, telephones, as well as complimentary Wi-Fi.
Cottage Highlights
Have an memorable culinary experience at the hotel's restaurant
Experience various water sports at the nearby Sanur Beach
Enjoy a gourmet meal in the hotel's open-air pavilion
Try signature cocktails and mocktails at the poolside ba.
Have a refreshing dip at the outdoor pool facility
To keep kids entertained, the hotel maintains a separate swimming pool
Indian Restaurants Near The Cottage
Little India
Curry in Bali
Gateway of India
FAQs
Q1. How much time does it take to reach the international airport from the hotel?
A. Puri Kelapa Garden Cottages Sanur is almost 35-minutes drive from Ngurah Rai International Airport.
Q2. Does the hotel offer parking facility?
A. Yes, the hotel provides free parking services to its guests.
Q3. What are the leisure activities one can engage in near the hotel?
A. The hotel offers a variety of refreshing activities like swimming in the outdoor pool and enjoying a cocktail simultaneously. One can enjoy a peaceful stroll in the garden of the cottage accommodation. Guests can visit the beautiful Sanur Beach, located near Puri Kelapa Garden Cottages.
Q4. Are the charges of staying inclusive of breakfast?
A. The hotel provides breakfast on additional charges.
Q5. Does the hotel provide laundry service and luggage storage?
A. Yes, the hotel provides laundry service and luggage storage to provide a convenient stay to guests.
Puri Kelapa Garden Cottages Sanur offers a wholesome experience to its guests by providing modern-day amenities and attentive services. Located in the heart of Sanur, Puri Kelapa Garden Cottages is a perfect place for nature lovers. During their stay here, one can experience the beauty of raw nature and find peace while being surrounded by vibrant greenery and soothing ambiance. The hotel is also known for offering warm hospitality with friendly staff. Guests can also enjoy stunning views of the beach from a private balcony that accompany the rooms of this cottage. Whether it's a spa treatment or indulging in water sports at the pool of this cottage facility, the guests have endless ways to unwind. For family travelers, this accommodation offers many additional facilities such as free cribs, a separate pool for children, daily housekeeping and rollaway beds. During their stay at this accommodation, guests can indulge in some interesting shopping experience at the nearby Sanur Night Market and Kumbasari Market. Whether relishing an exquisite meal at the in-house restaurant or witnessing the remarkable sunset, Puri Kelapa Garden Cottages Sanur ensures that its guests make some memories to remember for a lifetime.