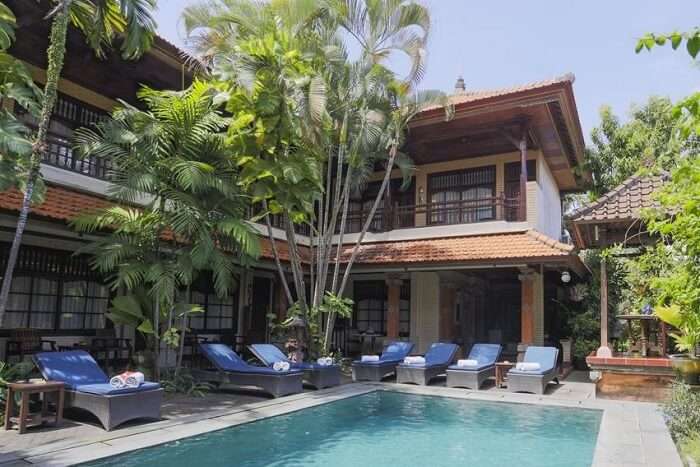 Overview
Puri Mango Hotel Sanur is one of the most impressive 3-star properties in Sanur that offers great comfort and friendly service. With lush tropical gardens surrounding the hotel, it promises a great experience for couples/honeymooners or business and leisure travelers looking for a wonderful holiday. It features simplistic modern accommodation for its guests so they can enjoy the luxuries of a hotel without digging too deep into their pockets. The hotel also boasts of its modern-day amenities and warm hospitality. It has a restaurant which offers authentic local as well as European cuisines. The outside pool has lounge chairs around it where guests can soak in the sun. Its proximity to the nearby tourist attractions like the beach makes it the right choice to explore Sanur. It is just a 5-minute walk from Sindhu beach and about 25 minutes from the airport. The Hardys Sanur main market is just 4 minutes away.
Amenities
Puri Mango Hotel Sanur boasts of a pool, sun terrace and massages on request facilities. It also features a restaurant and bar within the hotel premises for the convenience of the guests. Besides, the hotel maintains a free parking area, 24-hour front desk, and a tour desk. All the hotel rooms are equipped with modern amenities, complimentary breakfast, and Wi-Fi. It also offers an airport shuttle, laundry, and dry cleaning services at an additional charge. Other amenities include private check-in/check-out, luggage storage, concierge service, and an ATM machine. The staff speaks both English and Indonesian so all guests will feel right at home. Medical services can also be availed at request.
Dining
Puri Mango Hotel Sanur features an exceptional restaurant and bar offering delightful culinary experiences. The Mango Street Restaurant offers breakfast, lunch and dinner with an a la carte menu. European and Asian cuisines are served and the breakfast is complimentary. Adults can also relax at the bar and drink strong or light drinks.
There is a lot to do at Puri Mango Hotel Sanur. Guests can partake in activities like snorkeling, diving, windsurfing, and fishing. They can also rent bicycles and explore the nearby areas. The various services like 24-hour front desk and travel desk can help with all kinds of queries. The express check-in/check-out service is also a plus.
Hotel Accommodation
Standard with Air Conditioner
Suite Room/Superior
The hotel has two kinds of rooms with complimentary breakfast. They are equipped with a TV, air conditioners, private bathroom and shower, hot and cold running water and fan coolers. At an additional charge, guests can get an extra bed, baby cot or transportation as well.
Hotel Highlights
Have an unforgettable gastronomic affair at the hotel's restaurant
Experience various activities like swimming, diving and snorkelling
Get massages and relax on the lounge chairs
Try cocktails and mocktails
24 hour front desk
Free wifi
Free parking
On-site ATM machine
Barber/beauty shop
Designated smoking area
Indian Restaurants Near The Hotel
Curry in Bali
Little India
Gateway of India
FAQs
Q1. How far is the international airport located from the hotel?
A. Puri Mango Hotel Sanur is located 16 km from Ngurah Rai International Airport.
Q2. Does this hotel offer a pick-up service from the airport?
A. Yes, the hotel provides airport shuttle services to its guests at additional charge.
Q3. What things can be done inside and outside the hotel?
A. Guests can take a dip in the pool, get a massage and relax in the garden. They can have delicious meals at the restaurant. They can also go for snorkelling, diving, windsurfing and fishing. The nearest golf course is within 3 km from the property. Bike rentals are also available for guests to explore the city on their own.
Q4. Does the hotel offer free breakfast to guests during their stay?
A. Yes, the room tariff is inclusive of the breakfast for all guests.
Q5. Is on-site parking available?
A. Yes, the hotel provides on-site parking for all guests. It is secured and reservation is not needed.
Being a 3 star hotel, Puri Mango Hotel Sanur offers a relaxing and comfortable experience to all its guests, be it business travelers, couples or families with kids. The big outdoor swimming pool serves as a great spot to relax and take in the sun. Guests can get all kinds of massages and enjoy the convenience of free wi-fi right in their rooms. The property keeps it simple and aims to give a memorable experience to all its guests. They have non-smoking rooms but also a dedicated smoking area. Families with kids can get extra beds and baby cots. The restaurant and bar has a variety of cuisines and beverages that can cater to all kinds of travelers. The reception also has a safety deposit area and medical services can also be requested for. Puri Mango Hotel Sanur is located in the centre of Sanur and is just 5 minutes from the beach. Sanur is a very famous location as the first luxury beach hotel was built here. It is a great place for relaxation and comfort. The white sand beach is one of the main attractions. The hotel also offers a hot of activities at additional charge so that guests always have something to do. The main supermarket, Hardy's Sanur is just 4 km from the property. All in all, Puri Mango Hotel Sanur will surely create unforgettable moments for all guests.