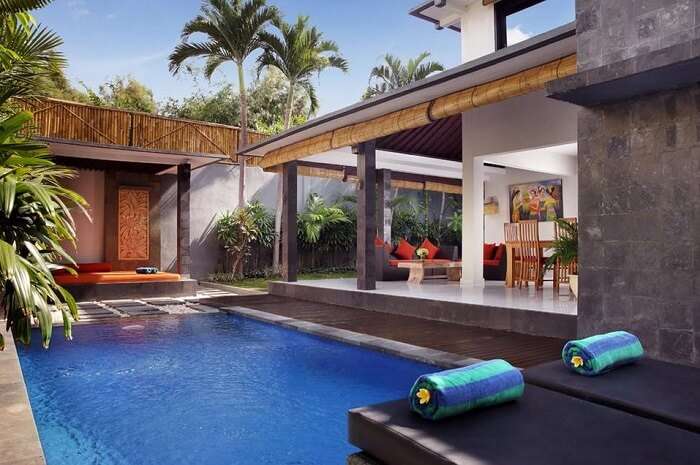 Overview
Samaja Beachside Villas Seminyak is a 4-star hotel that is set in a peaceful and serene compound in Seminyak, Bali. The hotel is a perfect place that gives a sense of happiness and contentment to its guests. Nestled nearby a magnificent beach, the hotel promises to give an unforgettable experience to its guests of all ages. With a private swimming pool and soothing spa center for the complete relaxation of guests, Samaja Beachside Villas Seminyak defines luxury at its best. Live amidst the beautiful lush green surroundings and enjoy a lifetime experience at the property. Further, the hotel is located just a 25-minute drive away from the international airport.
Amenities
Considering the needs of its guests, Samaja Beachside Villas Seminyak maintains a luxurious spa and wellness and fitness center. Guests are also provided with a variety of facilities like a 24-hour front desk, tour desk, and safety deposit box. Additionally, the hotel provides bike rental, ticket booking, and shuttle services. Internet connectivity is available throughout the property that too free of cost. For recreational purposes, many activities are offered such as live horse riding, hiking, canoeing, windsurfing and many more. Moreover, barbeque facilities, terrace, and garden are maintained by the hotel. For kids, babysitting and child care services are provided.
Dining
Samaja Beachside Villas Seminyak features an exceptional restaurant named Warung Samaja & Bar. It ticks all that guests need for breakfast, lunch, and dinner. With a seating capacity of 28 people, the restaurant can make its guests feel satiated and satisfied. Situated at Samaja Villas in Seminyak, this street-front venue with its open-concept kitchen is the perfect spot to hang out or simply relax. Offering a flavorsome menu of mixed Asian and western cuisines, the restaurant serves food prepared with fresh local ingredients. To finish the meal on a sweet note, try some from the range of light bites followed a variety of main course dishes and delectable desserts.
To experience a light, chirpy, and positive vibe, visit this stunningly decorated hotel with the modern amenities and a wonderful staff. It never disappoints its guests and provides them with world-class facilities along with stunning views of the neighborhood. Get mesmerized by the beauty of the Mother Nature and forget all the problems and anxieties while staying at Samaja Beachside Villas Seminyak.
Villa Accommodation
The hotel with friendly staff maintains spacious and well-decorated rooms segregated into various categories like One-Bedroom Villa with Private Pool, Two-Bedroom Villa with Private Pool, One-Bedroom Pool Villa with Cooking Class, and One-Bedroom Pool Villa with barbeque. All these rooms are equipped with basic and modern amenities and guests are provided with world-class services. The rooms feature air conditioning units, ceiling fans, minibars, coffee/tea makers and bathrobes. Moreover, sofa beds, refrigerators, microwaves, private bathrooms with deep soaking bathtubs, free toiletries, and hairdryers are also maintained in the hotel rooms for the convenience of guests. For the entertainment purpose, LCD TVs, and DVD players are also there in the rooms. To stay connected with the outside world, free Wi-Fi can be accessed in the entire hotel premises.
Villa Highlights
Have an unforgettable gastronomic affair at the hotel
Experience various water activities like swimming, scuba diving, rafting and diving
Try recreational activities like hiking, canoeing, and horse riding
Pamper oneself at the spa centre
Explore some of the nearby places
Enjoy mesmerising views of the surroundings from the terrace
Indian Restaurants Near The Villa
Chai'Ba Street Kitchen & Bar
Queen's Tandoor – Seminyak
Gateway Of India
FAQs
Q1. How much distance is there between the hotel and the international airport?
A. Samaja Beachside Villas Seminyak is located at a distance of around 10 km from Ngurah Rai International Airport.
Q2. Does Samaja Beachside Villas Seminyak offer pickup from the airport?
A. Yes, the hotel provides airport shuttle services to its guests.
Q3. What all one can do in the meantime while staying at this hotel?
A. The hotel organizes a variety of cheerful activities for the guest's entertainment like fishing, windsurfing, canoeing, and diving. One can enjoy spa treatments like massage, facial care, and body scrub. Moreover, going out and exploring some new and nearby places is always the best idea.
Q4. Does the hotel charges for the daily breakfast?
A. Yes, guests need to pay additional charges in order to avail breakfast at the hotel.
Q5. Does the hotel offer promotional offers?
A. Yes, the hotel provides special offers and discounts, especially to couples. People can avail the valentine package, New Year package or romantic package.
There is nothing that can ensure unforgettable moments more than breathtaking nature and fascinating culture of the island of Bali in Indonesia. Samaja Beachside Villas Seminyak offers opportunities to spend some romantic moments with the partner, as well as experience thrilling adventure. Try its exclusive opportunities for couples, such as traditional couple massage, romantic dinner, and visit to an exotic location. With a wonderful location, the hotel is always ready to create lasting impressions in the minds of its guests. With modern day amenities and services, Samaja Beachside Villas Seminyak gives a chance to its guests to have a taste of what is called convenient living. This Bali villa is surrounded by a myriad of good eating establishments that offer a variety of food from across the world. In addition, the nightclubs nearby the hotel are worth visiting. Certainly, Seminyak looks like an oasis of culinary and nightlife delights. With an impeccable design, Samaja Beachside Villas Seminyak helps its guests experience vibrant living in a modern setting.