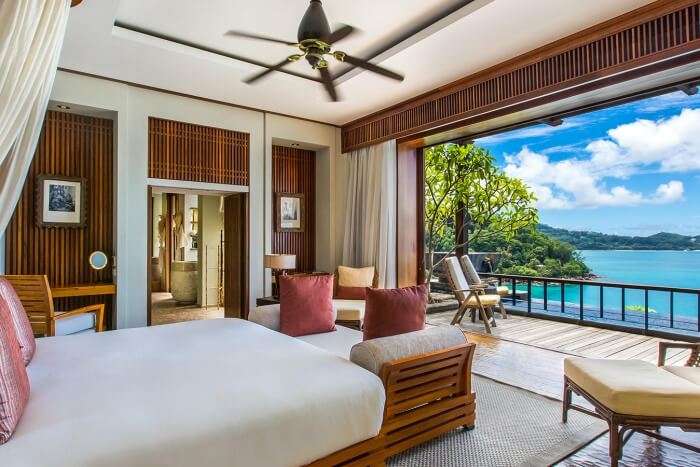 Overview
Seychelles is famous as the honeymoon paradise of the world, and several newlyweds choose to come here because it is very romantic. Seychelles honeymoon hotels ensure that couples who come here on their honeymoon have a blissful and romantic time. Honeymoon couples are also offered additional value added services like a celebration drink and a cake which is complimentary by the resorts. Seychelles is a magical place where people come to fall in love, and the setting is perfect for that.Newlywed couples have the ideal backdrop to bond here and further their dreams together. There are plenty of resorts with private beaches that offer privacy for couples like Glacis, for example. Seychelles makes a dream come true for its newlywed visitors by providing luxury accommodation and lavish dining options. This is also the best island to get married in for couples who are looking forward to an exotic wedding in a faraway location.
Special Experiences
The Le Duc de Praslin offers the most romantic location along with world-class amenities and excellent facilities. It is located in Praslin on the Cote D'Or Beach, and this is the best resort for honeymoon couples. The beach is merely a stone's throw from the resort. Couples are offered with luxurious rooms, state-of-the-art bathrooms that are equipped with hot tubs and a Jacuzzi and lavish dining options with wine and champagne flowing. This is the best Seychelles honeymoon hotels on the island. The friendly staff here goes out of the way to make the dream honeymoon holiday come true by offering the true Seychelles hospitality. This resort is value for money. The Castello Beach Hotel in Praslin provides many amenities that are apt for honeymoon couples. Couples can enjoy a swim in the secluded swimming pool of the resort. The fully air-conditioned room ensures that they are comfortable at all times. Every room has a minibar, and for honeymoon couples, they are specially stocked with the right choice of drinks and beverages.
Facilities
The Villa De Mer is a Seychelles honeymoon hotel that is budget friendly and also offers amenities that are tailored for newlywed couples. They offer private suites, which are spacious and also provide many things complimentary like breakfast, Wi-Fi, and some passes for beach sports. The Kempinski Seychelles Resort is a five-star resort that offers services suited for a honeymoon because they understand that it is once in a lifetime experience that begins a marriage. The ambiance and the view are to die for in this resort set against the backdrop of the Granite Mountain and the sea right in the front with swaying palm trees.
Dining
A honeymoon is full of great food, wine, and champagne that is overflowing and great desserts. Seychelles has so many options in terms of Seychelles honeymoon hotels that completely pamper their honeymoon guests. The Acajou Beach Resort restaurant offers unique dining options to their newlywed guest couples. They are served with the perfect combination of food and drinks and are given a special secluded spot in the dining hall. A candlelight dinner here is the most romantic experience a couple can have. DoubleTree Resort and Spa by Hilton is another five-star resort that offers excellent honeymoon packages. The property is located in a cove with a private beach lined with giant palm trees. Couples have several hideaway secluded spots on the beach to sit and have their private conversations without any disturbance from the regular holiday crowd. The restaurant organizes romantic dinners for honeymoon couples to mark the celebration and also design the perfect setting for couples. The friendly staff tries to make a newlywed's dining experience unique. They go out of their way to ensure each meal is romantic and perfect for the couple.
FAQs
Q1. Why is Seychelles Island such a popular place?
A. Seychelles is known as the honeymoon paradise of the world, and there are several reasons why. Many types of tourists flock to Seychelles, but among them, honeymoon couples are the most number of them. Seychelles group of islands are mesmerizing and exotic. They offer a plethora of exploring options to its visitors. No other beach destination in the world comes close to Seychelles.
Q2. Are pets allowed in beach hotels in Seychelles Island?
A. Seychelles islands have many beaches that welcome pets, and most resorts in these islands allow pets and even have pet care centers. However, some resorts in places like Eden Island may not allow pets. Hence, it is best to find out this fact before booking the room.
Q3. Which beach hotels in Seychelles are the closest to the airport?
A. Eden Island is as close as one can get to the Seychelles International Airport. Bel Air Hotel, Hilton, Bayview Studio, Eden Island, and Victoria Hotels are situated close to the airport. However, there are other cheaper options that travelers can explore.
Q4. What cuisines are served in hotels in Seychelles Island?
A. Seychelles has a wide range of restaurants, and since the country is a honeymoon paradise, most restaurants cater to couples and make their mealtime romantic. Guests can enjoy Creole, Italian, Spanish, Indian and continental cuisines. In case, diners are seeking something more exotic, they can opt for Japanese or Chinese cuisines.
Q5. Which are some of the best resorts in Seychelles Island?
A. Casa De Leela, Le Relax Beach House, Patatran Village Hotel, DoubleTree Resort, and Spa by Hilton, Hilton Seychelles Labriz Resort and Spa, and Paradise Sun are some of the most popular honeymoon resorts in Seychelles for newlyweds.
Seychelles is the ideal place for romantic and honeymoon couples looking for a quiet holiday, away from the rigmarole of everyday life. Whether it is about rekindling the forlorn romance or making new memories with the most cherished relationship, Seychelles is the place to be at. Seychelles honeymoon hotels are particularly dedicated to this agenda, making people love their holiday experience. From its exquisite facilities to the most amazing food, everything under one roof is available for tourists at the Seychelles hotels. The romantic and idyllic islands of Seychelles are surrounded by natural beauty complete with tropical forests, Rock Mountains and turquoise sea. As the scene sets in for a romantic beginning, the resort's services spruce up the romance by providing adequate services and also some fantastic food and desserts.