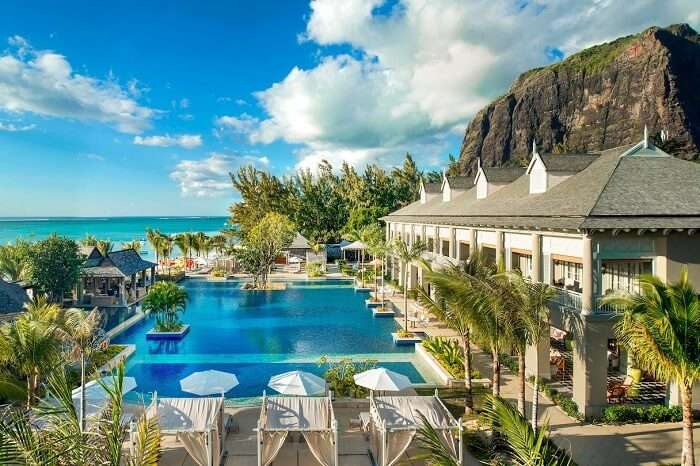 Overview
The St. Regis Le Morne Mauritius Hotel is an extremely amazing, 5-star high-class hotel. It is the first property of the famous St Regis brand in the Indian Ocean and is a beachfront hotel where the beach, aqua blue lagoon and backdrop of Le Morne Mountain create an awesome setting. This hotel is suited best for couples as it facilitates them every possible facility that could be needed for the holiday. Iridium Spa is the place to be for pleasure, providing aromatherapy, whole body outfits, hydrotherapy, Turkish bath/hammam, as well as body treatments, body wraps, and massages. Besides this Tennis court and games room is also available. St. Regis Le Morne Hotel provides with 172 generously appointed guest rooms and suites that all offer spectacular opinions over the Indian Ocean waters. Fascinating by design, each of the guest suits at St. Regis Le Morne features a patio, island-inspired décor, and leading functions.
Amenities
Captivating activities at St. Regis Hotel like snorkeling and glass bottom boat trips, a children's team and thoughtful touches such as child-sized robes and slippers families are made very welcome here. World-class kite surfing just off the Beach is also a big draw. Bask in the sun by a luxurious pool or on the beach; go wind and kite surfing, or evade to a haven of rejuvenation at the signature Iridium Spa presenting 12 private treatment rooms. Be a part of the classy excitement of the spa. If one wants a low-key dining choice, one will be pleased to choose an open-air have a picnic area and 24-hour room service.
Dining
Additionally, this 5-star St. Regis Le Morne Mauritius Hotel has 5 restaurants and a bar namely Floating Market which serves Asian cuisine, Atsuko which prepares discerning Japanese cuisines, The Boathouse Grill & Bar known for its seafood, Le Manoir Dining Room which serves International cuisines, Simply India exclusively for Indian cuisines and 1904 Bar. To top it off, the hotel's personal butlers elevate its hospitality to a fine art form, one needn't raise a finger. Decide upon an array of worldwide motivated dining choices, jump into a wealth of watersports and drain into comfort at the unique Iridium Spa.
The St. Regis Le Morne Hotel is truly a legacy of luxury and refinement. The bespoke services accompanied by such indulgent personal functions as a complete kitchen, a dining room, two lounges, an office, a gym, and a steam space blend together to make your stay comfortable and deliver sheer moments of bliss.
Resort Accommodation
Ocean Junior Suite
Beachfront Junior Suites
Beachfront St. Regis Grand Suites
The St. Regis Villa
Well hired northeastern design rooms at St. Regis Le Morne Mauritius Hotel boost an incomplete over the Indian Ocean and their own outdoor living space. Embracing the Hotel's century-old history and marked the place, Beach Younger Suites ignore the aqua blue Indian Ocean from a particularly extensive veranda, which easily brings together with a grateful indoor living space. Captivating inside and out, Beach St. Regis Huge Suites ignore the Indian Ocean and famous One Eye surf identify from an extensive outside veranda or veranda complete with a two-guest home and daybed. Truly a Hotel within a Hotel, The St. Regis Villa prevails beyond anticipations as for the largest and most unique accommodation on Mauritius.
Resort Highlights
The huge rooms and suites of St. Regis Hotel Le Morne Mauritius are situated in separate pavilions
The Iridium spa, a haven of rejuvenation, features 12 private treatment rooms
A world-famous kite-surfing spot around the corner
The main swimming pool is substantial
The public rooms make an extremely amazing and überchic impression
Indian Restaurants Near The Resort
Frizzy
Mich Resto
Les Palmiers Restaurant
FAQs
Q1. Does the hotel spa provide the best relaxing treatment?
A. Yes, the spa has saunas, a spa tub and a couple of treatment rooms. Relax with facials, body scrubs, massages, manicures and pedicures, hydrotherapy, whole body wraps, body treatment and aromatherapy.
Q2. How is the accommodation of the St. Regis hotel Le Morne?
A. Accommodation at St. Regis Hotel Le Morne Mauritius is lavish and this beautifully hired colonial design rooms situated on the ground and first floors providing lawn view and a huge outside living room.
Q3. What are additional functions provided by the hotel?
A. Amenities consist of a beauty and hair beauty salon, gift shops/newsstands, dry cleaning/laundry services, a lift (lift) and a lawn.
Q4. How To Get There?
A. The St. Regis Le Morne Mauritius Hotel is situated a 60-minute drive from the airport, and one can book a personal transfer through the hotel, or pre-book a much cheaper taxi.
Q5.Is the airport transfer facility available to and from the hotel?
A. Yes, the hotel provides airport transfers to and from the hotel.
Embracing its perfect environment and underscoring an unrivaled commitment to uncompromising support, The St. Regis Le Morne Mauritius Hotel provides guests with a relatively endless list of activities and amenities. The hotel includes the spectacular Indian Ocean and Le Morne Brabant Mountain opinions from its beachside place. Stylish accommodation, individual fitness, and spa centers and 5 restaurants feature at this 5-star high-class Hotel. St. Regis has a choice of Asian, Indian, French and contemporary delicacies. The Boathouse Bbq Grill and Bar offers a meal and fish option, and 1904 Bar provides drinks and treats. Suites can be tailored to support kid beds and cots. The Kite Flyers children's club caters for ages up to 12. A games space, mini team with DJ and tennis competitions will help keep teenagers entertained. There is also kitesurfing training at the Ayo club, and free daily advised bike rides around Le Morne.