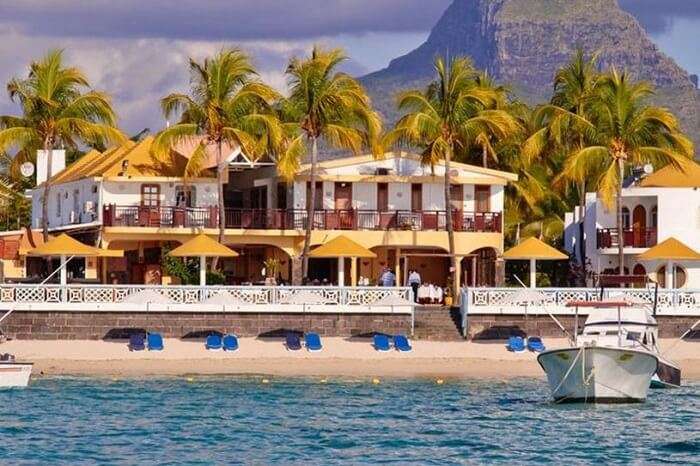 Overview
Gold Beach Resort Flic en Flac is one of the premium fine 3-star stay destinations available from the house of the Gold group of companies. Located very near to the airport and the capital, the hotel is indeed a very popular beachfront stay. The Resort boasts of clean and white sandy beaches for the guests to relax and enjoy. The lagoon is also situated right next to the resort. Ideal for couple and families, this hotel this hotel features some of the best inhouse facilities. The resort has an outdoor swimming pool open to all its guests. Life fitness center has opened a gym inside the resort for the fitness enthusiasts. There are live events organized twice a week. The rooms of Gold Beach Hotel are made for all types of guests. The rooms are luxurious and overlook the beach and the Arabian Sea. Offering a generous workspace, premium furnishings and a pleasant stay they are just perfect for an ideal holiday stay.
Amenities
Guests can enjoy a wide variety of activities in Gold Beach Hotel, such a water skiing, scuba diving and so on. Guests are also encouraged to swim in the clear sea known for its ideal swimming conditions throughout the year. The resort also provides car rental services for the guests to use. In-house laundry services are also available. Pre-planned tours are also available for the guests to enjoy. These tours aim to take the guests to the most important spots in and around the area. One more important attraction for the guests is the glass-bottomed boat. These are rare to find and bring in a new dimension to the experience of boating. This is a must try for all the guests staying at the resort.
Dining
Gold Beach Resort Flic en Flac has a restaurant specializing in continental food varieties. The restaurant overlooks the pool and is designed in such a way that the patrons can enjoy a meal by the poolside. Special seafood menus are crafted on a weekly basis. Apart from this, an exclusive wine and champagne lounge is also available for the connoisseurs of wine. Still & Sparkles is the wine lounge for people to mingle and relax. Tourists look for a mode of relaxation and to be transported to a world of bliss. The Ruhe spa brings forth an experience of bliss and tranquillity. There are a lot of special spa services available for the guests to enjoy.
A 3-star resort with the facilities and features of a fine stay resort, Gold Beach is surely a place to indulge in. Interact with the folk in and around the restaurants and lounge and enjoy a holiday that will create memories forever.
Resort Accommodation
Club Rooms, Club Single rooms
Club Triple rooms
One-Bedroom Apartments
Family Three-Bedrooms
Family Two-Bedrooms
Quadruple rooms
Superior Rooms
Superior Single Rooms
Deluxe Rooms
Deluxe Single Rooms
Deluxe Triple Rooms
Gold Beach Resort Flic en Flac Mauritius has 31 rooms for the guests to stay. There 15 cottage style rooms which are ideal for small families with 1 kid. There are 11 standard rooms which can house two people each and 5 cottage styles rooms which are ideal for people looking for some privacy. All the rooms of Gold Beach Resort come equipped with air conditioning systems and a television. A mini fridge and a safety locker are a part of every room. Some of the rooms overlook the beautiful beach while others are garden facing. Guests have the option of choosing their room views while booking the rooms.
Resort Highlights
Exotic view and a serene, calm ambiance for the guests to enjoy
Live entertainment with authentic food and drinks to enliven the guests
Glass-bottomed boats are available to cherish a new dimension in the world of boating
Deep sea diving is a must do novel experience
Enjoy a day at the spa and get pampered with the specially designed spa services
Indoor gym along with a table tennis arena is available
Indian Restaurants Near The Resort
Roti Aka Vinoda
Le Bistro Morisyen
Green Taste Restaurant
FAQs
Q1. Is the babysitting service available in Gold Beach Resort Flic en Flac?
A. Yes, babysitting services can be availed to take care of small kids and babies so that the young parents can enjoy a day of fun without constantly having to think about the kids.
Q2. Can a gluten-free diet be served?
A. The chefs will be more than happy to accommodate diet restrictions such as vegetarian, vegan or gluten-free food. These need to be communicated during the hotel room booking to avoid last minute confusions.
Q3. Are there any indoor games available?
A. Yes, some indoor games are available for families to bond together and enjoy. An indoor table tennis court is also available.
Q4. Are airport pick and drop facilities available at Gold Beach Resort Flic en Flac?
A. The resort offers airport pick up and drop facilities for its guests. The guests will need to convey the timings and other such details in advance to the hotel reception.
Q5. How far is the airport from the resort?
A. The resort is just a 45-minute drive from the international airport and is at a distance of around 45 km from Sir Seewoosagur Ramgoolam International Airport.
Gold Beach Resort Flic en Flac  Mauritius is indeed a play of choice for tourists looking to experience a tranquil atmosphere mixed with a healthy dose of entertainment. Guest can enjoy the privacy of cottages as well as an indoor swimming pool. Live entertainment activities are normally found in special clubs, but the resort offers its own live entertainment activity on a biweekly basis. One will get one of the finest luxuries stays at Gold Bleach Hotel at an affordable cost. The spa services and the gym on campus are something every guest can make full use of. Glass bottomed boats are a highlight which is offered by the resort to its guests as a special service. Situated in a prime locality with an ideal distance between the airport and the capital city, this resort is the perfect choice for everyone looking to enjoy a holiday.