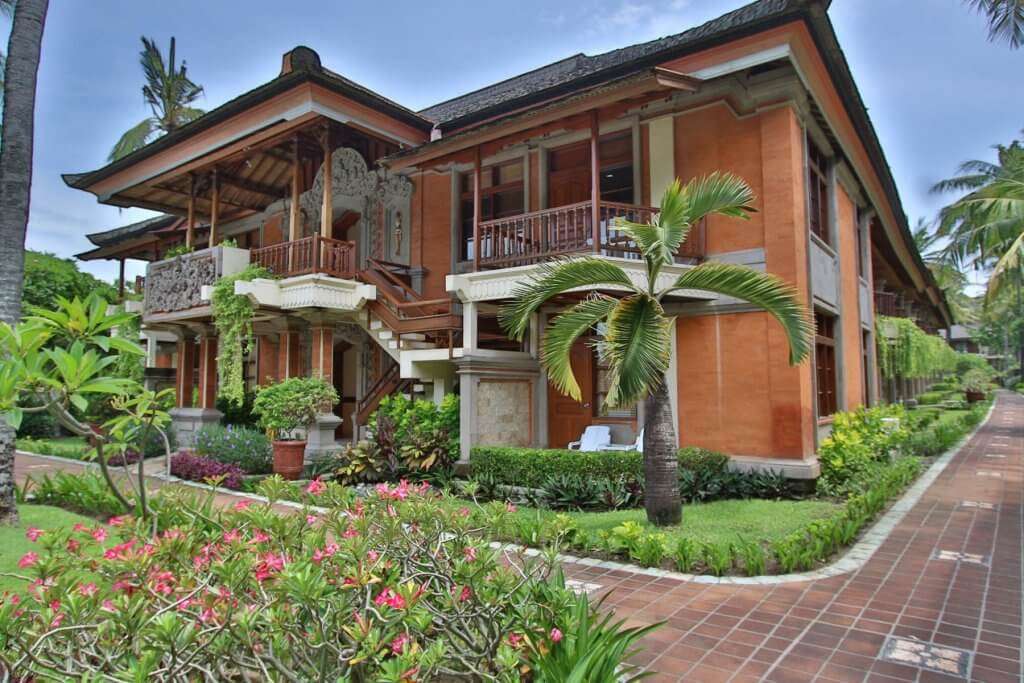 Overview
Jayakarta Hotel Bali Legian, which is surrounded by lush green gardens, offers a perfect retreat for those looking forward to a calm and peaceful getaway. It is one of the most impressive 4-star properties in Bali that never fails to charm its guests.The beachfront resort is ideal for families, couples, business travelers or anyone who wants to escape from the everyday city life. The property has several facilities to offer its guests in order to make their stay a memorable experience. It features an outdoor Olympic size swimming pool, well-equipped fitness centre and tennis court for its guests to relax their senses and get some entertainment dose. The property also has children's pool and playground to keep them entertained. Relaxing spa and massages are also offered to the guests. Jayakarta Hotel Bali boasts of its attractive design and modern-day amenities. Further, its warm hospitality and incomparable amenities help offer memories for the lifetime.
Amenities
For an ultimate relaxing experience, Jayakarta Hotel Bali Legian offers some of the finest services to its guests. Guests can enjoy a diving session in the swimming pool or rock a game of tennis at the court. The property maintains a well-equipped fitness centre wherein guests indulge in a complete body workout. One can also relax mind and body by availing spa and massage services. Moreover, for keeping kids entertained, Jayakarta Hotel maintains a pool and playground. Besides, the property maintains a parking area, 24-hour front desk and tour desk. It also offers a variety of services like luggage storage, currency exchange, doctor-on-call, shuttle and car rental, laundry and dry cleaning, and concierge. In order to cater to the requirements of the business travelers, the property also features three conference rooms equipped with requisite amenities.
Dining
The dining experience at Jayakarta Hotel Bali Legian is absolutely extraordinary and features exceptional restaurants and bars offering delightful culinary experiences throughout the day and the ideal settings for the night. It has four on-site restaurants, namely Tanah Lot Restaurant, J'S Restaurant, Benoa Restaurant and Jimbaran Restaurant. Guests can relish a variety of delectable cuisines in a contemporary setting. It also maintains three bars, namely Tanah Lot Bar, Sunset Dream Bar and Pool Bar, wherein one can relax while grabbing light snacks and refreshing beverages.
While surrendering oneself to the tranquillity of the place, let go all the stress and anxieties and indulge in a range of well-being activities arranged by Jayakarta Hotel Bali Legian. It offers a variety of services and facilities for a rejuvenating experience of its guests. This place proves to be an ideal destination for all wanting to escape from a cumbersome life. Also, the property is known for striking the right balance between lavishness and contemporary richness.
Hotel Accommodation
Standard Cottage
Deluxe Room
Executive Suite Room
Junior Suite Room
One Bedroom Residence
The accommodation at Jayakarta Hotel Bali Legian exudes style and warmth, thus increasing its appeal amongst the travelers. The property with friendly staff has a total of 344 elegant and carefully decorated accommodation units. It offers rooms under various categories, including standard cottages, deluxe rooms, executive suite rooms, junior suite rooms and one-bedroom residence. Standard cottages and deluxe rooms feature a private balcony and offer picturesque views of the garden. The executive suite rooms comprise of a living room with a private kitchenette. The junior suite rooms offer breathtaking views of the pool and also feature a living room, which is equipped with a sofa bed. One bedroom residence offers a garden view and features a private kitchenette plus a living room comprising a sofa bed. All the rooms are air-conditioned and equipped with LED TV sets, IDD telephone, minibar, tea/coffee makers and en-suite bathrooms, which have all the requisite amenities.
Hotel Highlights
Experience various activities like swimming and tennis
Try exotic and refreshing beverages
Have a gastronomic experience at the on-site restaurants
To keep kids entertained, the property maintains an outdoor pool and playground
Fitness enthusiasts can hit the well-equipped gym
Indian Restaurants Near The Hotel
Warung Pappys
Atithi
Spice Mantraa Indian Cuisine
FAQs
Q1. Which is the nearest airport to the hotel?
A. Ngurah Rai International Airport is nearly 30-minute drive from Jayakarta Hotel Bali Legian.
Q2. Does the hotel charge an extra amount for pickup service from the airport?
A. Yes, it offers airport shuttle services at an additional cost.
Q3. How can guests spend their leisure time in and around the hotel?
A. One can go swimming or enjoy a tennis session or hit the gym at Jayakarta Hotel Bali Legian. Moreover, guests can also enjoy spa sessions in the premises.
Q4. Does the hotel have a swimming pool for children?
A. Yes, the property features an outdoor swimming pool to keep kids entertained.
Q5. Does the hotel offer special discounts to the guests?
A. At Jayakarta Hotel Bali Legian, one can avail different offers according to needs and preferences.
Being located right on the scenic Legian Beach, Jayakarta Hotel Bali Legian is an ideal place to plan a vacation. Here, experience the beauty of raw nature and find solace while being surrounded by vibrant greenery and soothing ambience. The hotel is also known for offering warm hospitality with friendly staff. Whether it is a spa treatment, gym or swimming, the guests have endless ways to unwind. Get a taste of scrumptious dishes at the on-site restaurants. Adults can also relax at the in-house bars to experience the nightlife of the place. Be it enjoying the scenic views of native flora or witnessing the remarkable sunset at the beach, Jayakarta Hotel Bali Legian is a must-visit for all those who want to experience a perfect blend of tranquillity and comfort.