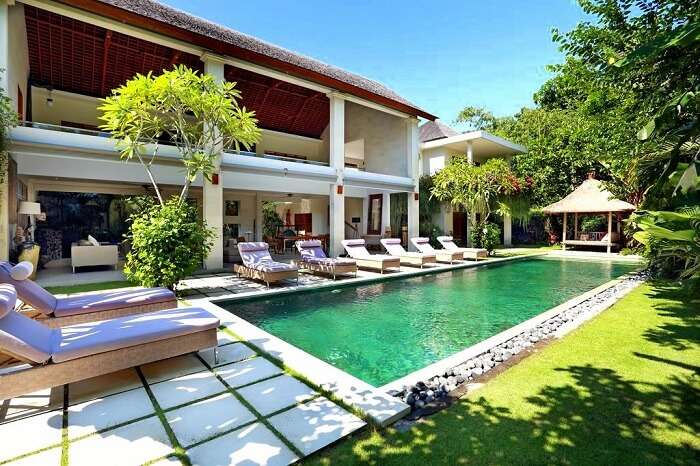 Overview
Villa Bali Asri Batubelig Seminyak is one of the most luxurious 4-star properties in Bali that never fail to charm its guests. With tropical gardens all around, the hotel offers a comfortable stay for all types of travelers, be it couples/honeymooners or business and leisure travelers looking for a wonderful holiday. It features individual private pools and a full-service spa for the guests to relax their senses and have some fun. The property also boasts of its attractive design and modern-day amenities. The rooms feature beautiful wooden furniture and free wi-fi is also available. Further, its warm hospitality and incomparable amenities help offer memories for the lifetime. Its proximity to the nearby tourist attractions and public transport terminals makes it the right choice to explore Kuta. It is just a 4-minute walk away from Batubelig beach. Guests have a lot to do both in and around the villas. There are several clubs, eateries and shopping opportunities in close proximity.
Amenities
Villa Bali Asri Batubelig Seminyak proudly boasts of a spa, in-villa service, and private pools. For honeymooners, the accommodation goes the extra mile and arranges for candlelight dinners, makes flower bath arrangements and also organizes traditional massages. Besides, the hotel maintains a parking area with free parking, 24-hour security. All the hotel rooms are equipped with state-of-the-art amenities and complimentary Wi-Fi. It also offers an airport shuttle and laundry services at an additional charge, housekeeping and expresses check-in/check-out. Further, guests are provided bicycle rentals so they can explore the beautiful surroundings. The 24-hour front desk is provided for the needs of the guests.
Dining
Villa Bali Asri Batubelig Seminyak features villas with well equipped private kitchens which have pots, dishes, water dispenser, fridge, cutlery, and stove. The property also has several grocery shops nearby where guests can get the necessary ingredients and cook home like meals. Further, they can also ask the staff to cook for them by giving them prior notice. If they plan on eating outside, Hog Wild and Watercress Cafe are some of the great eateries nearby.
The villas offer a home-like an experience away from home, which is why all kinds of travelers, especially families, like to go for them. Villa Bali Asri Batubelig Seminyak will help let go of all the stress and anxieties and indulge in a range of well-being activities. The private pools are always a plus point. The full-service spa will surely rejuvenate the senses. Also, the hotel is known for striking the right balance between lavishness with contemporary richness.
Villa Accommodation
Plunge Pool Villa
One Bedroom Deluxe Pool Villa
One Bedroom Royal Pool Villa
Two Bedroom Pool Villa
Three Bedroom Pool Villa
Four Bedroom Pool Villa
Villa Bali Asri Batubelig Seminyak with friendly staff has a variety of fully furnished villas. It offers rooms under various categories, including one bedroom, two bedroom, and three bedroom. All the rooms are equipped with LED TV sets, DVD player and a seating area, as well as free Wi-Fi. All the villas have well-stocked kitchens with everything a guest might require to cook delicious meals.
Villa Highlights
Take a dip in the private pool.
Rejuvenate at the spa at Villa Bali Asri Batubelig.
Close proximity to the beach
Enjoy free wi-fi and parking.
Clubs and various eateries nearby
Elegant wooden furniture in all rooms
Special honeymoon package
Indian Restaurants Near The Villa
Queen's Tandoor
Tiffin Bali
Roti Daal
FAQs
Q1. How much distance one needs to cover to reach the international airport?
A. Villa Bali Asri Batubelig Seminyak is located at about 14 km from Ngurah Rai International Airport.
Q2. Does the hotel provide airport shuttle transfer to the guests?
A. Yes, the hotel provides airport shuttle services to its guests but at an additional charge.
Q3. What are the things in which one can indulge in during the stay?
A. The hotel offers a variety of cheerful activities like swimming, soaking the sun on the sun terrace and walking in the garden. One can enjoy spa sessions within the hotel premises. Guests can explore the natural beauty of Batubelig by opting for cycling and biking. The beach is just a 4-minute walk away from the property. There are a number of eateries in close proximity as well.
Q4. Are the charges of staying inclusive of breakfast?
A. The room tariff is inclusive of the breakfast in some of the packages.
Q5. What special offers can the guest's avail?
A. Yes, the hotel provides special offers like a free upgrade to a bigger villa, priority early checks in and late check out, along with free one-way airport transfer. These offers can be availed by booking through the hotel's website.
Villa Bali Asri Batubelig Seminyak is a perfect place for nature lovers! Here, experience the beauty of raw nature and find solace while being surrounded by vibrant greenery and soothing ambiance. The hotel is also known for offering warm hospitality with friendly staff. One can spend time with their family or friends in the privacy of their own villa. Whether it's a spa treatment, biking or free wi-fi, the guests have endless ways to unwind. Families with children will have no problem adjusting to the rooms are spacious and comfortable. Children can play inside or outside as their heart's desire. While the property can have the staff cook food for the guests, the well-stocked kitchens will encourage the visitors to cook for themselves. The accommodation also has great value for people who want the best they can get for their money. Further, Villa Bali Asri Batubelig Seminyak is surrounded by the beautiful culture of Bali. There are several activities that guests can indulge in like enjoying the sunset at the beach, exploring the Kuta Art Market, having a good time at the several clubs and shopping areas. There is something for everyone at Villa Bali Asri.