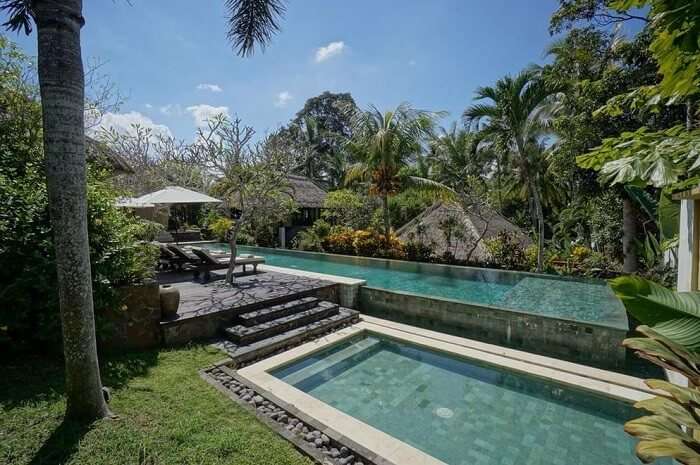 Overview
Villa Kanti Ubud is one of the most impressive 4-star properties in Ubud located near a small Balinese village of Blahbatu, which is known as a wood carving village. The luxury villa is great for couples, families or business travelers.It features an infinity pool, Jacuzzi and sauna and steam center for its guests to relax their senses. The luxury villa also boasts of its attractive design and modern-day amenities. Further, its warm hospitality and pristine location help offer memories for a lifetime. The villas have well-equipped kitchens and basic entertainment facilities. With free wi-fi, guests can browse social media from the comfort of their rooms. The mezzanine level has a large selection of books and a printer. It offers a fusion of air-conditioned and tropical open-air living. The buildings are well decorated with art and antiques. The main attraction of the property is open-air living and dining pavilion.
Amenities
Villa Kanti Ubud boasts of a pool, a hot Jacuzzi and a steam room. There is also a staff of 9 people who guarantee discretion and privacy. All the villas are equipped with state-of-the-art amenities and complimentary wi-fi. It also offers an airport shuttle, laundry, and ironing services at an additional charge. The guests can also make use of other facilities including daily maid service shuttle service, car rentals, luggage storage, and the tour desk. While the accommodations have non-smoking rooms, there is a dedicated smoking area. The friendly staff speaks Japanese, Indonesian and English. Complimentary personal car service is also offered.
Dining
Villa Kanti Ubud features fully stocked kitchens in all villas where the guests can cook their favorite meals. They can also have the staff cook for them from the available set of menus. It is an experience like a home away from home. The menus include French, European, Asian, Indonesian, seafood, pizza, and international dishes. Special diet menus are also available on request. Guests can have breakfast in the comfort of their rooms.
The pavilions at Villa Kanti Ubud are second to none when it comes to comfort. They are spacious enough for large families to have a great time. The staff is dedicated to making sure that their guests have the best time. There are various activities that the guests can take part in like cooking classes, tours, snorkeling and others.
Villa Accommodation
Master Pavilion
Temple Pavilion
Single Pavilion
Living and Dining Pavilion
With a total of 5 spacious suites, Villa Kanti Ubud offers the comfort of the highest level. The 3 pavilions Master Pavilion, Temple Pavilion, Single Pavilion have the 5 suites inside. Each of the pavilions has a private garden or terrace offering views of the ponds, rice fields, river and tropical gardens. The accommodation does not cater to a lot of people at once but makes sure that the small group that is staying with them has the most amazing experience. The suites are fully air-conditioned, have 50 inch TVs and home theatre systems. They also offer a collection of international movies and music.
Villa Highlights
Cook your favourite meals
Take a dip in the infinity pool
Relax in the hot water Jacuzzi and steam room
Enjoy free wifi at Villa Kanti Ubud
Get a personal driver free of cost
Ask the cook to make your meals
Get massages and spa treatments
Indian Restaurants Near The Villa
Ganesha Ek Sanskriti Authentic Indian Restaurant and Bar
Queen's Of India – Ubud
Indian Delites are the popular Indian restaurants near Villa Kanti Ubud.
FAQs
Q1. How much time does it take to reach the International airport from the hotel?
A. Villa Kanti Ubud is around an hour away from Ngurah Rai International Airport.
Q2. Does the hotel provide airport pickup facility to the guests?
A. Yes, the hotel provides airport shuttle services to its guests at an additional charge.
Q3. How can guests spend their leisure time in and around the hotel?
A. There is a lot to do both in and out of the property. Guests can take a relaxing dip in the infinity pool or sunbathe on the loungers, get massages and spa treatments, and get together for a barbeque. They can opt for various tours like bike tours, walking tours, water park tours, snorkeling, diving, hiking, canoeing, and others.
Q4. Is complimentary breakfast offered at the hotel?
A. Yes, breakfast can be prepared by the guests using the in-villa kitchens.
Q5. Does the hotel have babysitting services?
A. Yes, the hotel provides babysitting services on request.
There is a lot to do for everyone staying at Villa Kanti Ubud. It offers peak levels of comfort and luxury. All kinds of travelers will feel right at home here. Families traveling with children will have ample space for all kinds of activities. Couples can relax in the infinity pool and get massages. The staff is friendly and dedicated to making sure that the guests have a wonderful stay. The common area or the shared lounge is where all the guests can get together and know more about each other, before parting ways and going back to their private villas. They can source ingredients from the nearby shops and prepare their favorite meals in the comfort of their rooms. Villa Kanti Ubud gives its guests an elite feeling because the small number of people staying there. The property caters to all kinds of requests that the guests may have. Another selling point of the property is that they offer complimentary private drivers to take their guests to various parts of Ubud. Free wi-fi and access to a Jacuzzi is always a plus. Villa Kanti Ubud is sure to give its guests unforgettable memories.