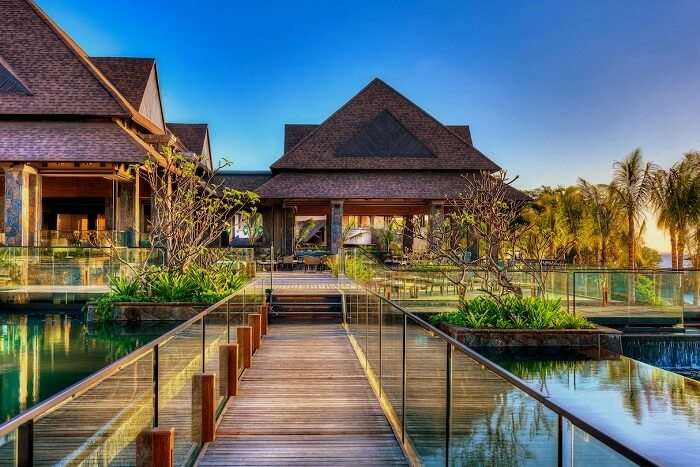 Overview
Located on the northwestern coast of the island nation of Mauritius, Westin Balaclava Mauritius is a beautiful 5-Star property facing the Turtle Bay- a protected marine park. Westin Turtle Bay resort faces a stunning natural beach and is designed with natural tropical elements lava rocks and local teak. These elements combined with the contemporary architecture of the resort property make for an exotic paradise for guests. Characterized by a serene atmosphere, Westin Balaclava Mauritius is the ultimate destination for all kinds of guests including families as well as couples. With a world-class pool and spa facilities, one can spend a very relaxing time at this hotel. The resort has a total of 152 rooms and 38 suites at the offer for its guests, each of these equipped with amenities aimed at making their stay a comfortable and luxurious one.
Westin Balaclava Mauritius is located only 30 minutes away from the famous Grand Bay beach. It is at a distance of close to 13 km from the capital city of Port Louis. Apart from that, some of the most popular tourist attractions are also located close to the resort. L'aventure du sucre, a famous tourist spot where one can taste local products, check out the museum or discover the history of sugar, is merely 15 minutes from the resort. Sir Seewoosagur botanical gardens are also located at a distance of about 10 km.
Amenities
Westin Balaclava Mauritius caters to the needs and requirements for all. There is a Westin Kids' Club or the tiny tot guests at the resort. Guests can enjoy a fun karaoke night at the hotel. There are a number of water activities organized by the hotel such as canoeing and diving that are sure to keep one entertained. The hotel has 5 events rooms for a wedding and related occasions as also to host meetings and conferences and is equipped with essential amenities for each. The Heavenly Spa by Westin allows guests to relax and rejuvenate, while the complimentary access to the fitness center is perfect for fitness lovers.
Dining
The Westin Balaclava Mauritius houses the 'Seasonal tastes' that serves some mouth-watering Asian delicacies. The restaurant also has home Indian and vegan options for its guests. The hotel also houses a bar where guests can enjoy a variety of cocktails and mocktails.
Resort Accommodation
Deluxe Room
Ocean Grand Deluxe
Beachfront Deluxe
Deluxe Family Room
Club Junior Suite
Banyan Suite
Ocean Suite
Westin Balaclava Mauritius boasts of a total of 152 rooms and 38 suites in its elegant estate. There are 2 varieties of deluxe rooms, Ocean grand deluxe rooms and beachfront deluxe rooms each. There is also a Deluxe family room which comes with 1 king-sized bed or 1 single /twin bed (s) along with a sofa bed. There are 3 types of suites at Westin Turtle Bay resort, namely club junior suite, banyan suite, and ocean suite. All rooms at Westin hotel Balaclava offer complimentary wifi access apart from 2 cordless phones, an LCD TV and iPod dock.
Hotel Highlights
The Heavenly Spa by Westin provides Ayurvedic treatments, couple massages, body scrub and steam rooms
The splendid dining experience at Westin Balaclava Mauritius includes various cuisines
Guests can enjoy the African dance show or the Trio of a piano, saxophone, and karaoke at the Mystique bar
Westin Kids' Club at the Westin Turtle Bay resort makes it a good destination for kids
Westin Turtle Bay offers water activities like boating, sailing, snorkeling, scuba diving etc
The resort offers complimentary access to the fitness center, bike rentals, table tennis, volleyball, etc
300- capacity meeting rooms and banquet facilities for business meetings
Provisions for wedding ceremonies and other related functions
Indian Restaurants Near The Resort
House of India
Tandoori Express restaurant Ltd
Namaste Restaurant
FAQs
Q1. In which part of Mauritius is Westin Balaclava Mauritius and how far is it from the airport?
A. The resort is on the north-western coast of Mauritius and it is about 1 hour away from Sir Seewoosagur Ramgoolam International Airport.
Q2. Does Westin Turtle Bay offer access to wifi?
A. Westin Turtle Bay resort offers complimentary access to wifi in guest rooms and lobby and public areas.
Q3. Are there any convenience stores in and around the resort?
A. Yes, there is a sundry/convenience store at Westin Turtle Bay resort for the convenience of guests.
Q4. What are the check-in and check-out timings for guests?
A. The check-in time is from 3:00 pm and the check out time is till 12:00 pm.
Q5. What are the things to do in and around the hotel?
A. Westin Balaclava Mauritius has activities for both children and adults in the hotel premises or simply hit the Turtle Bay beach. Apart from that guests can visit Tourist attractions like Caudan Waterfront, Sir Seewoosagur Ramgoolam botanical gardens or L'aventure Du Sucre.
Facing a protected marine park on the north-western coast of Mauritius, Westin Balaclava Mauritius is pure paradise. Offering a serene and tranquil atmosphere, this place makes for the perfect relaxing vacation. Not just for those who love to relax, but for adrenaline junkies too, Westin Turtle Bay resort has a lot to offer with a range of activities conducted in the hotel premises. Rent a bike, play volleyball, go scuba diving, or go take a refreshing dip in the swimming pool, one is spoilt for choice at Westin Balaclava Mauritius. The Heavenly Spa by Westin allows guests to relax and rejuvenate in the lap of luxury. Westin Turtle Bay offers a luxurious and splendid dining scene with a plethora of options to choose from. All in all, the beautiful estate and the amazing experiences at Westin Turtle Bay make for it to be an ideal vacation spot for one and all, leaving them wanting to come back for more.