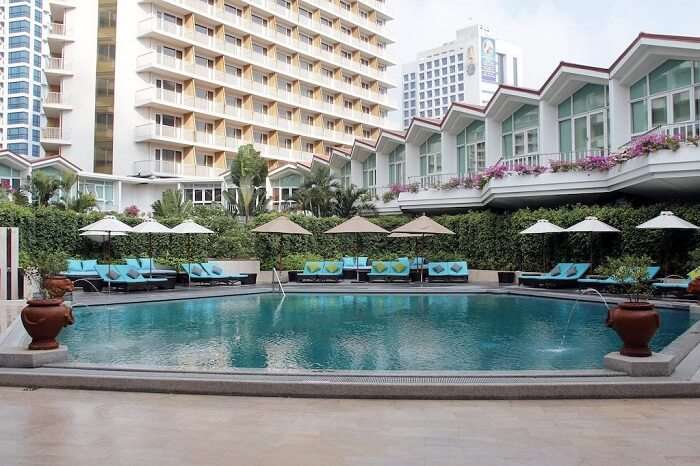 Overview
Traveling to Bangkok from India has become as easy as traveling to a neighboring city. These hotels will help on in finding the perfect 4 star hotels in Bangkok so that one can enjoy their stay as well as the vacation to the fullest. Bangkok is one of the most preferred tourist destinations in the world and the hotels here play a big part in developing this image. Bangkok is a city of contradictions, where air-conditioned mega-malls stand tall next to 200-year-old village homes, Buddhist monks dressed in robes shop for the latest smartphones and these contradictions are also very well reflected in all the 4 star hotels in Bangkok. Bangkok, though does not boast of a very long coastline, it is sure one of the best stretches of sun-kissed sand beaches that one may ever come across.
For those who can splurge a little and choose to stay at the 4 star hotels in Bangkok, it will truly be a treat of all senses. Huge lobbies elegantly decorated with plush marble and beautiful sun terraces where one can enjoy their coffee while looking out into the ocean are some of the most common features easily found in all 4 star hotels in Bangkok. For those who already have travel plans in place and know the type of accommodation they want when traveling to Bangkok, these hotels tip the scales in favor of the booking a holiday in Bangkok.
Special Experiences
With many different experiences offered by 4 star hotels in Bangkok, guests are sure to be blown away at how they can enjoy their stay like royalty without having to spend a lot of money. Begin the day with the tour desks at these hotels where one can plan how they want to spend their time with the help of well-informed staff and probably end it with a relaxing Thai full body massage at the spa centers in these amazing 4 star hotels in Bangkok. Pool bars can be another amazing service that can elevate the stay experience here in Bangkok in hotels like Prince Palace Hotel where one can enjoy an evening by the poolside sipping on their drink and enjoying the company of loved ones and friends. Many couples prefer to come to this tropical paradise to celebrate their honeymoon and rightly so, the 4 star hotels in Bangkok offer many such romantic experiences that couples can indulge in together like the couples massages that they can enjoy at the Nouvo City Hotel.
Facilities
There are certain services that all guests expect from hotels irrespective of the category of the hotels. 4 star hotels in Bangkok offer some important facilities like a tour desk, where the member of staff can help plan the day as well as a concierge desk where one can book tickets for shows or activities at best possible prices to make sure that a guest enjoys the best that Bangkok has to offer and make the most of their vacation. Services such as a spa where one can go to relax after a tiring day, infinity pools to lounge in, are common to all the hotels like the Baiyoke Sky Hotel along with massage parlors, beauty salons, outdoor pools, shuttle services, room service and in-room dining options, air-conditioned rooms etc.
Dining
Well trained wait staff and talented chefs make dining in the 4 star hotels in Bangkok a truly wonderful experience. Tantalizing local cuisines, as well as recipes from all around the globe, can be found on the menus of the in-house restaurants. This means that if one has had enough of Thai Cuisine, they have a lot of other options to choose from in these 4 star hotels in Bangkok. With chefs making the best of their efforts to cook amazing dishes even for guests with special dietary needs or restrictions, these dining areas within the hotels are truly a blessing when one does not wish to go hunting for restaurants outside.
Coffee shops and Bars are also a common sight in all the 4 star hotels in Bangkok where guests are often spotted, beginning their day with a steaming cup of coffee and ending it with a relishing drink accompanied by some live music.
FAQs
Q1. Do the hotels in Bangkok provide airport shuttle services?
A. Almost all the hotels in Bangkok have the facility of an airport shuttle. While some hotels offer it free of charge, there are quite a few where one has to pay extra to avail this service.
Q2. Is there a luggage storage facility in the hotels in Bangkok?
A. Yes, all hotels in Grand Baie allow guests to store their luggage and go out to explore the city in case of an early arrival or a late departure.
Q3. Do hotels in Bangkok serve Indian Food?
A. Yes. Almost all 4 and 5 star properties in Port Louis have an amazing assortment of dishes to serve including Indian cuisine.
Q4. Is there cab facility available in the hotels in Bangkok?
A. Yes. Rental cab and shuttle facilities can be availed at most of the hotels in Bangkok.
Q5. Do the hotels here offer currency exchange services?
A. Yes, all the hotels either offer currency exchange services or accept foreign currency in order to ensure that the guests are not troubled with searching for exchange centers.
A warm and welcoming staff along with plush rooms and world-class services all contribute in a big way towards making anyone's Bangkok vacation a screaming success. Hotels like The Emerald Hotel, Grand Diamond Suites Hotel, Holiday Inn Bangkok Silom, Amari Residences Bangkok are sure not let any traveler down. With the plethora of experiences and amenities that these hotels offer, on is assured a comfortable and fun-filled stay.