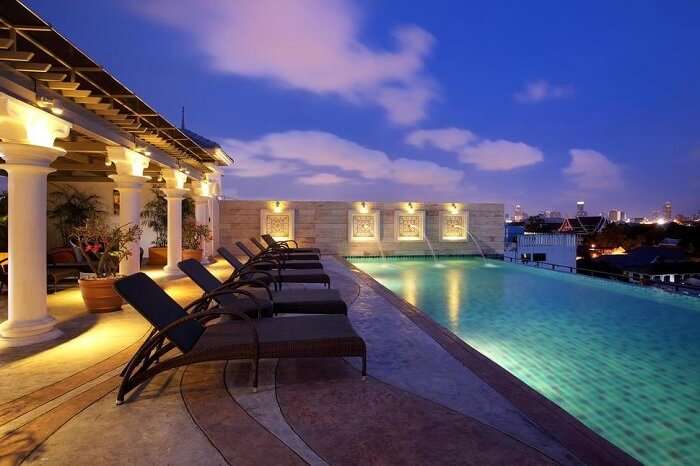 Overview
There are many places to stay in the 'City of Angels,' Bangkok, and this article is the one-stop guide to choose from some of the best 4 star resorts in Bangkok. Famous for its vibrant culture and delicious food, Bangkok is a much-preferred destination for all those who wish to spend a vacation in the tropics without having to spend too much money. With world-class amenities that surprisingly fit into anyone's budget, the 4 star resorts in Bangkok often stun people after a few days of holidaying here, in a good way, of course! As multicultural and colorful as the city outside, these resorts in Bangkok represent the Thai way of life in all possible ways. Lush green spaces that can make anyone forget all about their worries, as well as long stretches of beach with its sun, kissed sand that will make people learn to live in the moment and make the most of their life. Such is the beauty of these 4 star resorts in Bangkok. With more number of tourists and honeymooners flocking to this oceanic country, the resorts in Bangkok, Thailand are constantly evolving and making themselves better according to the world standards.
Special Experience
Bangkok is a much-preferred tourist destination for many reasons, the most important of which are the many different special experiences that one can expect from these 4 star resorts in Bangkok. Being surrounded by water and having some of the best beaches in the world, Bangkok Thailand offers all its guests the thrilling water sports unlike anywhere else in the world. With most of the 4 star resorts in Bangkok having either their own water sports activities on site or a tie with a trusted company that can provide these services, one can avail some amazing adventurous activities like windsurfing, parasailing, and jet skiing. Many resorts like Courtyard by Marriott Bangkok also provide diving tours where they can go deep into the crystal blue waters and explore the underwater world of corals and marine life.
Facilities
High-speed internet, airport shuttles as well as air-conditioned in all the rooms at these 4 star resorts in Bangkok is a common sight. Some resorts offer facilities like sun terrace and balconies attached to rooms where one can enjoy their morning coffee while looking out across the ocean. Swimming pools for when someone is tired of the salt waters of the beach, sun lounge chairs and umbrellas for a spot of shade when they want to relax by the beach can be seen in all the 4 star resorts in Bangkok. Gym and wellness centers as well as yoga classes in hotels like Chillax Resort help in shedding any holiday calories that might have accumulated.
Other important facilities in these resorts are a tour desk, where the member of staff can help plan the day, as well as a concierge desk, can be utilized to book tickets for shows or activities at best possible prices to make sure that one enjoys the best that Bangkok has to offer.
Dining
4 star resorts in Bangkok make sure that no one has to go far when hunting for good food with their amazing onsite restaurants that serve the most tantalizing and delicious food from all around the world. Thai cuisine is, of course, the specialty but the super talented chefs can produce the most phenomenal international dishes for, specially customized for guests on their requests. For those who have special dietary needs or restrictions, the kitchen staff in these restaurants will always be more than happy to oblige and make the most amazing food while adhering to guests' instructions. If a family vacation entails special food needs, probably because they are traveling with children, this information can always be shared with the restaurants in advance and they would be more than happy to put up a special kids meal for the young ones. Another much-welcomed facility in these 4 star resorts in Bangkok is the in-room dining options where one can get the food sent up to the room as and when they want.
FAQs
Q1. What are some of the best 4 star resorts in Bangkok?
A. Bangkok Tree House, Ariyasom Villa, The Silver Palm Rama 9, Dhabkwan Resorts are some of the best resorts in Bangkok in the said category.
Q2. Are the resorts in Bangkok, child-friendly?
A. Yes, most of the 4 star resorts in Bangkok are child-friendly with many special services like outdoor play area and kids meals as well as babysitting and childcare facilities available onsite.
Q3. Do these resorts offer airport pickup and drop off services?
A. Yes, most of the hotels offer a free airport shuttle service as well a private pick up and drop off to the airport. The hotels may charge extra for a private pickup however the shuttle services are usually free.
Q4. Can these hotels accept foreign currency?
A. Many hotels do accept foreign currency and they also offer currency exchange services so that the guests do not have to travel far to search for the banks.
Q5. Are these 4 star resorts in Bangkok wheelchair accessible?
A. Most of the areas in these hotels are wheelchair accessible.
4 star resorts in Bangkok makes sure that the guests experience their best stay here along with memorable moments. All the rooms are at these resorts are well equipped with modern amenities. Daily room cleaning services also ensure the guests' return to a well-organized and clean room and the toiletries in the bathroom are always stocked and maintained and the staff is always just a phone call away. To offer the best of their services, these 4 star resorts in Bangkok strive towards achieving perfection in terms of guest satisfaction. Pool bars can be another amazing service that can elevate a guests' stay experience here in Bangkok, especially in hotels like Navalai River Resort where it's common for guests to enjoy an evening by the poolside sipping on their drink and enjoying the company of loved ones and friends.