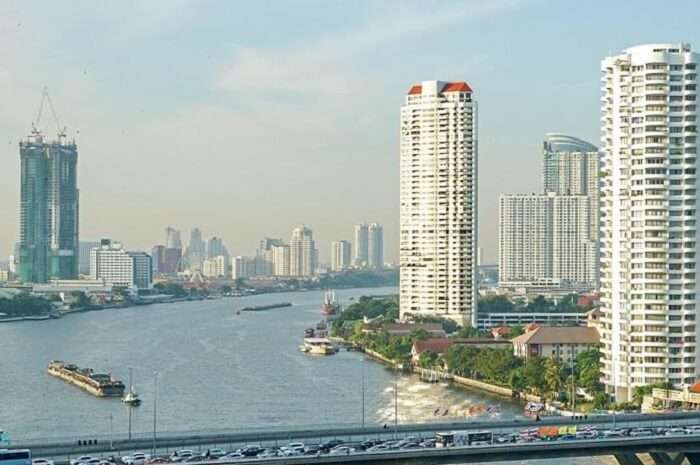 Overview
We all go for vacations to unwind ourselves from our routine. However, no vacation is complete without choosing the right hotel. In this article, discover special experiences, food, and facilities provided by 5 star hotels in Bangkok. Bangkok is also one of the hottest cities in the world- both literally and figuratively.The Thailand currency, the Thai Baht features all the temples located in Bangkok and if one looks at it closely, they will be able to identify them rather easily. So, visiting this city means a lovely tour across temples and shrines that exhibit intricate carvings, details, and sacred texts with insight over Buddhist and other cultures. It is also a very liberal city in terms of sexuality and gender identity. Bangkok is also the only city that has never been a colony of other powerful nations in the past. Visit this glorious city and get to see temples, palaces, forts, riverfront, homages, lakes, markets, memorials, statues, marine species, amusement parks, museums, and many more. Go for a stroll across the bustling city that is also known for its nightlife, street food, eateries, and stores.
Special Experiences
There are many special experiences offered by top 5 star hotels in Bangkok. After coming back from excursions tourists get to refresh and relax at spa treatments which include the authentic Thai massage sessions. These massages are therapeutic and ayurvedic that are meant to relax all the pressure points present at the back, neck, and foot. The body is treated with essential oils that are very beneficial for the skin. Couples can enjoy these sessions together. The tourists are also allowed to avail private dining areas that are situated alongside a pool. So, take some time to soak and then munch on some appetizing dinner. There are sauna and steam baths, ice cascade, and bubble baths also available.
Facilities
The hotels are known for providing customers with the best facilities which make them the best 5 star hotels in Bangkok. Every room is provided with blackout curtains, flat screen television, music and radio systems, telephone, seating areas, and phone-call making services. The housekeeping is done twice every day. The bathroom essentials include shaving kits, soaps, shampoos, toiletries, and towels. Each room is also provided with a safety box, beverage making facility, minibar, and a kitchen too. There are gym, yoga, aerobic, and library centers as well. Other important facilities that are offered include valet parking, luggage storage, and desk services.
Dining
The chefs at the 5 star hotels in Bangkok hold degrees in culinary arts and related fields. So they have a vast knowledge of cooking and nutrition. The food served by them is impeccable with a fusion of different flavors. Get to try out some authentic and traditional Thai food. One can also order Greek, Chinese, Japanese, Vietnamese, Brazilian, Spanish, Indian, and many more cuisine. The children have their own special menu that is filled with pastries, seasonal cakes, gateaux cakes, sandwiches, short eats, and juices. Fall in love with the food here as most restaurants ensures quality services, amiable ambiance and amazing food for one and all.
FAQs
Q1. What are some good locations to visit in Bangkok?
A. Some good locations one can visit in Bangkok include Grand Palace, Wat Phra Kaew, Wat Arun, Golden Buddha, Wat Saket, and much more.
Q2. A list of the best 5 star hotels in Bangkok, please?
A. Some of the best 5 star hotels in Bangkok include Le Meridian, Bangkok Marriott Hotel, State Tower, The Athenee Hotel, The Siam Hotel, and much more.
Q3. Is Bangkok safe?
A. Yes, Bangkok is a safe city to visit.
Q4. Are there exchange centers available in hotels?
A. Yes, some hotels do have exchange services available.
Q5. Should I get vaccinated before visiting Thailand?
A. No, it is not mandatory to get vaccinated before visiting Thailand.
Plan out this holiday to Bangkok and get lavish treatment at these 5 star hotels in Bangkok Thailand. These hotels provide travelers with rooms in various standard, deluxe, superior, family, and suite styles. They also come with basic amenities such as beds, curtains, TV, radio, soaps, shampoos, creams, and much more. The help desk is always open. The library, gym, yoga, and board games are other facilities that are also utilized by many. The food served in these hotels are excellent. Visitors get to taste spectacular dishes from the time they wake up till they go to bed throughout their stay in the city. During private dining sessions, one will get to taste mouth-watering comfort food along with cocktails and drinks as well perfectly complementing the meal. The special experiences one will receive include Thai massage, acupuncture, foot massage, hair and nail care, and facials. This vacation capture moment, locations, and experiences with friends, family, relatives, and acquaintances by booking the finest 5 star hotels in Bangkok.