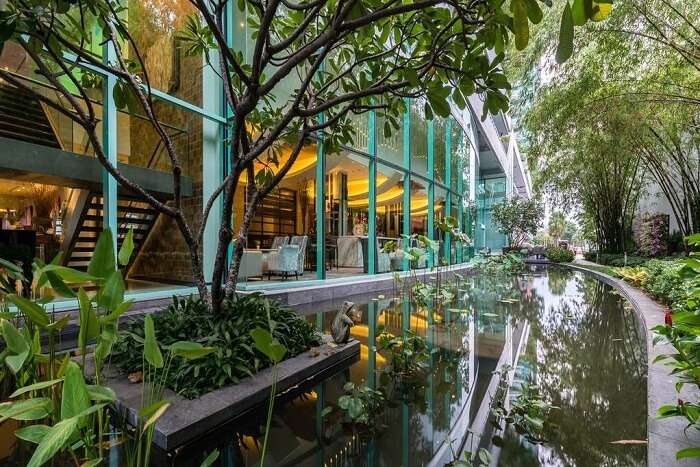 Overview
Rejuvenate this vacation with companions and have fun like never before. Accommodate at the outstanding Bangkok hotels and make this trip the best this year. Thailand is a free country that is always open to travel enthusiasts. It consists of numerous cities that are the heart of the country. The most visited regions in the country include Bangkok, Patong, Phi Phi Islands, and much more. Bangkok is the capital of Thailand. Visiting Thailand is incomplete if wanderlusts do not step into Bangkok. The capital is officially called the "City of Angels". Indeed, it is heavenly. The city has people coming from different regions. It also has several temples that are represented on the country's official currency which include Wat Phra Kaew, Wat Saket, Wat Benjamabophit, and Wat Arun. All these are featured in the city of Bangkok. The city also features the world's largest gold Buddha and Chinatown. The city has many other wonderful locations that include the world's largest aircraft control tower and much more. So, lose all the worries in the hustle and bustle of the city by booking the best hotels in Bangkok.
Special Experiences
There are more than two to three special experiences that are provided by the luxury Bangkok hotels. These hotels have indoor heated pools with inbuilt music systems. So, customers can soak themselves in lovely music and hot water altogether. The pools are also a great place for dinner and games. Hence, they are lined with beach volleyball and dining areas as well. The customers also get an opportunity to try out massage sessions which include stone massage, reflexology, and Thai massage. Facials such as scrubbing, exfoliating, detoxifying, manicure, and pedicure are also offered in special saloon centers. Apart from all these, the hotels also offer special temple trips across the city. So get to visit Wat Phra Kaew, Wat Saket, Wat Benjamabophit, Wat Arun, and several others in this package too. The Pathumwan Princess Hotel is known for its rooftop pool that provides an excellent view.
Facilities
The facilities that are offered by these Bangkok hotels make them the best hotel to stay in Bangkok. They come with several varieties and options to choose from. There are over a hundred rooms in numerous styles with high-end furniture and finishing. The rooms are extremely comfortable to stay as they are provided with essentials such as towels, dressing gowns, shampoos, body warmers, curtains, tea and coffee making machines, personal computer, and music and radio systems. Several other facilities are also complimentary in these hotels. The customers are also allowed to avail the internet, fitness centers, spa centers, reception, chauffeur service, laundry, dry cleaning, and much more. The Chatrium Hotel Riverside is known for its clean rooms, breakfast, and hotel management. While the Shangri La Hotel has a special offer for a free double update of rooms.
Dining
Often people think even though other facilities and special experiences are marvelous, the food will cost higher. However, the cheap hotels in Bangkok Thailand offer customers feasible meal plans. So, do not settle for average food. Get to taste delicious flavors. The chef's expertise in cosines such as Thai, African, Italian, Chinese, Japanese, Indian, and much more. They also provide customers with fast-food which includes all sorts of western food. Every morning wake up to a healthy breakfast which includes crispy bacon, toasts, and omelets. There are also other special experiences that are provided by these hotels which include private dining under the stars and alongside the pools. For instance, the Amari Watergate is known for its fusion of cocktails.
FAQs
Q1. How much does a massage usually cost in Thailand?
A. A massage usually costs around 100 baht or 250 baht per hour in Thailand.
Q2. Are there currency exchanges in Thailand?
A. Yes, there are currency exchanges in Thailand.
Q3. Is Bangkok safe?
A. Yes, Bangkok is safe. However, small crimes keep occurring, so one must be aware of
the surroundings.
Q4. Do I need a visa to travel to Bangkok?
A. Yes, certain countries require a visa to travel to Bangkok.
Q5. Is there internet available in public areas?
A. Yes, there is free public Wi-Fi available in Thailand.
Accommodating at these hotels in Bangkok means accommodating at the top 5 hotels in Bangkok. They provide customers with the best comfortable experience. They are known to take them around for a tour across temples that the city is famed for. They also have relaxing spa centers that provide therapeutic treatment to one's body. There are more than a hundred rooms in different styles as well which include standard, executive, deluxe, family, couple, or suite. Not just more than a hundred rooms, the Bangkok hotels also have chefs who can cook more than a hundred varieties of dishes which include starters, main course, dessert, drinks, and much more. So get a taste of various cuisines across the world. The menu is not fixed, so customers get to add extra dressings and toppings to their dishes as they like. The customers also get to make special requests as the chefs understand one's likes and dislikes. Even children get to customize the food they eat into something more wondrous. So, reserve the best hotel in Bangkok and add more moments this year.