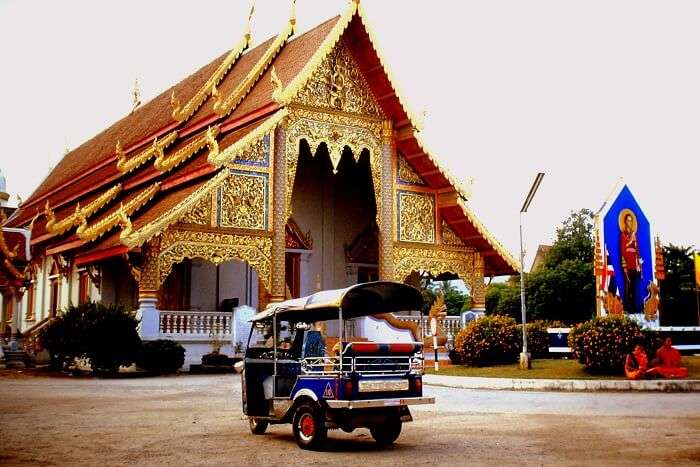 Overview
One of the largest cities in Northern Thailand, Chiang Mai is famous for its scenic views. One can truly enjoy spending a peaceful vacation here by staying at a boutique hotel Chiang Mai. The city is not only famous for its scenic views but also for its beautiful mountains and the outdoor activities that one can indulge in here. A great accommodation contributes to an even better holiday experience. A comfortable accommodation is necessary for any vacation. Boutique hotel Chiang Mai offers wonderful rooms and amenities for a relaxed stay. One can truly enjoy a great holiday in Chiang Mai by booking one of these hotels. One can enjoy the scenic mountain views from the balcony of the rooms and enjoy the picture perfect location of the hotel itself.
Some of the best boutique hotels in Chiang Mai are We Briza Hotel Chiang Mai, Raya Heritage, Pingviman hotel, Hyde Park Chiang Mai, Thai Akara- Lanna Boutique hotel, 99 the Heritage hotel, L Nimman and many more. These hotels are famous for their amazing services and facilities and are that guests are sure to enjoy. These hotels come under the top list of the boutique hotel Chiang Mai and are picked by a large number of customers. One can expect hygienic conditions and well-furnished rooms from all the hotels in this amazing city.
Special Experiences
There are some additional features or facilities too that are provided in these boutique hotels Chiang Mai has to offer. The 99 Heritage hotel provides convenient sun loungers or beach chairs where travelers can enjoy an amazing sunbath. Along with that, 99 Heritage hotel even has outdoor pools and sun umbrellas. There is a sauna at the hotel too where guests can spend some relaxing time. The We Briza hotel Chiang Mai comes with a wellness center for its customers where one can expect a soothing spa and massage. The outdoor pools are available throughout the year, and one can even opt for an open-air bath at this hotel. The L Nimman features something different in the form of a saltwater pool giving its guests some real beach vibes.
Facilities
Boutique hotel Chiang Mai offers are also known for their high-quality amenities. The hotels provide free Wi-Fi for the guests so that they can remain connected to their loved ones. The rooms are spacious and have a balcony that offers breathtaking views of the mountains. The rooms are air-conditioned and have king-sized beds with blackout curtains. The bathrooms are clean and hygienic, equipped with bathrobes and necessary accessories to ensure a convenient stay. Room service is available 24*7, and the rooms come with minibars and other facilities. The hotels even have airport shuttle services which allow the customers to get a cab from the airport to the hotels and even during the departure. The boutique hotel Chiang Mai offers have all the facilities that would make guests feel right at home as well as make their vacation in Thailand a splendid one.
Dining
Boutique hotel Chiang Mai serve some truly delectable cuisines. The cuisine here consists of famous dishes that can be found in Northern Thailand. Some of the famous dishes from the local cuisine are curated by well-trained chefs and are something one must not miss while on a trip to Thailand. The chefs that are behind the making of such delicious dishes are well known for their talent. Apart from that, the boutique hotel Chiang Mai serve cuisines from around the world. One can get Indian, Chinese, European and even continental dishes in some of the famous beach hotels of Thailand. The dishes are made with the utmost care and maintain kitchen hygiene, to deliver guests with the best culinary experience. One can also enjoy a variety of tropical dishes at the hotels. With so many cuisines to try, one is sure to have a great dining experience at the hotels.
FAQs
Q1. When should the booking for the rooms be made?
A. The booking of the rooms should be made at least a month before the visit.
Q2. Can last minute booking be made?
A. Though last minute booking is not possible in most famous boutique hotels, it can be done in some of the hotels.
Q3. What are the free services offered by the boutique hotels?
A. The free services offered by the hotels are Wi-Fi, bathrobes, bathroom accessories, room services, telephone, outdoor pools, and fitness centers.
Q4. Which language does the hotel staff understand at the hotel?
A. The hotel staff is well trained to converse with the customers in English.
Q5. Is complimentary breakfast available at boutique hotels in Chiang Mai?
A. Yes, complimentary breakfast is available in most hotels for all guests.
The boutique hotel Chiang Mai offers are preferred due to many reasons. One of the most important reasons being their location that offers some breathtaking views of the mountains. One can even indulge in a variety of outdoor activities as well. Not all the boutique hotels in Chiang Mai are expensive and one can even find affordable options based on their budget. One can find all the basic amenities along with luxury amenities like a saltwater pool at some of the hotels. The staff in here are cordial and friendly and ensure that guests enjoy a more than comfortable stay. One can also indulge in a variety of cuisines served at these hotels. The local Thai cuisine is something that one must not miss during their holiday. With a great location, inviting dining and a plethora of outdoor activities to indulge in, one is sure to enjoy a fun-filled holiday in Thailand by accommodating in boutique hotel Chiang Mai.