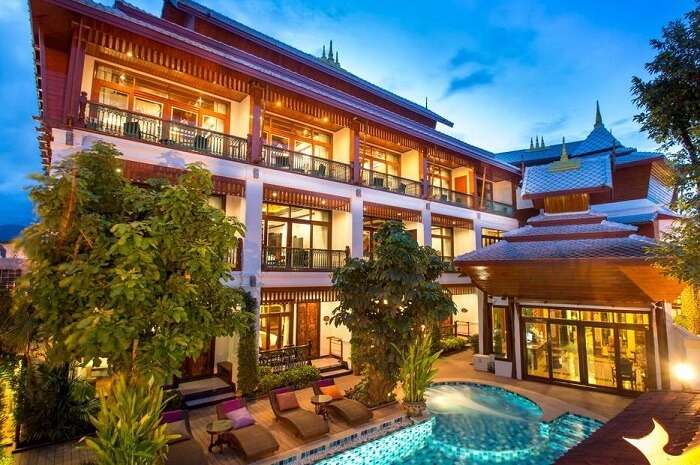 Overview
Spending vacations in the best possible way is something that everyone desires. As much as the destination matters, so does the accommodation and facilities. Chiang Mai 4 star hotels take care of all the needs of their guests in the most amazing and best possible ways. Whenever visiting Chiang Mai, checking into any of these hotels assures one of comfort, enjoyment, luxuries, supreme hospitality, privacy, and safety. The finely decorated interiors of these hotels welcome their guests to have an amazing stay with the best possible facilities and hospitality. Savor the taste of the finest Thai food and other cuisines at the high standard restaurants of the Chiang Mai 4 star hotels. From free Wi-Fi connectivity to outdoor pools, bars, spa, massage, and fitness centers, they take full care of the perfect trip. Staying at Chiang Mai 4 star hotels do not make Chiang Mai just a vacation, but an unforgettable and pleasurable experience that lasts for a lifetime.
Special Experiences
Chiang Mai 4 star hotels provide some special and exclusive features and services in their packages. Enjoy the special Thai massage and admire an absolutely stunning art gallery at De Naga Hotel in Chiang Mai that makes the body and spirits feel relaxed and peaceful. Some of the hotels have luxurious deals to offer like The Akara-Lanna Boutique Hotel has the provision for whirlpool tubs and a courtyard saltwater pool. For the feasibility of their guests, De Chai the Colonial Hotel provides an airport shuttle service. Many of the Chiang Mai 4 star hotels are kids friendly. The special experiences provided by these hotels make the stay of their guests more lavish, exotic, enjoyable and comfortable.
Facilities
The 4 star hotels in Chiang Mai provide all the basic facilities like elegant rooms, cooperative room service, Wi-Fi connectivity, flat screen TVs, mini fridges, tea and coffee making facilities, proper seating areas and minibars. The restaurants and bars in Chiang Mai 4 star hotels cater all the cravings and take care of the appetite of guests in great ways. Outdoor pools, breakfast buffets, spa facilities are also provided in most of them. Pingviman Hotel gives the special facility of sauna and bike rentals. Enjoy free parking services in all the Chiang Mai 4 star hotels. Some of them also have facilities of hot tubs, gyms and business centers. Thai Akara-Lanna Boutique Hotel also has the provision for separate living rooms. All the facilities provided by Chiang Mai 4 star hotels are bound to make anyone's stay at Chiang Mai absolutely amazing and unforgettable.
Dining
The dining arrangements at Chiang Mai 4 star hotels suffice to please their guests in all respects. Each hotel has one or more restaurants inside its premises. One can try the most delicious Thai dishes along with some other cuisines that they serve which vary from restaurant to restaurant. De Naga Hotel serves delicious servings on the platters prepared by the two restaurants and a bakery inside its boundaries. Most of the hotels offer breakfast buffets. As an exclusive part, De Naga Hotel gives special Thai cooking lessons as well. Tai Akara-Lanna Boutique Hotel has an airy restaurant with a terrace. Most of the Chiang Mai 4 star hotels offer amazing bars with classic locations. Some of these have poolside bars managed by very efficient and professional bartenders.
FAQs
Q1. Do the 4 star hotels in Chiang Mai have a spa facility?
A. Yes, most of these hotels will provide guests with spa facility for relaxation and rejuvenation.
Q2. Which are the best 4 star hotels in Chiang Mai?
A. One can try De Naga Hotel, Thai Akara-Lanna Boutique Hotel, De Chai The Colonial Hotel and Pingviman Hotel.
Q3. Is the Wi-Fi connectivity free in these hotels?
A. Yes, nearly all the hotels provide this facility.
Q4. Do any of the hotels offer bike rentals?
A. Yes, one can check at Pingviman Hotel for bike rentals to go around town.
Q5. Can we find any hotel with an airport shuttle service?
A. Yes, some of these hotels like De Chai The Colonial hotel provide this service for their guests.
Travelers can enjoy vacations to the fullest at Chiang Mai 4 star hotels with their amazing provisions and heartwarming hospitality. Most of the hotels here have child-friendly features that keep the comfort of their guests as the topmost priority. Wheelchair accessible entrance is available in the main hotels of this area, like De Naga Hotel, Rimping Village Chiang Mai Hotel, and Pingviman Hotel. One can be amidst a gorgeous lotus pond in De Chai The colonial hotel with its delightful ambiance. The Chiang Mai 4 star hotels try at their level best to offer comfort, relaxation, enjoyment, and safety when staying at their accommodations. The few days spent in these hotels will make guests feel satisfied with what they spend their money on and they will send one back with awesome memories of their hospitality and care.