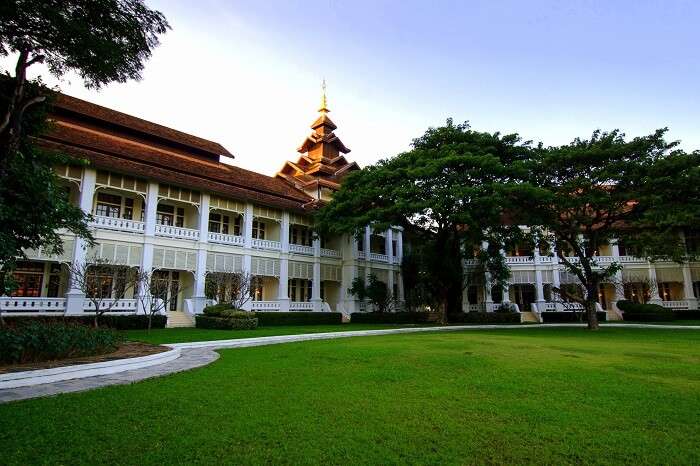 Overview
While planning a family vacation, the accommodation, and facilities matter as much as the destination does. Chiang Mai family hotels look after all the requirements and expectations that one keeps from a family vacation. The amenities offered at these hotels take great care of every little detail to transform one's stay into an amazing experience. Stay inside the wisely designed and decorated rooms and suites of these hotels which leave no loophole while providing their guests with the best of the facilities. One can enjoy a few pleasurable days with the warm ambiance, great hospitality, and services provided by the well-trained staff and management of the Chiang Mai family hotels. Guests can savor the delicious taste of the varied cuisines served at the restaurants of these hotels and also enjoy the provisions like outdoor pools, spa, bike rentals, children friendly environment etc. Travelers must spend a few days at the Chiang Mai family hotels and fall in love with every little moment that one spends here with loved ones.
Special Experiences
Chiang Mai family hotels have got some special and exclusive experiences for the family in their packages. Yaang Come Village Hotel offers poster beds and living rooms inside its suites. Rimping Village Chiang Mai Hotel has straightforward rooms with wooden furnishings and provides bikes for rentals. Le Meridien Chiang Mai hotel has an amazing infinity pool on the rooftop which has been beautifully designed with spouts, waterfalls and wooden decking. It has also got an attached children's pool. Spa facilities are also made available for the customers at most of these hotels. These special services offered by the hotels provide lavish, comfortable and enjoyable experiences to their guests. With stunning rooftop pools, soothing massage sessions and enthusiastic cooking classes, Chian Mai family hotels have a variety of activities for the guests to engage, making sure that they not only have a great time outside the hotel but also an enjoyable time within.
Facilities
The Chiang Mai family hotels offer all the basic and expected amenities like fine rooms, Wi-Fi connectivity, flat screen TVs, mini fridges, tea and coffee making facilities, minibars, helpful room service etc. In addition to the basic facilities, each hotel provides its own special package of facilities. Yaang Come Village Hotel has casual rooms with Thai furnishings and a nice outdoor saltwater pool. Rimping Village Chiang Mai Hotel has some rooms with wet bars and/or balconies and sundecks as well. Free parking facilities and amazing room service are available at most of the hotels. These hotels are kids' friendly and cater to the best interests of the family. The great efforts of the management of these hotels help to make every moment of the vacation with family pure bliss. With all these amenities, one can rest assured to have a more than comfortable stay in Chiang Mai.
Dining
The Chiang Mai Family Hotels offer a lot of dining options for the feasibility and contentment of their guests. Yaang Come Village Hotel offers a breakfast buffet for the guests and also has an informal restaurant with a garden terrace along with a well-managed bar. Hotels here also have a café with a special menu for kids along with other eateries. Rimping Village Chiang Mai Hotel offers a complimentary breakfast and has a casual restaurant with a terrace. The dedicated and highly skilled staff and management of the Chiang Mai family hotels work with a professional and strict behavior to provide and manage the most amazing experience for the family at their diners and bars. This just takes the whole holiday up by a notch. Amazing cuisines from all around the world with their favorite delicacies are sure to leave guests wanting more.
FAQs
Q1. What are the most frequently spoken languages here?
A. Thai is the local language of the area. English is also commonly used within the hotels.
Q2. Do these hotels have wheelchair accessible entrances?
A. Yes, a wheelchair accessible entrance facility can be found in the best hotels in this area.
Q3. Are debit cards accepted at the family hotels in Chiang Mai?
A. Debit cards are a convenient mode of payment at these hotels.
Q4. Are there any infinity pools available at these hotels?
A. Yes. Le Meridian Chiang Mai Hotel features a stunning infinity pool. Apart from this, hotels also feature rooftop pools where one can spend some leisure time and enjoy the breathtaking views.
Q5. Do these family hotels provide any complimentary services?
A. The free of cost services vary from one hotel to another. It is recommended to check with the travel planner about the hotel to be booked. The most commonly found free services include parking facilities, wifi, complimentary breakfast, etc.
One can make the most of their vacation with their family by accommodating at the Chiang Mai family hotels. With their child-friendly provisions that keep the comfort of the guests as their major concern, guests can spend a few days of relaxation and ease. The best of these hotels like Yaang Come Village Hotel and Rimping Village Chiang Mai Hotel also offers wheelchair accessible entrances while keeping the feasibility of their customers in view as their topmost priority. At the hotels, enjoy spending a few days of luxury, relaxation, ease, and contentment away from the regular and monotonous daily routines with family. The hotel staff and management work at their level best to provide the best of the facilities and services to their guests. Guests at these hotels are sure to enjoy a hassle-free stay and take home with them beautiful holiday memories.