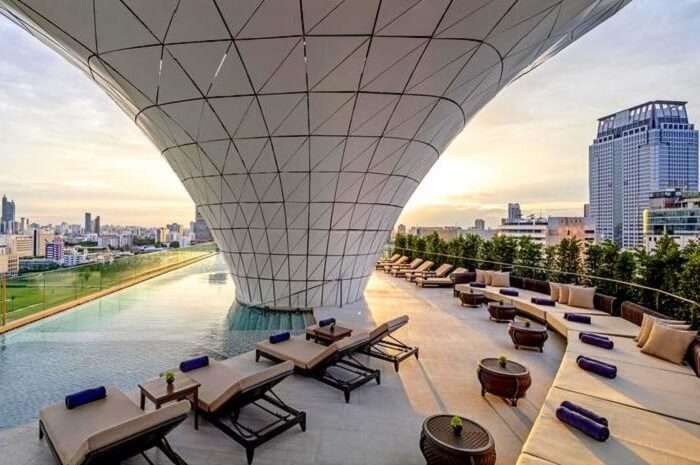 Overview
While visiting Bangkok for a family vacation, one looks to accommodate at a comfortable hotel that offers a number of experiences for the whole family. Family hotel Bangkok offers a pleasurable and fabulous time for the entire family with something for guests of all ages. Guests can stay amidst the wonderful ambiance of various family hotel Bangkok has and enjoy the amazing services and facilities offered by their highly professional and hospitable staff and management. One can go for a refreshing dip to the outdoor pools and relax oneself at the spa centers. One can choose among the best room and suites suitable for families that provide enjoyment along with privacy. Guests can dine at the refined restaurants and bars which serve the best delicacies from various cuisines to satisfy everyone's taste buds. One can make the most of their holiday time with the special provisions offered by the family hotels in Bangkok and live each moment of the vacation to the fullest.
Special Experiences
The family hotel Bangkok offers, provide some special experiences for the guests which ensure a comfortable and luxurious stay. Sheraton Grande Sukhumvit hotel offers suites that add private gardens and personal butlers in their package for the convenience of the customers. Sukhumvit Park, Bangkok Hotel has an indoor driving range, 6 meeting rooms, and a tennis court as well. Most of these hotels have spa and fitness centers to avoid any chance of grievance from the side of the guests at the hotel. Centara Watergate Pavillion Hotel has a terrace aided with a fountain and Bali style beds. This hotel also has the provision for the sauna. Additionally, Grande Centre Point Ratchadamri and Sheraton Grande Sukhumvit hotels have fireplaces also. These special experiences provided by the family hotel Bangkok ensure a pleasurable and satisfactory stay for all family members.
Facilities
The hotels in Bangkok for families provide some great facilities along with their delightful ambiance. Families can enjoy staying at the elegant and greatly designed rooms and suites of these hotels with amenities like Wi-Fi connectivity, flat screen TVs, minibars etc. One can relax at the spa centers of these hotels and feel rejuvenated. All the family hotel Bangkok offers parking facilities inside their boundaries. Grande Centre Point Ratchadamri hotel has wooden floors, Thai artwork and picture windows that provide city views. The chic rooms come with DVD players, microwaves, mini-fridges as well as private sitting areas. The suites also add separate living rooms and kitchens. Thee Bangkok Hotel has a business center and lush tropical grounds with an outdoor pool as well. Enjoy the great hospitality at the family hotel Bangkok and live every moment of the stay with joy. With all these amenities, guests are ensured a more than comfortable stay at the hotels.
Dining
The family hotel Bangkok have amazing dining options for the guests that keep up to the demands of their taste buds. Waldorf Astoria Bangkok serves a breakfast buffet in a relaxed restaurant which has got its specialization in Thai, Chinese and French cuisines. The hotel also has an elegant colonial style lounge. Sukhumvit Park, Bangkok Hotel has a bistro, a deli and a poolside bar that serves snacks. Sheraton Grande Sukhumvit hotel keeps many options open for the customers and has 7 eateries and bars, including an al fresco cafe, an acclaimed lounge offering jazz brunches and a restaurant where guests dine in the dark. Centara Watergate Pavillion Hotel has a hip-hop rooftop bar aided with the facilities of DJs and city views. The highly skilled staff and management of these hotels look after these restaurants and bars and leave no stone unturned in providing the best of the services.
FAQs
Q1. Do the hotels provide business centers or meeting rooms for guests?
A. Yes, some of these hotels do take care of this matter and have business centers. Travelers will find multiple meeting rooms in some of the hotels.
Q2. Is vegetarian food served by the hotels?
A. Yes, these hotels do serve vegetarian food at their exclusive restaurants.
Q3. Do the hotels provide wheelchair accessible entrance?
A. Yes, guests can avail wheelchair accessible entrance at the finest of these hotels. But it is still advised to confirm with the hotel before booking.
Q4. Is spa facility provided by the family hotels in Bangkok?
A. Nearly all the hotels have the provision for spa centers. Some of them have Thai massage centers as well.
Q5.Do these hotels accept debit cards?
A. Most of the hotels in this area keep debit cards among their top modes of payment.
Family hotel Bangkok offers are the most appropriate hotels for vacation in Bangkok with the family. Guests can savor the heartwarming hospitality and warm ambiance of these hotels. Some of the hotels like Sukhumvit Park, Bangkok Hotel provide a wheelchair accessible entrance for the comfort of their customers. Taking this hospitality to another level, Hyatt Regency Bangkok Sukhumvit has the provision for wheelchair accessible entrance, wheelchair accessible lifts, and parking facilities also. The comfort of the guests remains their first priority and to assure all guests of an amazing and enjoyable vacation to Bangkok while staying at their premises remains their major goal. These hotels don't just have facilities for adults but for the kids as well. There are kids clubs and children pools to ensure that the young ones enjoy the vacation as well. With so many activities and experiences for guests of all ages, these hotels provide the perfect abode for an exciting vacation in Bangkok.