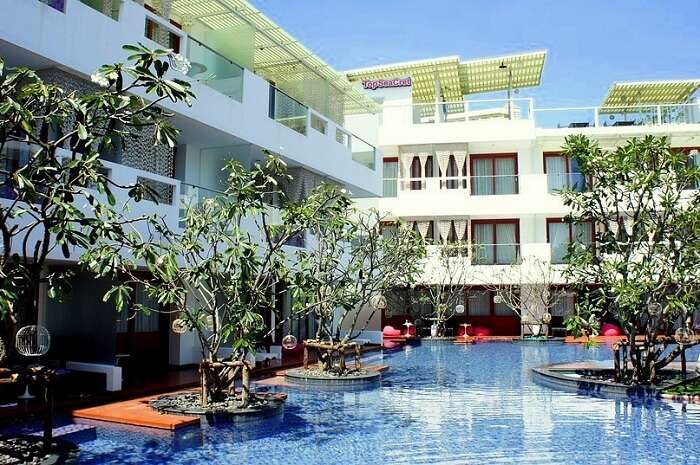 Overview
The right choice of hotel is the top concern of every traveler while planning a vacation. Family hotels in Hua Hin, are among the best options that take care of this concern when going on a family vacation. The hospitable staff and management make one's stay at these hotels smooth, comfortable and enjoyable. Stay at the beautiful accommodations at exquisite locations and also enjoy all the basic facilities like elegant rooms, fine suites, flat screened TVs, Wi-Fi connectivity, best dining options, entertainment, recreation and what not. Guests can relax and rejuvenate at the spa centers and feel refreshed from the strenuous daily routines. One can relish the delicious food served at the restaurants of these hotels and loosen up a bit at the well-managed bars. Also, one can enjoy the special provisions provided by each of these hotels exclusively for their guests. A stay at the family hotels in Hua Hin is sure to be an everlasting experience.
Special Experiences
The special services provided by the family hotels in Hua Hin offer both luxury and comfort for their guests. Baan Bayan Hotel provides marvelous ocean views to its customers. It has the provision for massage services and also lounge chairs and umbrellas on the beach. V Villas Hua Hin Mgallery Hotel has living rooms in all its suites and the arrangement for Jacuzzi tubs and rainfall showerheads in its bathrooms. It has also got a great golf course. The Ibis Hua Hin Hotel has family rooms that add bunk beds, game consoles and kids' toys as special privileges. This hotel provides an absolutely free airport shuttle service for its guests. Bike rentals are also allowed, and the best part is that the small pets need not stay back home alone and can be brought inside the premises of these hotels. The special provisions at the family hotels in Hua Hin make the stay of their customers worth reminiscing and looking forward to.
Facilities
The facilities at the family hotels in Hua Hin, make sure to provide a comfortable and enjoyable vacation for their guests. These hotels have upscale rooms with classic and well-managed facilities. Family hotels in Hua Hin, has all the basic provisions like stunning rooms, Wi-Fi connectivity, flat screen TVs, amazing restaurants, laundry services, minibars, children friendly decorum etc. Hua Hin Marriott Resort and Spa provides 1 to 3 bedroom villas that feature private pools, Bose speaker systems, microwaves, and sofas as well. The upgraded beachfront villas add kitchens and provisions for up to 6 guests. Many of these hotels have outdoor pools with some of them having special kids' pools and beach access as well. Baan Bayan Hotel offers relaxed rooms and suites with private balconies, tea, and coffee making facilities etc. Ibis Hua Hin Hotel has bright rooms with balconies, desks, safes, and tea and coffee making facilities with other provisions.
Dining
The dining options at Family Hotels in Hua Hin are no less in providing the best of the services for a satisfactory vacation. Hyatt Regency Hua Hin has a casual restaurant that serves tapas and also has an amazing informal lobby lounge cum bar. Baan Bayan Hotel has a casual sea view café and a covered veranda that has been built while overlooking 2 pools which have an adjacent bar attached to both of them. Asira Boutique Hua Hin offers free breakfast. It has a bar and a chic, poolside restaurant with outdoor seating and a warm ambiance. These restaurants and bars undoubtedly do not leave the customers with any chances to complain.
FAQs
Q1. Is vegetarian food easily available for guests?
A. Yes, these hotels at Hua Hin have their own restaurants where one can find vegetarian food.
Q2. Is airport shuttle service provided by the family hotels in Hua Hin?
A. Yes, some of the finest hotels do provide an airport shuttle service. Confirm with the hotel before making the choice.
Q3. Are pets allowed inside the family hotels in Hua Hin?
A. Pets are usually not allowed inside these hotels. Very few of them, like Ibis Hua Hin, allows small pets inside their premises.
Q4. Are there business centers available at these hotels?
A. Yes, most hotels offer business services however, a selected few also feature well-equipped business centers.
Q5. Do the hotels offer bike rentals?
A. Yes, the hotels provide bike and car rentals. However, booking can always be made in an alternate case.
Family hotels in Hua Hin, are a great choice for a vacation at Hua Hin. These hotels take care of everything from the accommodation and comfort to relaxation and enjoyment along with kids' friendly environment. Few of them like Ibis Hua Hin Hotel provides wheelchair accessible entrance and lift services for the feasibility of the guests. From basic facilities to special provisions and services, these hotels try their level best in every possible department. At every step of the vacation, the family hotels in Hua Hin cater to all the requirements and necessities and make the stay pleasurable and worth living. Some of the hotels are pet-friendly as well so guests can bring along their pets as well. These family hotels aim to cater to the needs of all age groups. A children's club for the kids and live entertainment for the older guests, the hotels do not fall short in any aspect. Guests planning to accommodate in these hotels can rest assured of a good time and fun-filled vacation in Thailand.