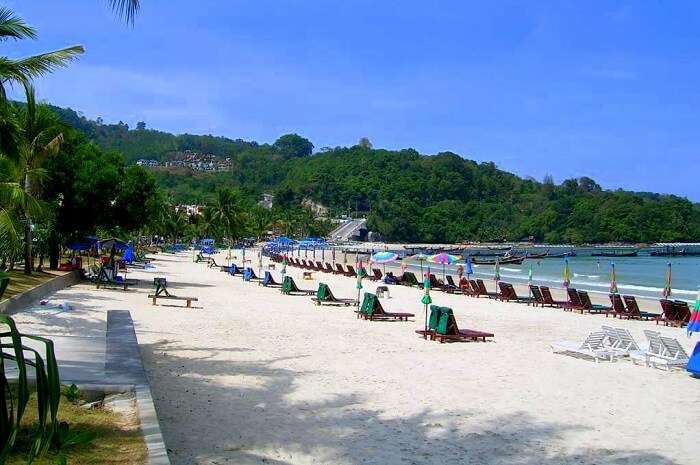 Overview
Patong is the beach-region on the west coast of Phuket. It counts as one of the most visited places in Thailand and became a popular spot among European visitors in the late 1980's when people started to explore Thailand and its amazing views. Family hotels in Patong are aplenty here, with a wide range of them to choose from. Since Patong is known for its nightlife and shopping avenues, people flock the city waiting to experience the same. Therefore, it is pertinent that people will look for hotels near the shopping areas, to make their lives easier.
The best beach resort here is La Flora Resort Patong, no other resort comes closes the ratings in terms of pricing, affordability and customer care. There are many other family hotels in Patong, some are – if travelers are looking for good spa services then, a good choice is Avista Hideaway Resort & Spa. Admirers of luxury resorts and shopping will have a treat when it comes to the Millennium Resort, which is just a few blocks away from Patong's main shopping center. The Patong Beach Hotel is quite recommendable too. These are some of the family hotels in Patong.
Special Experiences
Trips made abroad can always be memorable, but more so if the locations are situated by the beach or the sea. Such places make for ideal family pictures or as aforementioned, for honeymoon shoots. Some of the resorts, which are massive also offer water sports adventures, which is a must-do activity when here. Be it Kayaking, Sea Boarding or even paddle boating, all these make for a great experience, and it is essential to choose a resort based on the itinerary. Family hotels in Patong give a broad variety of activities to choose from. The family hotels in Patong also have splendid outdoor pools and even infinity pools which over beautiful views of the city. All this packed in one place certainly contributes to a great vacation.
Facilities
The facilities here are nothing short of extraordinary, with almost everything on offer. It matches up to or betters the standards set by hotels and resorts elsewhere and truly beckons to be an amazing visit for those who are planning. The swimming pools here are just brilliant, well decorated and some have pool-side bars too. The massages and Spa services in Patong are said to be divine and just excellently well planned and executed. Indoor and outdoor jacuzzis are also a craze here, as the climate is just perfect to relax in a large tub full of warm water that sizzles and gives that feeling of relaxation. Family hotels in Patong like Patong Signature Boutique Hotel or the Swissotel Hotel Phuket Patong Beach certainly don't lack any of the things that are expected of it. As these resorts predominantly have visitors from abroad, mainly Europe and the USA, there is a shuttle service available as well as good airport transit facilities for those who are looking to or are ready to check-in to the resorts. Car rentals are also available, and if the guests make good friends with the staff at the resorts, they will even help out with planning the trip in Patong.
Dining
If the resorts don't complete their experience with fine dining services, then it will just be a dull experience. To ensure this, most of the family hotels in Patong like the Grand Mercure Phuket Patong have excellent chefs that work day-in and day-out to ensure fine, world-class service to their customers, who after a long day at the beach, would like some sizzling hot food to go with their alcohol, which is also served in abundance here, with the other facilities of bar by the beach, while pool bars are also available. There are also mini-bars in the hotel room.
Thai food definitely comes in at the top spot in priorities of the to-do list in Thailand, but for those who are unable to cope with Thai food, there are other world-class multi-cuisine opportunities that one could check out in hotels like Hotel Indigo Phuket Patong. The chefs here are always working on improving their menu to give their customers a fine Wine n' Dine experience, which they shall never forget. The customer service here is brilliant, with friendly staff that are always willing to help one out.
FAQs
Q1. What is the best place to stay in Patong?
A. The three best areas to stay in Krabi would be around Central Patong, Bangla Beach, North of Patong.
Q2. What is the best time to visit Patong?
A. During December and February, moderate winter weather follows and is also the beginning of the summer.
Q3. Which hotels are closest to the airport in Thailand?
A. Since it is a part of Phuket, the hotels are very accessible from Phuket Airport, with airport transit service now available at resorts, it's an easier task.
Q4. What are some of the best 3- star/ 5-star hotels in Patong?
A. Avantika Boutique Hotel, Nap Patong Hotel, Citin Plaza Phuket, Avista Hideaway Resort and Spa
Q5. Is there any Airport-transit service available at resorts?
A. Yes, they have excellent services.
There are many world-class resorts and choosing one can always be a hard task on hand. But most of them are great, and the choice really depends on the kind of facilities the tourists are looking at. Some of the best resorts and hotels that are recommended for a stay are B-Lay Tong Phuket (Mgallery collection), Sea Pearl Villas Resort, Grand Mercure Phuket Patong. At these resorts, one can rest assured of not only a comfortable accommodation but also a variety of other facilities and experiences. Most resorts feature a luxurious spa where one may enjoy a traditional Thai massage. The outdoor pools are great to spend some leisure time in or hop in for a refreshing dip. Apart from that, the resorts offer have on-site restaurants for guests to choose from. With cuisines from all over the world, one is sure to enjoy the dining experience at these resorts. Guests with families are sure to create some wonderful holiday memories at the family hotels in Patong.