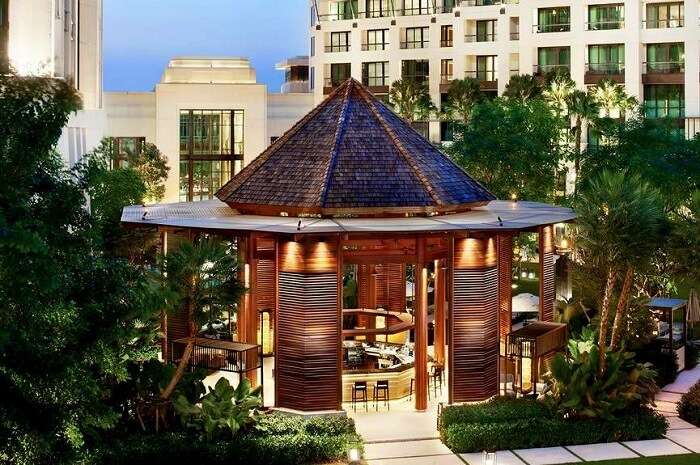 Overview
Bangkok has been a preferred honeymoon destination since a very long time, and as such, this city has adapted itself to suit the needs of the newlyweds. Honeymoon hotels in Bangkok exude a vibe of romance and dreamy elegance that is seldom found anywhere else. Many couples who come to Thailand to celebrate the starting of their married life generally start or end their honeymoon here in Bangkok and as such the honeymoon hotels in Bangkok make sure that the journey starts or ends with a bang.
Plush interiors and spacious well-designed rooms are a given in any hotel or resort in Bangkok but these honeymoon hotels extra special as they have in stock the best of couples activities for all those immersed in love. Thai massages and spa treatments especially for couples as well as special honeymoon suites can make one's honeymoon truly special, and these hotels leave no stone unturned to give the couple an unforgettable start to the married life.
Special Experiences
The Hotels in Bangkok understand the need for privacy that newlywed couples expect and as such the most special experience here is tranquility and peace that one can enjoy in these honeymoon hotels in Bangkok. Cozy rooms with out of the box interiors and an unmistakable love vibe hotels like the Inn a day are some of the best niche boutique hotels that one can book when on a honeymoon. The hotels like the Bangkok Marriott Hotel Sukhumvit make up for their lack of seaside with rooftop infinity pools with mesmerizing views of the cityscape of Bangkok that one can enjoy while sipping on some lovely cocktails at the pool bar, along with special services like couples massages given by talented masseuse and other relaxing treatments. Honeymoon hotels in Bangkok also provide services like couples special walking and cycling tours where one can enjoy the true beauty of Bangkok with a loved one.
Facilities
There are so many things that need to be taken into account when traveling to a new country and these honeymoon hotels in Bangkok make sure that travelers do not have to worry about anything when they come here. Well stocked bathrooms and clean rooms are a must in any hotel in Bangkok along with services like room service, wifi, television with international channels, air conditioning, and other such facilities that make the stay here pleasant and hassle-free for the guests. Swimming pools and fitness centers can be seen in almost all honeymoon hotels in Bangkok along with Concierge service, Luggage storage, Currency exchange and much more.
These hotels have evolved over the years to cater to different types of tourists and especially to couples, making them an excellent choice for the honeymoon. One can find candlelit dinner arranged for them along with room service that can decorate the room to set a romantic mood as soon as the travelers arrive. Airport pick ups and drop offs are also available where the guests will be taken care of right from the time the holidaymakers step off the flight until they are ready to leave.
Dining
Honeymoon hotels in Bangkok all have onsite restaurants so that one does not have to leave the hotel in search of good food. One can find cuisines from all around the world on the menus of hotels like The Okura Prestige or the Shangri-la with their multiple dining options. Special dietary needs and restrictions can be conveyed to the kitchen staff, and they will adhere to the instructions when preparing the meals.
Bars, where guests can enjoy cocktails made by well-trained bartenders, are also a welcome sight at these hotels where live entertainment in the evening set the perfect ambiance for a wonderful end to the day. All day coffee shops can also take care of any pangs of hunger guests might feel in between the meals.
FAQs
Q1. Will a private airport pick up be arranged from the hotels?
A. Free airport shuttle services are offered by all the honeymoon hotels in Bangkok. If a guest wants a private pickup, it can be arranged at the small extra charge.
Q2. Are currency exchange services available at these hotels?
A. For the convenience of the guests, most resorts in Thailand have currency exchange services as well as ATM.
Q3. What languages do the staff at these hotels understand?
A. The staff in these Family Resorts in Phuket understand quite a few languages such as Russian, French, German along with the usual English and Thai.
Q4. Is it possible to store our luggage in these hotels after checkout?
A. Yes, in case of early arrival of late departure, one can always use the luggage storage facilities in the hotel where they can keep their belonging and head out to explore the city.
Q5. Are these hotels pet-friendly?
A. Not all hotels in Bangkok are pet-friendly, however, there are quite a few hotels that allow pets as well.
To make this holiday special, there are a lot of things that the hotels can do for their guests. Some of these amazing hotels that one can take a look at when booking are, Eastin Grand Hotel Sathorn, Siam Kempinski, Mandarin Oriental hotel, etc. These hotels aim at creating a perfect holiday experience for the guests. From candlelight dinners to themed parties to live entertainment, these hotels go the extra mile to ensure that guests have an enjoyable time at their hotel. Couples are sure to find these hotels in Bangkok to be the perfect combination of fun and relaxation. Whether its the exciting water sports or the soothing couple massage offered at the hotel, these hotels put their best foot forward to create the ultimate romantic holiday for the couples that visit these hotels. Truly, one is sure to have a memorable vacation in Bangkok by accommodating in these hotels.