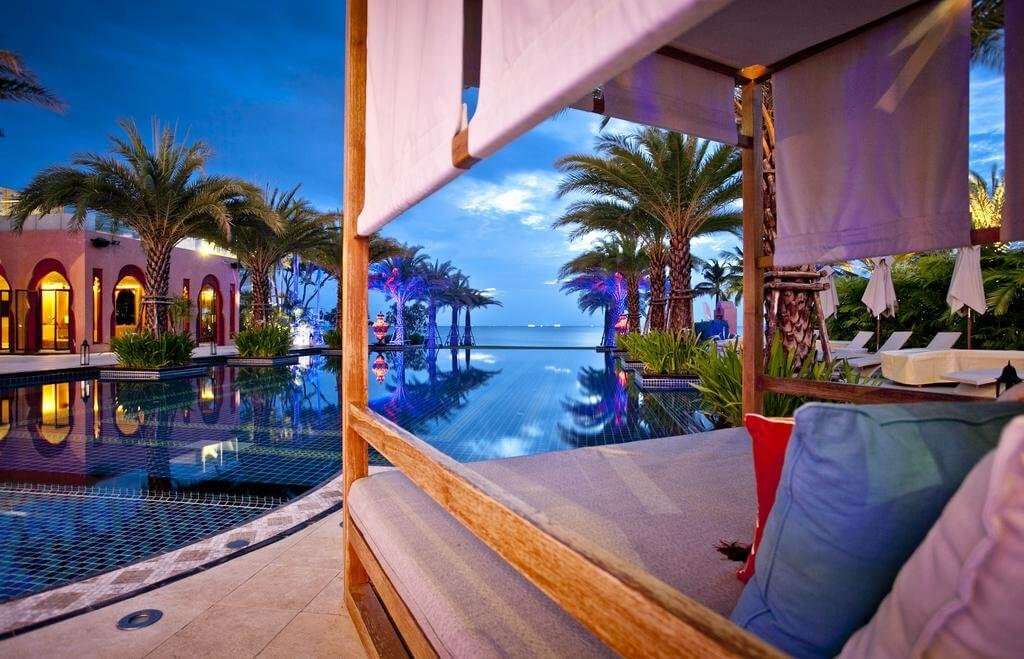 Overview
Hua Hin has been a holiday resort town since mid-1920 when the first railroad came along and brought along the Royal member of rich and affluent family based in Bangkok.The Hua Hin 5 Star Resorts are still a mesmerizing reminder of that grand era when this was a place for royalty. Draped with the finest materials and decorated in a manner that is elegant yet grand, these resorts can take anyone's vacation on a level much higher than they would imagine. Though the town itself has developed and become more city-like than a retreat, stepping inside the Hua Hin 5 Star Resorts will instantly transport guests to a world where paradise seems real. Blue-green waters stretch out in front of them as the well-manicured gardens give way to white sandy beaches and lazy beach chairs beacon people to just lie on the beach and relax.
Special Experiences
Almost all the Hua Hin 5 star resorts are all about sandy beaches next to well-manicured gardens. As they step inside these resorts, visitors are sure to be whisked away from the sun and sand into a world that is dominated by amazing architecture, elegance, and world-class amenities. Whatever is anyone's idea of an amazing vacation, Hua Hin 5 star resorts have it all for people. With an open sky, sunny days and the ocean lapping at the doorstep, it is a norm for beachfront Hua Hin 5 star resorts like the Marrakesh Hua Hin Resort & Spa to have water sports activities that their guests can enjoy from within the hotel itself.Diving, snorkeling, windsurfing, and many more such thrilling activities can be arranged by the hotel for their guests, all one needs to do is ask. If guests are traveling with their children on the vacation, Centara Grand Beach Resort & Villas with their special picnic area, kids' outdoor play equipment, as well as an indoor games area can make the holiday so much better for the little ones. Swimming pools with special kids areas are also common to these Hua Hin 5 star resorts
Facilities
More than all the great things that hotels can do for their guests, the smaller things are what make the stay at the Hua Hin 5 star resorts so amazing. Here the staff is well trained and as such and one can always expect polite service and warm smiles to greet them for the entire duration of the stay. Almost all Hua Hin 5 star resorts have sun terraces from where one can enjoy mesmerizing views of the Ocean as well as gardens with hammocks where people can lounge around in the cool shade of tropical trees on, especially sunny days. Basic facilities include swimming pools, beauty salons, WiFi, free parking, a tour desk to help guests plan their day, spa and sauna, fitness centers to help people shed the holiday calories, room service and much more. Certain hotels like the Putahracsa Hua Hin Resort also provide some special facilities for couples celebrating their honeymoons such as couples massages and candlelit dinners by the beach.
Dining
With Hua Hin 5 Star Resorts like the Anantara Hua Hin Resort with its 7 in-house dining options, and the InterContinental Hua Hin Resort with its 3 dining options, guests at any of the resorts in Hua Hin never have to worry about going hungry. Talented chefs work hard to make sure that any food they put on the table is met with utter awe and admiration and that each morsel teases guests' taste buds and satiates their hunger. These hotels are also very accommodating when it comes to guests with special dietary restrictions or needs, where one need only ask and the super talented chefs can whip up an amazing meal that will satiate their hunger without any problems. Bars are also aplenty in these Hua Hin 5 Star Resorts where at the end of the day, people are free to unwind with a quiet drink enjoying a sports broadcast or live music.
FAQs
Q1. Do these hotels in Hua Hin provide airport shuttle services?
A. Yes, all the hotels in Hua Hin provide airport shuttle services. Should visitors like, they can also take a private airport pickup and drop service at a small extra charge.
Q2. Can the guests avail currency exchange services here?
A. Most of the hotels offer currency exchange services on site and those that do not can accept foreign currency so that there is no inconvenience to the guests.
Q3. Are these resorts well suited for couples on their honeymoon?
A. Yes, most of the resorts are recommended for couples with services like couples massages and honeymoon suites.
Q4. Is the entire area of these resorts wheelchair accessible?
A. Almost all the area of these hotels are wheelchair accessible with special services for differently abled guests as well.
Q5. Will the hotel help guests book tickets to special events or performances happening across the city?
A. Yes, concierge services and tour desks can be found in all the Hua Hin 5 star resorts from where guests can ask the hotel staff to book tickets and tours for themselves.
The Hua Hin 5 star resorts also provide services like a newsstand, florist and gift shop for guests' convenience, and a library for a quiet read. Room with a balcony, offering breathtaking views of the sea, pool or garden can put a cherry on top of the memorable getaway that is planned for guests with its luxurious accommodation and private beach areas. Some such resorts that one can take a look at are Mövenpick Asara Resort & Spa, AKA Resort & Spa, Hilton Hua Hin Resort & Spa, Hua Hin Marriott Resort and Spa.