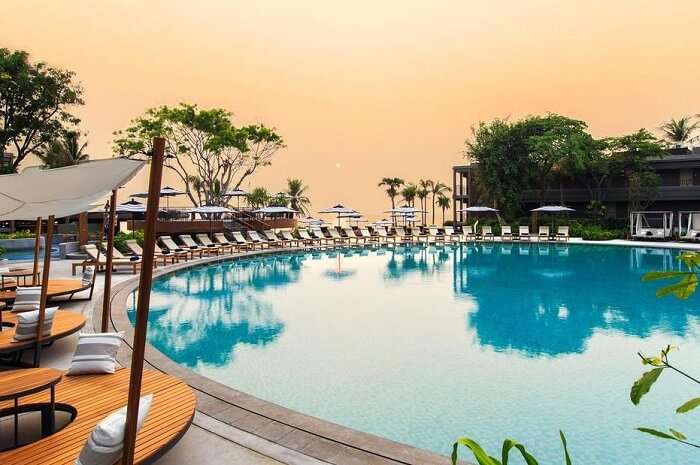 Overview
Located on a strip of the Gulf of Thailand, Hua Hin beach is popular for spectacular sunrises. This beautiful beach is a strip of 4 km-wide white sand. Best for spending lazy days, watching sunrise and sunsets, it is also popular for its array of water sports that help travelers enjoy their vacation time to the hilt. This beach allows one to find an impressive way to relax with family, partner and friends. With the given wonders of the Hua Hin Beach, finding the best Hua Hin Beach Resort to stay at is quite an easy task. With a plethora of resorts, one is sure to get a mesmerizing and unforgettable time while staying at these resorts. Almost all of these resorts offer the best experience by offering the amenities that the guests would like to enjoy. With chic rooms, beautiful furniture and well-lighted rooms for the whole family or partner, Hua Hin beach resort are a dream come true. Stacked refrigerators and minibars are the prime attractions of every resort. The private terraces in some resorts and the beautiful pools offered by the resorts help one find the perfect way to spend the vacation.
Special Experiences
Any given type of Hua Hin Beach Resort stands out mostly for the fact that they are especially couple-friendly. The ambiance and the wonderful setting of the rooms in hotels like Hua Hin Marriott Resort and Spa allows one to enjoy the perfect kind of alone time with their significant other. With options for massages, spas and various other activities, travelers can find it pleasing to spend time at these hotels. Guests can also take benefit of a wide variety of water activities like snorkeling, canoeing, surfing, etc provided at most of the resorts. With an ambiance for couples, these resorts also pose as a great option for families too who want to enjoy their vacation time in the best way possible. The expansive spaces with lounge chairs and pools overlook the beach in resorts like Supatra Hua Hin Resort and allow one to spend some quality time with their loved ones.
Facilities
All Hua Hin Beach Resort come with a variety of features and facilities. Most of these facilities are provided for free. Resorts like the Hilton Hua Hin Resort & Spa or the Marrakesh Hua Hin Resort & Spa enhance the experience here at the Hua Hin beach by offering the sound systems, free Wi-Fi connections and other options for entertainment. Along with basic amenities like luggage storage, laundry & dry cleaning service, the resorts also provide other additional services such as airport transfer, car rental, shuttle service, babysitting services, 24-hour front desk etc. A large number of resorts house mini markets and gifts shops for guests to buy souvenirs and gifts for their loved ones.
Dining
The exquisite beauty of Hua Hin beach can be found by tasting the wondrous authentic Thai food. Known for its classy choice of seafood found in no other place, Hua Hin is a hub for seafood lovers. One can even find various types of fusion dishes from various cuisines here or indulge in the authentic Thai-styled dishes in the different restaurants at the resorts like InterContinental Hua Hin Resort. Other than Thai cuisine, the resorts also offer various International cuisines. All restaurants and resorts give a specular view of the beach, which enhances the dining experience here. The restaurants also offer special meals for children, thereby making it family-friendly as well. Some of the Hua Hin Beach Resort feature bars where an array of luscious drinks are served by the well-skilled bartenders.
FAQs
Q1. Are pets allowed Hua Hin Beach Resort?
A. If a traveler loves to take pets for vacations, it is best they check with the resort policies. Some resorts allow travelers to bring pets along, while others do not.
Q2. Are there activities for visitors at Hua Hin Beach Resort?
A. Yes, most resorts have a variety of options for their visitors. The visitors can take a relaxing trip to the spas in the resorts, or find their way to the Thai boxing centre.
Q3. Can the staff members at the resort speak in English?
A. Yes, every resorts' staff members are fluent in English.
Q4. Is dining near the resort allowed?
A. Yes, these resorts are located near the market, which allows travelers to find the best restaurants that offer various cuisines.
Q5. What activities can be enjoyed at the beach?
A. The Hua Hin beach is perfect for watching sunsets and sunrises. Furthermore, one must find the time to try out some watersports.
With various options for Hua Hin Beach Resort, one will never find it hard to find the apt resort for the vacation. Every resort offers an expansive view of the beach, which adds to the experience. Additionally, the private concierge services and other in-hotel services help guests, make the most of their stay here. Guests cal also avail laundry and dry cleaning service provided at most of the resort. For complete relaxation and rejuvenation, a wide range of resorts feature a fitness centre, outdoor pool, sauna, spa centre and salon as well. One can also leisurely walk to the beach and spend time there enjoying with friends and family.