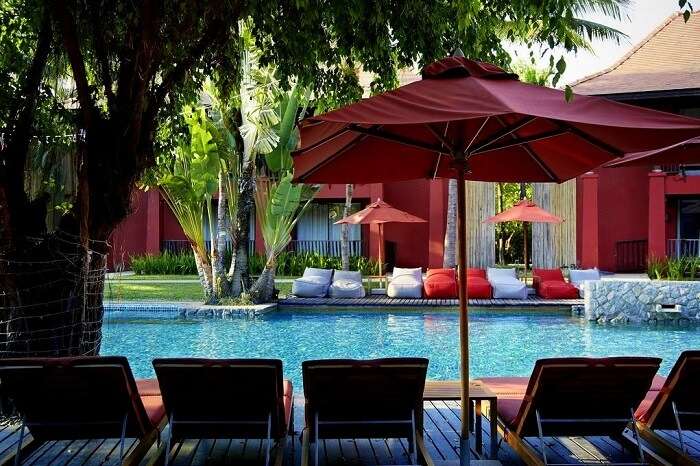 Overview
Traveling on a strict budget does not have to mean a trade-off between the elaborate travel desires and pinching one's pocket. Tourists can relish all the extravagance while also going easy on the pocket with a few Hua Hin budget hotels that are bound to give travelers the dream-worthy experience while also being considerate of the expenses. Bestowed with a tropical Savanna climate, Hua Hin is a district in the country of Thailand and is fondly recalled as the 'beach resort town.' Situated 200 km from Bangkok, this district is popular for its numerous water sports, exotic seafood restaurants and quaint summer palaces amongst other attractions. While the province offers numerous high-end hotels and resorts, it is also equally accommodative of inexpensive and cheap hotels of Hua Hin with unbelievable amenities that reflect the warmth of their hospitality and aura. When in Hua Hin, one does not have to worry about keeping oneself amused as the numerous activities and destinations offered will tire anyone's heart out with contentment.
Special Experiences
Hua Hin Budget Hotels range from two to three-star hotels, with expansive properties or sky rising hotels that are enveloped amidst the blue masses of the ocean. Having chosen a slightly inexpensive hotel for a stay does not mean one has to be devoid of the traveling pleasures entirely. For instance, the Baan Duangkaew Resort in Hua Hin welcomes one to their private cottages, while the Chom View with its poolside bar and the traditional Thai aromatherapy is an inevitable choice for relaxation. Ibis hotel in Hua Hin is economical as well as appealing with its modernistic sea facing rooms that are also welcoming of any pet. Water sports like kitesurfing, snorkeling, and parasailing are a rage here, that can get the adrenaline pumped and weave some unforgettable memories during the stay. With such a wide variety of experiences, one can try something new every day during their stay at these hotels without going too heavy on the pocket.
Facilities
Hua Hin budget hotels feature all the basic amenities that the traveler would require for a comfortable stay. Air-conditioned rooms, a 24-hour response reception, and Wi-Fi seem to be a common trait in all hotels, along with laundry and hospitable and courteous staff. Nestled amidst scores of trees and greenery, Baan Duangkaew offers swimming pools situated at a stone-throw from the rooms, jacuzzi, and back and forth ferrying across town from the resort. Hua Hin White Sand has rental bicycles, swimming pools and boat excursions that can keep one occupied and entertained throughout the visitation, leaving no room for boredom. Of a family-friendly nature, the Com View hotel is equipped with activities meant for the entire family like wood-fired pizzas served by the beach and a children's play area to accommodate for the young ones. For more exclusivity, there is a spacious garden for intimate strolls and a poolside liquor availability.
Dining
Swarmed with local and luxurious restaurants serving alluring Thai food, Hua Hin budget hotels surely a palate pleaser. The Thai cuisine does not come as a culture shock for most of the Asians, because there is a similar blend of herbs and spices that will give one a feeling of familiarity as well as distinctiveness. While most of the hotels provide with a complimentary breakfast, it is advisable the travelers have either dinner or lunch outside while exploring the area. 'Duangkaew cuisine by the Baan Duangkaew is an amalgam of western dining and Thai delicacies that will revel in taste buds. Sticking to traditional Thai cuisine is not a mandate for most of these restaurants as they house a variety of tourists, hence continental cuisines is indefinitely available at all meal times. TH beach hotel offers as many as 20 local delicacies under its 'thematic cuisine' that allows one to create own meals. The specialty of Hua Hin budget hotels is that travelers get to taste a variety of authentic local or street food prepared by the cooks, while also offering continental or western cuisine.
FAQs
Q1. Which is the best time to visit Hua Hin?
A. In the summer season between the months of March, April and May are when one can really enjoy the tropical climate by the beach.
Q2. Which are the best 3-star hotels that are closer to the airport?
A. Prinz Garden Villa, Ibis Hua Hin hotel, Escape Hua Hin hotel, My Way Hua Hin Music Hotel
Q3. Is continental cuisine available at Hua Hin budget hotels?
A. Yes, at all times and or all courses of the meal
Q4. How is the cleanliness and hygiene quotient in 3-star hotels?
A. Although cost-effective, these hotels do not compromise on cleanliness. The rooms are spotless, and the restaurants are hygienic.
Q5. What are some of the free services provided by hotels in Hua Hin?
A. Wifi connectivity, use of the spa and massage parlors, luggage storage, room services etc. are some of the free services provided by hotels in Hua Hin.
While vacationing in this part of Thailand, it is imperative to pack loads of sun-tan lotion and a glorious appetite for their extravagant seafood varieties that will leave travelers tingling in their tummy. While looking for a hotel, ensure that the tourists stick to the budget as the budget hotels in Hua Hin will not disappoint with their plush amenities and surroundings, at an equally economical expense. One does not need to worry about the quality of service offered at these hotels. Exciting water sports and peaceful landscapes and just the right combination for a wonderful vacation and Hua Hin budget hotels offer exactly that to its guests. With a plethora of amenities and experiences offered at these hotels, one is assured a fun-filled vacation in Hua Hin.