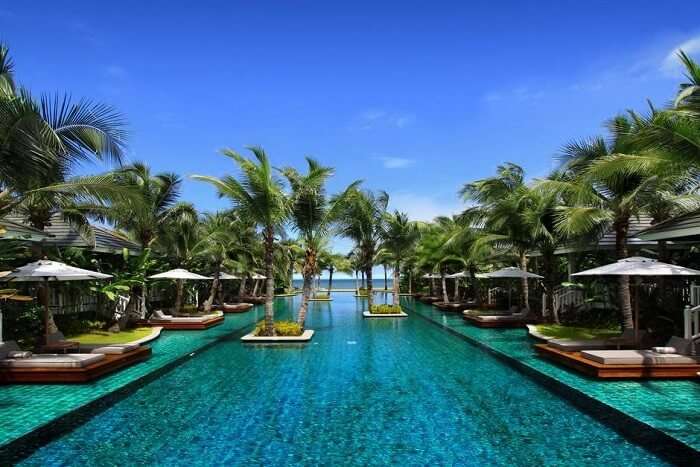 Overview
Hua Hin, Thailand is often described as a place where the city meets the sea. Known as Thailand's original beach resort town, Hua Hin is nothing like what people imagine it to be. This town is a mesmerizing mix of city and sea with an almost cosmopolitan ambiance, lively markets, good golf courses and water parks, international cuisine and excellent accommodation. With so many things offered in this town, visitors often forget that they are in Thailand and the sand and the sea are seldom missed. Having been a full-fledged resort town for the Bangkok royalty back in mid-1920's, the Hua Hin hotels 5 star follow the tradition of the land with upbeat and modernized hotels even today. Hua Hin has a perfect mix of the architectural hotels of the old days along with modern glass and steel structures all aiming to give the visitors a time of their lives. Vast gardens are a must have for all the Hua Hin hotels 5 star along with many onsite facilities can be found at these amazing properties in Hua Hin.
Special Experiences
One of the most special experiences that guests can enjoy in these Hua Hin hotels 5 star are the onsite water sports activities like parasailing, windsurfing and more. Participating in these thrilling activities without having to leave the comfort of the hotel, which is one of the best feelings a guest can experience. Enjoy the sea in the most adventurous way with the services provided in hotels like the Cape Nidhra Hotel. For those who dare, diving tours can also be arranged by the Hua Hin hotels 5 star. For the times when one gets bored of the sea but still want to splash around these majestic hotels also provide some excellent swimming pools for their guests like the infinity pool with a stunning view at the Rest Detail Hotel Hua Hin. Other such amazing experiences that one can enjoy at these hotels include horse riding, cycling and walking tours to explore the city, Spa facilities where guests can relax after a tiring day, and massage parlors where the talented and well-trained masseuses can take away the stress from all muscles and leave anyone feeling happy and relaxed.
Facilities
All the Hua Hin hotels 5 star are well-equipped with wonderful facilities. The hotels have all the possible amenities that one could ask for from a hotel. Gym and fitness centers where one can shed off their holiday calories, yoga classes so that one can achieve their zen in this tropical paradise, as well as swimming pools, sauna, and hot tubs, are common and can be found in all the Hua Hin hotels 5 star. Room cleaning and daily services here ensure that one comes back to a clean and well-kept room after their day out in the city along with a well-stocked bathroom so that one can have a relaxing bath without needing anything more. Access to the beach from within the hotel is another most amazing facility here in the V Villas Hua Hin – MGallery by Sofitel, to be enjoyed during the day when guests can splash around in the water and where they can find sun loungers and umbrellas should they want to rest for a bit, and to be admired in the evening as they take long walks by the shore in the setting sun.
Dining
With many dining options located right within the hotel itself, one can find food here that can satiate all their cravings. Hua Hin hotels 5 star like the Hyatt Regency Hua Hin boast of more than one on-site restaurants where the guests can enjoy a meal of their choice and need. Serving world food including traditional Thai dishes as well as Indian, Italian, Chinese, Mexican and many other such international cuisines can be found on the menus of these awesome dining areas. Amazingly talented chefs and other kitchen staff work hard towards making their meals as memorable and tantalizing as possible, while still maintaining their signature styles and ways.
Special kids menus can also be prepared for the little ones if they inform the kitchen staff in advance as well as packed lunches and meals can also be arranged for the guests in case they are going off on an all-day tour of the city. Coffee houses are a must to all the Hua Hin hotels 5 star where one can enjoy a cup of hot steaming coffee and a delectable breakfast to kickstart the day. In the evenings, there are bars and nightclubs in these hotels where one can enjoy the live entertainment arranged for the enjoyment of visitors along with delicious cocktails made by well-trained bartenders.
FAQs
Q1. Do the hotels in Hua Hin provide airport shuttle services?
A. Yes, all the hotels in Hua Hin provide airport shuttle services.
Q2. What are the free services that one can avail in the ?
A. Wifi, room service, and daily maids, use of the swimming pool and other public areas of the hotel, access to the beach, gym, spa and wellness centers as well as live entertainment shows and performances are few of the facilities provided by these hotels free of charge.
Q3. Will the children enjoy themselves here?
A. Special services like children's television networks, outdoor play areas as well as many other services like babysitting and childcare are provided by the hotels in Hua Hin so the little ones are sure to enjoy themselves here.
Q4. Are there beauty treatment centers in these hotels?
A. Yes, some hotels do have beauty treatment centers onsite where one can get their hair and makeup done before they head out to explore the nightlife of the city.
Q5. Can one order in-room dining services in these hotels?
A. Yes, almost all 5 star hotels in Hua Hin provide in-room dining options where one can get the food delivered to their room as and when they like.
Overall the 5 star hotels in Hua Hin are definitely a big yes, as the facilities and experience they offer are quite wonderful and unique. To add to this, a well trained, welcoming and polite staff is something that can take the stay experience from a good to an amazing one. Some names other than the ones already mentioned above that one can look at when planning a trip to Hua Hin are The Yana Villas Hua Hin, Mövenpick Asara Resort & Spa, Centara Grand Beach Resort & Villas, InterContinental Hua Hin Resort, THE BARAI by Hyatt Regency.