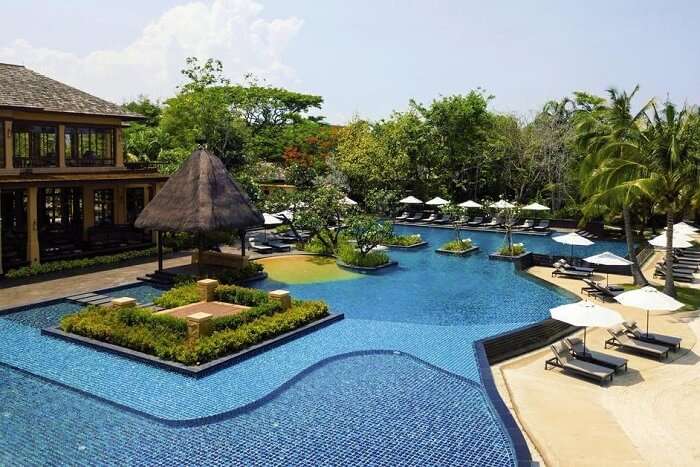 Overview
Popularly known for its beach resorts and spas, the district of Hua Hin in Thailand is a land enriched with a tropical climate that in itself is a godsend for its tourists and inhabitants. Nevertheless, there is a haven of Hua Hin luxury hotels to invest one holiday in and gleam in the opulent shimmer.Situated 200 km from Bangkok, this region is prevalent for its various water sports, colorful seafood eateries serving travelers the most authentic delicacies and curious summer royal residences among different attractions. If one is looking to splurge the savings in having a quality vacationing break and immerse oneself in a lifetime of experiences, the Hua Hin luxury hotels are just the place. Built on expansive properties and thronged by numerous facilities, these hotels aim to award guests the extravagant treatment that they deserve during the stay. Glittering with high-end décor and adorned with world-class amenities, Hua Hin luxury hotels like Rest Detail Hotel Hua Hin, V Villas Mgallery by Sofitel, Hyatt Regency and Movenpick Asara to name a few are classic examples of the splendor and elegance, worthy of the expenses.
Special Experiences
Bedecked with glamour, the Hua Hin luxury hotels aim at making luxurious comfort and relaxation of their guests their top priorities during the vacation, while also keeping one's stomach full and the travelers, thoroughly entertained. While the Rest Detail Hotel also hosts destination weddings on its pristine property; Hyatt Regency, on the other hand, houses a giant water slide that splashes into in its swimming pool, that extends to infinity. V Villas by Sofitel at Hua Hin has exclusive villas with a private pool ranging from a spectrum of one- and three-bedroom cottages; with rooms of overwhelming quality and top-notch hospitality. Safe to say, there will not be a moment of displeasure or discontent during the stay, that can be assured.
Facilities
Considering the luxurious and ample character of Hua Hin luxury hotels, it comes as no doubt that the facilities and amenities are endless, with unmistaken precision in service and management to complement the entire vigor. The essential services related to housekeeping, dining, and management remain common throughout these hotels and come with assured qualitative service and deliverance. A pool village of sorts, the Rest Detail Hotel is lined with palm trees with hammocks underneath them and well stocked poolside bar. It also offers cultural tours to traditional spots in the town, early morning yoga sessions by the beach and owns a golf course. While the Hyatt Regency flaunts its lagoon pool and its personal massage center called the Barai Spa; V Villas has a variety of services like a fitness center, childcare facility and a tennis court alongside the golf course to enhance the comfort of the tourists.
Dining
Dining and wining is an elaborate affair, that needs to be paid due attention and consideration, which is exactly what these luxurious hotels strive for. The intimate in-house restaurant "Rest Gastro" at the Rest Detail promises travelers the best of Thai and international cuisine, prepared at the hands of the best and experienced chefs with an assurance of tantalizing one's taste buds. Whereas the Hyatt Regency revels in its grandeur of a number hotels like the Figs Restaurant and Talay Thai for instance, inside the property that one can choose from which specialize in authentic, seafood and continental and also specific Asian cuisine. With complimentary breakfast, the V Villas has its 'Villlazzo Restaurant' reeking of exotica with its international cuisine served alfresco and by the poolside.
FAQs
Q1. Which is the best time to visit Hua Hin?
A. In the summer season between the months of March, April and May are when one can really enjoy the tropical climate by the beach.
Q2. Do the hotels here provide concierge services?
A. Yes, all the hotels have a concierge service as well as a tour desk where one can book tickets and gather information about various attractions around the town.
Q3. Which are the luxurious hotels that are near the airport?
A. Baan Sabsaran Tropical Beachfront, Hua Hin Marriott resort and spa, The Yana Villas Hua Hin
Q4. What is the range of rating for luxurious hotels?
A. The luxurious hotels of Hua Hin have Five star rating.
Q5. Is authentic Thai food available at the hotels?
A. Yes, the hotels offer authentic Thai food.
Hua Hin is an absolutely enticing place, whose glamour and glory is only enhanced by these exquisite hotels. Looking past the Hua Hin luxury hotels, if travelers want to engage in the locality or the district- there are various activities and places to visit. Water sports like kitesurfing, snorkeling, canoeing are a rage and can be enjoyed from within the hotel itself. While traveling in this part of Thailand, it is important to pack heaps of sun-tan lotion and moisturizer and a superb craving for their indulgent fish assortments that will fill one's belly.